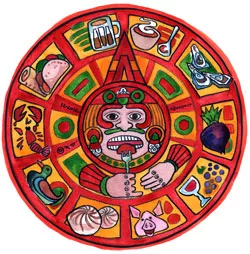 Who better to ask about end-of-the-world cuisine than the Mayan owner of a Mayan restaurant? Tim Brady did just that last spring during a meal at the Three Stones Restaurant in Brattleboro, whose co-owner, Mucuy Bolles, is of Mayan descent. As we all know by now, the current Mayan calendar cycle ends on December 21, 2012, giving that day its popular reputation as the world's last.
"I kind of probed whether they took this seriously," says Brady, the co-owner of Whetstone Station Restaurant & Brewery and Forty Putney Road Bed and Breakfast, both in Brattleboro. "They laughed as much as I did about it. I just struck on the idea to do something to celebrate the end of time — and, if the world ends, it's free."
Brady isn't the only one in the Vermont hospitality industry prepping for doomsday. In Ludlow, the Downtown Grocery will kick off celebrations of the end times on December 20. Up north in Jericho, chef Jonathan Gilman has apocalyptic plans for both the Village Cup and Caroline's Fine Dining on December 21.
Forty Putney Road's apocalypse weekend package will include dinner at Three Stones, a two-night stay and a tasting of Mayan-style corn beers and dark chocolates. At the Whetstone, Brady will serve a special dinner, an Epic Apocalypse Event to include traditional pub grub as well as dishes such as beer-battered, bacon-wrapped, deep-fried Twinkie à la mode — "because, after all, what does it matter?" Brady joshes. For six contest winners, the meal will be paired with Stone Vertical Epic Ale, an annual craft-beer series that Stone Brewing Company began releasing in 2002 with instructions to age it until December 12, 2012.
Chefs are known for their rich gallows humor, but, according to Rogan Lechthaler of the Downtown Grocery, there's another reason they may have jumped on the idea of preparing a final meal. "There's a constant kitchen conversation of what you want for your death-row meal — what you would want the last night of your life, or what you would do if you won Powerball," Lechthaler says.
He and his wife and co-owner, Abby Lechthaler, decided to put the question out to their Facebook fans. The responses ranged from comfort-food classics such as lobster rolls and turkey pot pie to the very specific: "white fish with a citrus and hot pepper [marinade] cooked in a banana leaf with a side of roasted cubes of squash and a black bean salad."
From those suggestions, Lechthaler will choose five appetizers and five entrées to feature on the restaurant's December 20 blackboard menu. The contributor whose dish sells the best will win a $50 gift certificate, a bonus to a dinner the Lechthalers already see as a gift to their regulars before ski season makes it difficult to get a reservation.
Though his chalkboard menu is always a vibrant addition to the standard bill of fare, Lechthaler says he especially enjoys special occasions that give his creativity free rein. "It's fun to do something fun and witty or snarky and get people involved," he says. Last Valentine's Day, that included a special of skewered duck hearts.
For his part, Gilman is using his December 21 final meal at Caroline's as an opportunity to make his upscale restaurant more approachable. The selection of small plates tops out at $14.
Among them is Gilman's own choice of last meal: five-spice-lacquered duck with "drunken" chile-basil noodles, long beans and a crispy duck-skin chicharrón. Other items are decidedly less earthy. A warm kale salad sounds ordinary enough, but the dish includes a sous-vide-cooked, 93-degree egg; beets; rösti potato; and a bacon-vinaigrette "candle." That's right: Gilman will craft candles from rendered pork fat and vinegar, which, as they melt, will become the dressing to top the ambitious salad. Yet another dish will be conceived based on Facebook fans' descriptors of their desired last meals: adjectives this time, not items.
Those who stop in next door for the aporkalyptic meal at the Village Cup will know exactly what they're getting. That's not a misspelling. Aporkalypse is a pig-roast feast, complete with appetizers such as salt-and-vinegar pork rinds, pigs in a blanket, and pieces of shank labeled "spicy pork wings." Outside the restaurant, an actual pig — a Berkshire-Chester White cross from Vermont Family Farms — will turn on a spit in Lord of the Flies style. Its head will make its way to Caroline's charcuterie boards in the form of head cheese. But the rest of the animal will be served family style at the Village Cup, with comfort-food sides such as macaroni and cheese and braised collard greens.
Of course, if the world ends, this will all be immaterial. "I hope that we have dinner service the following night, too," jokes Lechthaler of his December 20 event.
Live or die, what Gilman calls "a historically significant occasion" is surely an excuse to indulge — or, at his restaurant, pig out.