Andrea Suozzo
Tuna tempura at the Bench
Part of the fun of Vermont Restaurant Week is the opportunity to try new places — perhaps even in towns you rarely visit. With more than 100 restaurants offering multicourse dinners for $20, $30 or $40 (and much less for lunch and brunch), diners can expect a rounded experience at a predictable price.
Last weekend, Seven Days sent seven writers out to sample the fare. Many of the destinations, such as Brattleboro's Peter Havens, South Hero's Blue Paddle Bistro and Richmond's Kitchen Table Bistro, are local institutions.
But restaurant week has a way of making even old favorites new again. At the Daily Planet in Burlington, chef-partner Justin Bigelow — whose white truffle gnocchi won big at the Best Bite Bash kickoff party last Thursday — uses the 10-day event to push the limits of what a dish can be. We still remember his 2015 Dr. Seuss-themed menu. This year, his dishes include a root-vegetable "osso bucco" and a spring garden salad complete with cocoa-mushroom "dirt."
This is but a tiny fraction of what's available on plates across the state. Restaurant week runs through Sunday, May 1. Where will you go, and what will you eat there? We invite you to share your dining adventures: Tag your tweets and photos on Instagram with #vtrw!
The Bench
492 Mountain Rd., Stowe, 253-5100, benchvt.com
Andrea Suozzo
Pork schnitzel
A sign on the door at the Bench asks visitors to remove ski boots before entering. And as we walked from the warm evening into the wood-paneled restaurant last Friday, I almost believed we'd just returned from a long day carving turns on the mountain.
Firewood stacked in neat rows behind benches and along walls added to the après-ski feel — and fed the large, domed pizza oven blazing in the corner. At the bar, 28 taps mounted on a wall of copper-colored metal poured Hill Farmstead, Zero Gravity, Foley Brothers and other Vermont beers.
Poutine, burgers and pizzas seemed to be crowd favorites, but we were here to try out the $30 restaurant-week menu.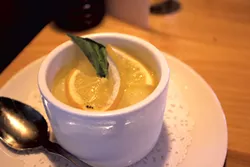 Andrea Suozzo
Limoncello sorbet
For starters, I ordered a warm goat cheese baguette with greens. The plate came dappled with cinnamon-laced pecans and dried cranberries and topped with two pieces of warm bread spread with herbed chèvre.
My boyfriend's starter — smoked mozzarella with blistered grapes and balsamic reduction — came in a cast-iron pan still hot from the oven. Layering the grapes and mozzarella on bread yielded a sweet, smoky, slightly chewy tangle of flavor that I could have eaten all night.
My entrée paired tempura tuna with a crunchy jicama-chicory salad. The tuna was wrapped in seaweed, battered and fried, then cut into rounds like a sushi roll, with a tender, pink interior and crispy exterior. The accompanying salad, with its ginger-soy dressing, would be at home in a sushi restaurant. The chicory leaves gave the mix a complex, bitter kick.
If my dish was Asian-inspired, my boyfriend's entrée was Germanic: pork schnitzel with braised cabbage and herbed spaetzle. I couldn't resist stealing a few bites of the spaetzle, which was buttery and flecked with capers.
The final course was basil-limoncello sorbet adorned with a lemon slice and basil leaf. A hint of licorice from the basil punctuated the sweet-tart dessert. The chill of the sorbet — and the flickering flames from the pizza oven — brought my thoughts back to winter. But the scent of basil took me straight into warmer months.
— Andrea Suozzo
Blue Paddle Bistro
Carolyn Fox
Coffee-crusted pork tenderloin at Blue Paddle Bistro
In between light showers and stretches of thick, ominous clouds, the sun beamed its rays on the land of my future retirement home: the Champlain Islands. Fittingly, my fiancé, Dave, and I were practicing for that future — still some 40 years away — by heading to an early-bird 5 p.m. dinner at South Hero's Blue Paddle Bistro.
Carolyn Fox
Salad with strawberries
It was our first time dining at this chef-owned eatery, the winner of last year's Seven Daysies award for best restaurant outside Chittenden County. Island beach days seem to demand fries and milkshakes at Seb's Snack Bar, just down the road — but on this rainy April evening, we were ready to rock the boat at Blue Paddle.
The bistro is in a white house with blue shutters, and we were seated upstairs in a homey alcove outfitted in Adirondack-style décor: mini wooden canoes, driftwood, painted fish. Our waitress was friendly and fun. Within 30 seconds of meeting her, we'd learned that she grew up down the street from our apartment. There were a few hiccups with placing our orders: Even though we had the first seating of the night, both the duck and the scallops on the menu had already disappeared, and we just barely snagged the last sips of a fig-infused bourbon. But pleasant service made negotiating a few substitutions a breeze.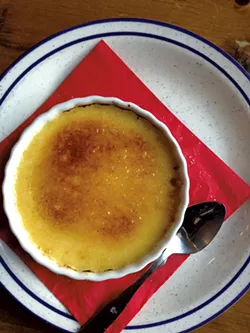 Carolyn Fox
Crème brûlée
A salad with strawberries, maple-roasted pecans, soft goat cheese and balsamic vinaigrette was on point and fresh as could be. Crab cakes came with a mango chutney dipping sauce that should be bottled and sold. Dave's perfectly seared sea bass, ordered from the regular menu, was topped with an artful heap of crunchy shoestring sweet-potato fries. My coffee-crusted pork tenderloin popped with an umami drizzle of what tasted like soy sauce.
After making good-faith efforts on dessert — a dreamy, creamy lavender-honey crème brûlée for him and a sweet raspberry-lemon tart for me — we hit the road with our leftovers. The stormy weather had subsided, leaving the lake a glassy sea of soft blues and pinks in the twilight. It'll be a while before I can call this view my own. 'Til then, I'll happily make Blue Paddle my occasional island home.
— Carolyn Fox
Bar Irene, the Parker House Inn & Bistro
Courtesy Of Parker House Inn And Bistro
Beets and carrots at Bar Irene
After a long Saturday spent tilling garden beds in the hot sun, my husband and I were pooped. An early bedtime seemed preferable to driving 40 miles to Quechee for dinner.
Then again, a fireside meal in the Parker House Inn & Bistro's Victorian dining room would be relaxing — even romantic. And I'd been looking forward to co-owner and chef Alexandra La Noue-Adler's cooking all week.
As we entered the restaurant, a young woman called my name. She seemed excited to see me. Startled and confused, I took a moment to place the face. I'd known Molly Whitcomb since we were babies but didn't know she worked at the Parker House. After old-friend hugs, she suggested a drink at the bar.
We wandered back to Bar Irene — named for the 2011 tropical storm that sent the Ottauquechee River flowing through the inn's ground floor. The walls of the small, candlelit room are shellacked with vintage posters.
Clad in a vest and collared shirt, Parker House co-owner Adam Adler greeted us with a grin and rattled off his cocktail list in British cadences. "Try the French Martini," advised the blonde seated next to me.
The cocktail was barely sweet and tasted of spring. Conversation bubbled up and rolled from men's fashion — inspired by a patron's bodacious paisley shirt — to education, child-rearing and 1970s Vermont.
An hour passed. The dining room emptied and we hadn't yet ordered food, but the bar was too keen a pleasure to abandon. So we stayed right there and picked our way through a bar-stool dinner.
Each dish was an exercise in freshness and balance. The first course brought cumin-scented beets and carrots. The roots strummed a roast-y bass note for a zingy dollop of herbed goat cheese; maple-tinged mustard grains cut through the musk of chicken-liver-pork pâté on crunchy toasts.
Next, charred lemon offset the fatty, blue-skin glisten on a crisped filet of trout. It was served with blistered, quartered potatoes, whose chewy amber skin gave way to a creamy interior. The same potatoes appeared with my husband's panko-crusted chicken, with its roasted-tomato purée and drizzle of basil oil.
As the restaurant closed around us, we finished with cake — one dense and rich with chocolate ganache, another light and layered with coconut buttercream and lime zest.
Normally, I don't even like cake. But the evening had turned out nothing like what we'd planned. So, why not eat cake?
— Hannah Palmer Egan
The Daily Planet
15 Center St., Burlington, 862-9647, dailyplanetvt.com
Corey Grenier
Gnocchi at the Daily Planet
After tasting chef Justin's white-truffle gnocchi at the Best Bite Bash last Thursday, I knew one bite wasn't enough. Luckily for me, I had made reservations at the Daily Planet for the first night of Vermont Restaurant Week. Go, me!
When we arrived, I instantly noticed the Best Bite award that the chef had won the previous night displayed above the hostess stand. We were seated at a cozy table in the back and promptly greeted by our friendly and attentive server, Gene.
He dropped off some bread and olive oil that assaulted my nose with an amazing aroma. Our cocktails quickly followed. My boyfriend, Derek, took one sip of his filthy pickle martini and said, "Yup, I remember why I had so many last time — it's so salty. So right." I opted for the Fashionable Ginger, which was equally delicious.
Gene dropped off our first course, and it was love at first bite. I got the bone-marrow bread pudding with oxtail marmalade, caramelized cippolini onion, smoked wild-berry gastrique and sprouts. I closed my eyes to savor the first bite of pudding. It hit all the marks: salty, sweet, buttery and fluffy at the same time.
Corey Grenier
Peanut butter bar at the Daily Planet
The award-winning gnocchi came next. The components were whimsically arranged and perfectly portioned. The flavors paired nicely with my first course and were just as magical as I remembered. Derek, a more adventurous eater than I, got the saffron risotto with scallop, lobster, rock shrimp and calamari. He appreciated the presentation and said the seafood was cooked to perfection. Especially the scallops, which melted in his mouth.
At this point we were both pretty full but excited for dessert — because who isn't? Derek got the chocolate chip cookie sliders; I went for the super chunky peanut butter bar. The bacon brittle mixed with smoked-porter caramel was a flavor explosion in my mouth. The dark-chocolate ganache on top of the peanut butter was a little hard to get my fork through, but once I did — because I never quit on chocolate — it was well worth the effort. Put a fork in me, I'm done, I thought. But it's safe to say we'll soon be back at the Planet for another stellar meal.
— Corey Grenier
The Kitchen Table Bistro
Pamela Polston
Wahoo, fiddleheads and asparagus at the Kitchen Table Bistro
I was glad to be in the company of four friends at the Kitchen Table Bistro so we could sample a variety of dishes. "Variety" is putting it mildly. The three-course, $40 prix-fixe menu was stunningly huge — nine options for small plates alone. So we were surprised when the server announced a few specials in addition.
After pouring our first bottle of the evening — a Père et Fils cinsault-syrah rosé — she asked us to place our orders for all three courses to ensure that the kitchen didn't run out of our choices. For a starter, I went with the chicken-liver pâté; for the main, a fish called wahoo served with fiddleheads and asparagus; and my fave dessert, crème brûlée, for the finale.
The pâté mold arrived on a long rectangular plate with slices of toasted Red Hen bread, a dollop of super-grainy mustard, slivers of pickled vegetables and large capers. The pâté was silky smooth and slightly sweet; it made lovely little open-faced sandwiches with the toast and pickles.
In addition, I sampled my friend's fiddlehead salad (with sprouted beans, radish, pepitas and Vermont Creamery feta). She called it "spring in your mouth," and I had to agree. Other standouts were the braised-bacon toast and the house pasta with braised LaPlatte River Angus Farm oxtail, grilled ramps and a minty sauce. We noted not just the exquisite flavors but the thoughtful attention to textures.
We had begun to sip our second wine, a Bergevin Lane Calico Red from Walla Walla, Wash., when the second course came out. I had never even heard of wahoo, but I found the firm white fish cooked to gentle perfection, its surface seared and peppery. The fish reclined on a lagoon of soft polenta and beneath a tangle of delicate fiddleheads and asparagus. I couldn't identify what made the finishing broth so deliciously umami — anchovy? — but all of these flavors together were heavenly.
Though full, I managed to devour my crème brûlée, a pillowy custard beneath crusty caramel. The accompanying sea-salted shortbreads gave the classic dessert a modern, and delicious, twist.
All five of us met our dishes with exclamations ranging from the blissful "mmm" to "orgasmic." Overall, we settled on "superb" for the entire experience.
— Pamela polston
Ariel's Restaurant
Don Eggert
Jicama tacos at Ariel's Restaurant
Lee Duberman and Richard Fink, owners of Ariel's in Brookfield, have vacationed annually in central Mexico for years. For the last two, they've closed their highly acclaimed restaurant for the winter to spend a few months in San Miguel. Their spring reopening coincides with Vermont Restaurant Week.
Last Friday night, as two friends and I walked through the door of the building that houses the couple's home and restaurant, we couldn't tell it had been closed. Duberman bustled in the kitchen, laughter tinkled from one of the seating areas and delicious aromas wafted through the air.
We were seated in the well-appointed dining room, which was quiet that evening. The tables were draped with elegant ivory tablecloths; candleholders were made from pink Himalayan salt. We were surprised to hear music from the likes of David Byrne and Wilco on the sound system. (Later in the evening, about the time we got our coffee and cognac, the music switched to something jazzier and instrumental.)
Ariel's restaurant-week menu offers a dozen big-flavored small plates, from which diners can choose any four, savory and/or sweet. We opted for at least one of nearly everything and shared bites, making a ceremony out of cutting small portions into thirds.
Switching from seafood to lamb made beverage pairing tricky, but sommelier Fink was up to the task. We ended up with a 2013 Schug Pinot Noir, which was silky and bright and tasted of cherries.
Then the parade of small plates began to arrive. First, delicious "tacos" made of crisp jicama wrapped around slaw and shrimp, dotted with cilantro and red onion. We picked them up with our fingers, all crunch and salinity punctuated by sweetness and the bright zing of the herb.
Duck larb, or Thai salad, was just as excellent. Delicate lettuce leaves enfolded bits of meat, fried shallot, crispy rice and mint, all dressed with fish sauce. Juices ran down my hands as I ate, and, of course, I had to lick them.
Breaded rabbit came over collards and grits. A skate wing was served with beans and artichoke purée, dotted with capers and accented by charred lemon. Perfectly cooked lamb had a dash of Spanish romesco sauce. Our palates zipped all over the globe, and the wine, not surprisingly, complemented every morsel.
— Suzanne Podhaizer
Peter Havens
32 Elliot St., Brattleboro, 257-3333, peterhavens.com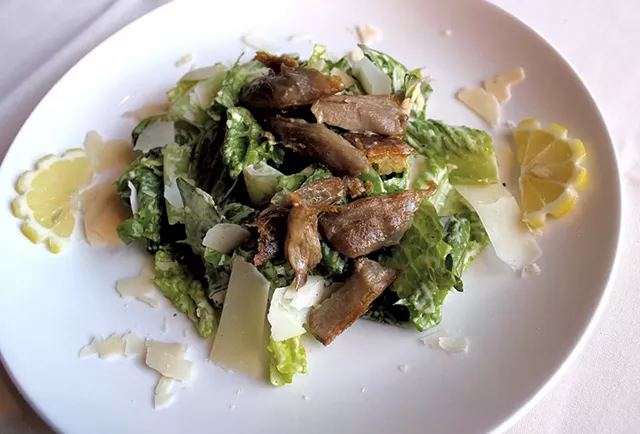 Andrea Suozzo
Caesar salad at Peter Havens
Since this is the first year southern Vermont is participating in restaurant week, my friend Andrea and I headed to Brattleboro. I had visited Peter Havens just a few weeks ago and, after having their Caesar salad and drinks, I couldn't get it out of my mind.
When we arrived, a hostess led us through the 10-table dining room to a corner table. I had a view of Elliot Street, while Andrea surveyed the dining room featuring warm abstract paintings of cityscapes from Greenfield, Mass., artist E. Joseph McCarthy.
After our long drive we were famished and devoured our bread in minutes. A petite four-piece loaf, it came with a small dish of sun-dried tomatoes in olive oil. Our server graciously brought us an extra loaf to tide us over while we waited for our first course.
Andrea Suozzo
Trout
Andrea appreciated that her carrot-ginger-apple soup was not overly sweet. Instead, the acidity of balsamic, gracefully drizzled across the top, enhanced the other flavors in the creamy orange mixture.
My Caesar salad was just as remarkable as the one I'd had before. The romaine lettuce was evenly jacketed in dressing and tossed with shaved Parmesan and housemade croutons. What made the dish luxurious and indulgent — words I rarely use to describe salad — was a mound of duck confit on top.
Our entrées were equally exquisite. Andrea's duck was skillfully cooked — crisp on the outside, tender and slightly pink on the inside. The classic, citrusy sauce made us seriously consider licking the plate.
Andrea Suozzo
Chocolate mousse
My trout was just shy of a whole fish. Tiny tomato dices played well with crunchy slices of almonds and a buttery lemon sauce. Stowed under the fish was a creamy mushroom-saffron risotto.
Halfway through our main dishes we requested take-home boxes in order to leave room for dessert. Choosing from the four options was nearly impossible, even after eliminating the spice cake. In the end Andrea went for a silky, rich chocolate mousse with a pouf of whipped cream. I chose the bourbon crème brûlée. As I forcefully tapped my spoon against the caramelized surface, it gave way with a satisfying crack. The thick custard melted in my mouth.
Sated, we slumped back into the car for the 150-mile ride home. I thought briefly that this journey was a tad ambitious. But the dinner made it worth every mile.
— Melissa Haskin