Few stumble upon Middlebrook Restaurant & Market. Along a back road deep in the hills of Orange County, the place is way off the beaten path. But the locals and summer residents who populate the lake houses and camps around Lake Fairlee know where to find it — the restaurant is their spot for celebrations and Sunday suppers alike.

Brent Harrewyn
Adam Dosz
The original Middlebrook pioneered locavore cuisine back in the 1990s but closed its doors in 2004. The Dosz family bought the property soon after, but maintaining its 115 acres and historic home became untenable over the years. So, in 2014, son Adam Dosz left his job as a sous chef in Philadelphia to revive the restaurant from its slumber.
Exposed beams, fine art and flickering candles welcome guests to his seasonal dining room, open varying hours May through December. The space walks the line between elegant and farmhouse-chic — and the food strikes a similar balance.
Dishes are simply presented and showcase exquisite garden-fresh ingredients, some of them grown on-site. Midsummer, Dosz prepares salads of pristine baby lettuces and spicy gem mustard microgreens, tossed in lemon and oil and scattered with pine nuts and Bayley Hazen Blue cheese from Jasper Hill Farm.
The menu changes often, depending on what the garden and local farms can provide, but Dosz strives to keep some form of Atlantic fish on it. Maryland crab cakes, which recall the chef's Chesapeake Bay childhood, make frequent appearances. Bluefish, so soft you could spread it with a knife, is layered with flaky smoked salmon on toast with pickled peppers and salsa verde.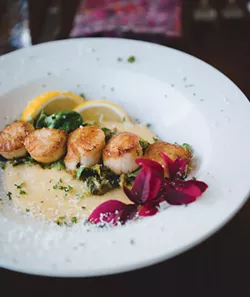 One August night a half dozen plump diver scallops came nestled into a bed of creamy, soft-grained polenta. Over the top, smashed pan-fried Brussels sprouts — as crisp as ancient parchment — were studded with nuggets of salted pork.
That same evening, a cut of beef — dry-rubbed with salt and pepper and seared bloody rare — was accompanied only by garlicky spuds. With flavor to spare, this meal of meat and potatoes was more than the sum of its parts.
Ditto dessert: just-picked blueberries and raspberries with a dollop of cream.