Waitsfielders flock to Home Plate for the same reason they go to a Mad River Valley Little League game. At this breakfast and dinner spot tucked away off Route 100, there's a good chance they'll run into a family friend, a childhood babysitter, their kids' coach — or all of the above.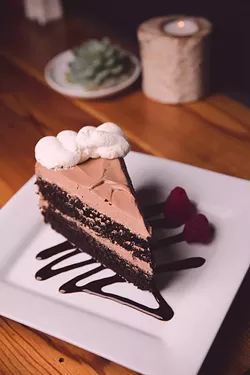 Owners Ashley and Matt Woods and Don Wenner didn't choose the name Home Plate because they're baseball fans, although all three of them are. The moniker derives from their goal of creating a friendly, casual restaurant with familiar, comforting fare.
They've achieved that. The menu is mainly pub grub — burgers and wings, fish and chips, spaghetti and meatballs, jalapeño poppers. But it also dips into ethnic fare: Hummus with naan is a staple, and there's always a curry of the day.
Home Plate is the kind of place where some of the food is local simply because buying from fellow Vermonters is the neighborly thing to do. So a hunky set of pork chops or a flank steak might come from Neill Farm just down the road, and the gooey mozzarella, stretching in strands from the meaty lasagna to your fork, was made with the milk of Green Mountain cows. Baked goods, from the rolls to the sweets in the dessert case, are crafted in-house.
When the kitchen can't get the ingredients close by, business carries on. The salad bar is a big draw, allowing diners to load up bowls with iceberg lettuce, California olives, fried onions and ranch dressing. Tempura artichoke hearts are another favorite — they arrive smoking-hot from the fryer, ready to swipe through puckery lemon aioli.
If you're in the seventh-inning stretch and your friend is still gossiping, kick back and order another beer. The bar is tapped into the most sought-after small-batch brews from nearby Lawson's Finest Liquids.
When it comes to food, drinks and company, Home Plate is a grand slam.