Jeb Wallace-Brodeur
Crop Bistro & Brewery
Brewing has long been a tradition at 1859 Mountain Road; an après-ski pub called the Shed began making ale here in the 1960s. Rather than leave that legacy behind, the crew at Crop Bistro & Brewery built on it: Using an innovative copper-clad brewing system from Bavaria, head brewer Will Gilson turns out flavorful and crisp German-style beers that perfectly accompany this eatery's upscale, locally sourced pub food.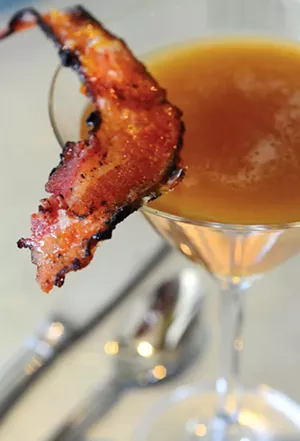 Jeb Wallace-Brodeur
Crop Bistro & Brewery
A flagstone fireplace and dramatic circular bar lend elegance to the dining room, where it's more about the wildly original cocktails. The "Mr. Figgy," for example, is bourbon, house fig reduction and rosemary needles garnished with a glistening piece of maple-cured bacon — served in a martini glass
The libations don't outshine the food at Crop, though. A backyard garden yields tomatoes and other veggies for buoyant salads. When he's not using the restaurant's own produce, chef Tom Bivins — former longtime executive chef at the New England Culinary Institute — taps nearby farms to create dishes such as sumptuous egg-and-pork-belly cracklins over mustardy frisée. Local lamb and duck find a home in his New England bean pot, and wildcrafter friends bring the kitchen woods-gathered Jerusalem artichokes for a bisque. The local, grass-fed burger is a juicy masterpiece.
Not all of the food is Vermont-grown, and that's a good thing: Broiled Massachusetts oysters topped with lemon butter are delicate, silky pieces of heaven.