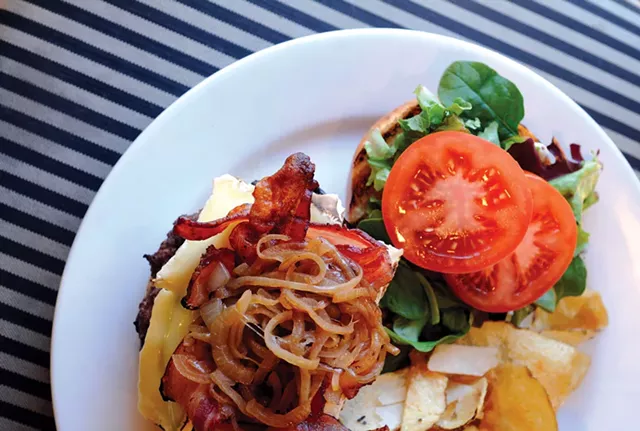 Jeb Wallace-brodeur
Brown's Market Bistro
At first glance, not much appears to be going on in sleepy Groton, population 1022. There's a church, a green, a few houses and a creemee window.
Slow down, though, and you'll notice that the creemee window is connected to a "meadery," and across the street, there's an eatery called Brown's Market Bistro. People may associate Groton with its pristine forests, but this village quietly harbors a rich coterie of food professionals — among them, Brown's chef, Zachary Reid, a native Hawaiian who migrated here to learn about Vermont's famed farm-to-table fare.
Jeb Wallace-brodeur
Brown's Market Bistro
With so few potential customers in the area, Reid needs to be versatile. While he presides over a blazing oven that turns out cheesy, thin-crust pizzas to go, the chef also creates eclectic, big-flavor dishes for the bistro, a cozy dining room adorned with lace curtains and flower-topped tables.
Crisp risotto "beignets" are slathered in a sweet, roasted-red-pepper marinara sauce, then drizzled with a balsamic reduction that brings them to life. French fries are amped up with truffle oil. Confit duck tacos, almost too large and intense to eat in one sitting, are three crispy shells stuffed with sriracha-spiked meat, ginger-and-balsamic-laced slaw and Grafton Village Cheese Company smoked cheddar.
No rural Vermont restaurant can survive without a burger on the menu. At Brown's, it's not "Zachary's" burger but "Vinny's": PT Farm beef piled high with crispy bacon, a roasted portobello mushroom cap, fig-balsamic caramelized onions and the cheese of your choice.
Don't be shy about asking for a doggie bag. The request just might precipitate a tableside visit from the gregarious Reid, bearing complimentary crème brûlée.