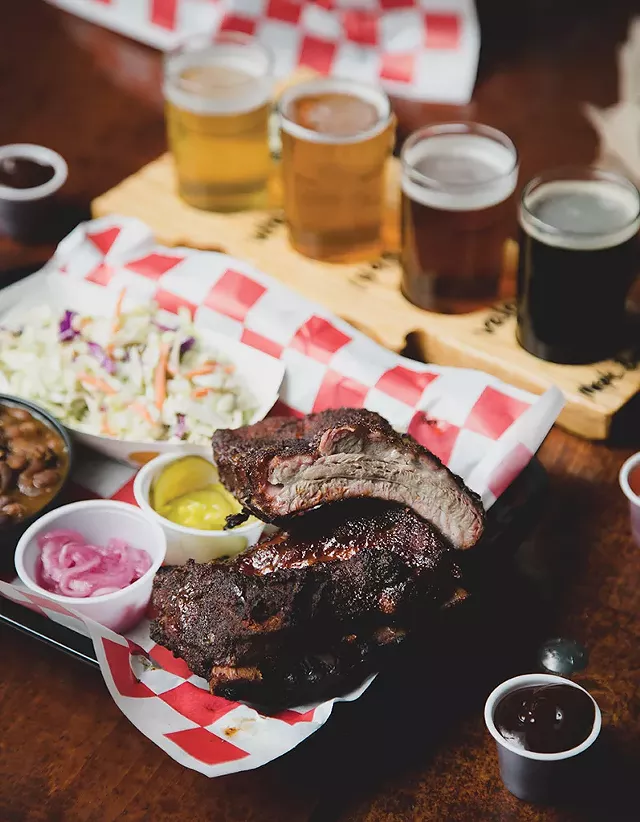 14th Star Brewing Co. began as a battlefield dream. While serving a yearlong tour in the Afghanistan desert's Andar District in 2010, avid homebrewer Steve Gagner bounced ideas around with the men in his company. With their encouragement, he researched commercial brewing and envisaged a business plan. After returning home to St. Albans, Gagner and his army brother-in-arms Matt Kehaya set to work building 14th Star.
133 N. Main St., Suite 7
Champlain Islands/Northwest
St. Albans, VT
802-528-5988
Brewery
The name — referencing Vermont's entry into the Union as the 14th state — brims with patriotism and state pride. The beers, from head brewer Dan Sartwell, began as a mix of modern (read: hop-driven) and classic (malty). A hoppy amber ale called Valor became a runaway hit in craft-beer-starved northwestern Vermont.
By 2013, the business was outgrowing its brewhouse. One year later — with Gagner's sister, Andrea, joining as CEO — the operation had moved into a converted bowling alley across town and become a well-oiled machine. Today, visitors can sample a dozen rotating styles on draft in the lofty, industrial-style tasting room.
The brews range from the tart and smoky Upside Down sour to the Barbe Rouge-hopped, straw-colored Who's Barb? — both inspired by Netflix's "Stranger Things." Except for strong double IPAs such as Tribute, all are available in growlers, pints and flights. And, thanks to the 2015 enlistment of local pit master Dave Burbo, who runs Smokin' Butt's Bar-B-Q from a counter inside the brewery, there's food, too.
Burbo's fried wings crackle with sweet, spicy dry rub. Meaty, tender ribs drip with smoky juices that mingle irresistibly with a tangy, slow-burning barbecue sauce. And the Piggy Pile — a heap of golden fries scattered with pulled pork, scallions and crunchy bacon — is so sinfully good that it easily overpowers any reservations you may harbor about the gooey orange Cheez Whiz drizzled over it.
Beer and barbecue: It doesn't get more all-American than that.