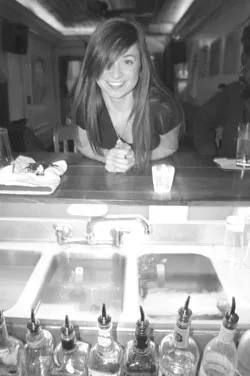 Matthew Thorsen
Jessica Bridge of 1/2 Lounge
A whole new world opened up for Burlington's Radio Bean when owner Lee Anderson signed a lease to take over the former New World Tortilla spot next door. He plans to turn the digs into a restaurant called ¡Duino! (Duende) that will offer a small selection of global street food all day and into the night. A passage will link the eatery to the coffee shop and music venue.
"We'll have a rotating mix of eight items, small plates," Anderson explains. "We'll do crêpes; we'll do a noodle bowl, fried plantains." A nightly vegetarian and meaty dinner option, also street-food-inspired, will serve bigger appetites. But hungry folks should show up early: "We'll have 30 or 40 of each [dish], and when it's gone, it's just gone," Anderson says.
The entrepreneur, who has consulted with several chefs but not yet hired one, says the fare will be "really different than anything Burlington has right now." He takes over the space this week and hopes to open on June 1.
What about that unusual name? Anderson took Duino — the name of a town in Northeastern Italy — from Rilke's Duino Elegies. Duende is an evocative Spanish word with no easy translation. In Anderson's rendering, it's what happens "when the collective consciousness of the people comes together into something that's greater than the whole ... It basically means 'the orgasm of the arts.'"
I'll have what he's having!
These days, plenty of restaurants are struggling with the issue of what to charge for their food. Even as ingredients get pricier, consumers facing big bills and job losses are looking to cut corners.
At Pastabilities in Williston, owners Dan and Nicole Roscioli have cooked up an unusual scheme to combat the recession: This Wednesday from 11 a.m. to 2 p.m., all hot dishes will be sold on a "pay-what-you-can" basis.
"There are a couple of restaurants out west that do it," Dan says, noting that his customers range from one person who "struggles to come up with lunch money" to another who drives a "$70,000 Lexus." "I figure if someone's having a great week and just got their tax refund back, they can leave a little more and help somebody get lunch that day," he suggests.
What does that lunch usually cost? "Anywhere from $3 for a slice and a drink to $10 for a large baked ravioli," Roscioli says. Other items on the menu include chicken parm, spaghetti pie and sliders.
"We hope to break even, but I really don't know," says Roscioli. If all goes well, Pastabilities' food will be priceless every Wednesday.
Down the road at Natural Provisions Deli & Café, things are heating up. The natural-foods store has beefed up its grab 'n' go options with a new hot bar. Says Manager Allison Lafferty: "We had a lot of customer requests for hot entrées, and we take our customer suggestions very seriously."
Now hungry patrons can nosh on a selection of soups, casseroles and side dishes. There's always a vegetarian entrée. One day last week, Lafferty recalls, the bar offered "sautéed kale, a chicken stir-fry and a veggie stir-fry. And a strawberry cobbler for dessert."
The dishes, which change daily, always feature local, organic or all-natural ingredients, promises Lafferty. On holidays, looked for themed meals.
The steaming eats aren't the store's only innovation. Lafferty has expanded the bulk selection, added more Vermont gifts such as candles and kitchen gadgets, and created special shelves to house gluten-free items. A new monthly e-newsletter keeps patrons abreast of store events such as free workshops on nutrition and weight management. The market "just keeps changing and adapting," Lafferty says.
Consider Bardwell Farm of West Pawlet may have scooped up a trio of American Cheese Society awards last year, but mention the name in the northern part of the state and you'll most likely be met with quizzical looks.
Unless you're talking to 1/2 Lounge owner Jessica Bridge. In March, the "speakeasy" — as Bridge likes to call it — began featuring a local artisanal cheesemaker each month. "[Consider Bardwell's] Manchester is my favorite," Bridge opines, "But any goat dairy is just bangin'."
In addition to the cheese, 1/2 serves a small selection of flavorful panini, plus desserts made by the Fresh Market on Pine Street. "We've got a balsamic cheesecake, which is a little more tangy than your average cheesecake, and Guinness brownies, which are a chocolatey mound of wonderfulness," Bridge attests.
Want some wine with that? A new collection of boutique beverages graces the menu, thanks to a collaboration between 1/2 and the Dedalus Wine Shop.
Bridge says Dedalus co-owner Jason Zuliani approached her about working together on the bar's wine list. "He is so much more knowledgeable about wine [than I am]," she explains. "Because alcohol's our primary focus, we want the most drinkable wine out there, but Jason took a lot of care to make sure it's not your basic run-of-the-mill [list]."
The "symbiotic relationship," as Bridge calls it, is helping out Dedalus, too. Zuliani has begun offering wine education classes in 1/2 Lounge's funky basement. From his shop on lower College Street, he can send prospective but uncertain buyers right up the hill to sample pricey wines by the glass.
Jodi Whalen and Phil Merrick originally hoped to open August First Bakery in downtown Burlington on the first ... of July.
Then the couple's plans to move into 67 Main Street went awry when they failed to come to an agreement with the property owners. Instead, Whalen and Merrick signed a lease for 61 Main Street, located in the same building as Euro Corner, where they hope to relocate by July 1 at the latest.
The big question: Will they open by August 1st?