Oliver Parini
Honey Road
Dukkah. Freekeh. Markouk. Urfa. The words sound singsongy when said aloud, like a child's counting rhyme in a language one doesn't speak. All can be found in the glossary included in the menu at Burlington's Honey Road.
Dukkah is a spice blend. Freekeh is smoked wheat. Markouk is a kind of bread. Urfa is a dried chile. Until I dined at Burlington's new eastern Mediterranean spot, I'd never glimpsed any of them at a Vermont restaurant.
Honey Road sits at the highly visible intersection of Church and Main streets, with boutiques, nightclubs, aggressive panhandlers and an elegant art gallery all just steps away. The restaurant opened on July 5 with an impressive culinary lineage, marrying Vermont's finest with the best of the greater Boston area.
One owner, Allison Gibson, previously worked at Hen of the Wood and Shelburne Farms. The other, Cara Chigazola-Tobin, was chef de cuisine at chef Ana Sortun's Oleana in Cambridge, Mass. Like that famed, much-awarded restaurant, Honey Road specializes in mezze — small plates that are perfect for sharing — from Greece, Turkey, and the Near and Middle East. Oleana's menu supplies diners with a glossary, too.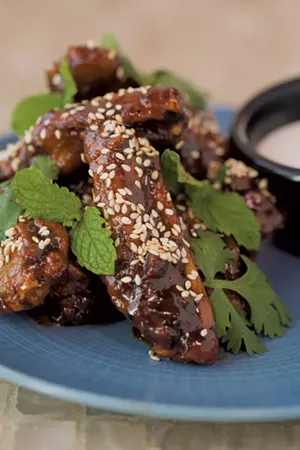 Oliver Parini
Chicken wings
Whether because of its pedigree, its location or the rarity of its cuisine in the Northeast — or all three — Honey Road is a definite hot spot. One Thursday afternoon, it was too late to get a reservation for the following day. On two weeknight visits, one on Tuesday and one on Thursday, the restaurant was packed.
The breadth of the customer base was notable. Guests ranged from bros in team jerseys chowing down on sweet harissa chicken wings ($11) to a college-age couple snuggled on a banquette double-dipping pita in creamy baba ghanoush ($6). I saw families, too, and folks who looked like they'd just left the office together.
How is Honey Road getting such a wide swath of Vermonters to sample dishes they've never heard of, on days of the week that tend to be challenging for the restaurant business? Reasonably priced shared plates, for starters. People on a tight budget can come in and nibble on a slew of dishes priced between $4 (for spiced fried chickpeas) and $12 (for flavorful veggie dishes, such as butternut squash pastry with braised greens and pickled apple). Even the most expensive offering, a sumptuous lamb shoulder, rang up at $29. It was substantial enough to feed two people who'd snacked on a couple of small plates first.
It also helps that the food is excellent. All of the dishes I tried at Honey Road landed between good and exceptional, with most trending toward the delightful end of the spectrum. Vegetarians and meat eaters alike can find creative fare packed with flavor, sourced from local farms and prepared with impeccable technique.
When there's so much to praise, criticisms can seem picayune. On my first visit, I ordered one too many dishes with yogurt as a sauce and ended up a little fatigued by the flavor of sour dairy. The wedge of cabbage that arrived with the lamb entrée could have been a bit more tender. While the milk pudding ($7) was traditional, it wasn't as compelling as I anticipated, except for the carrot jam on top.
I couldn't decide what I thought of an appetizer of strained yogurt whipped with squash ($6). "It tastes like strawberry cream cheese," my friend commented, and he was right. The sweet/sour profile was almost exactly the same, and we were scooping it up with a ring of bread dotted with sesame seeds, which extended the comparison.
Those reservations noted, several of the successes were truly glorious. Take the chicken wings ($11). Gently spicy, with a gooey harissa coating, a liberal sprinkle of sesame seeds and a tangy sauce made with yogurt and dried lime, the tidbits were juicy and addictive. Halved Brussels sprouts ($12), seared dark on the flat side but otherwise bright green, arrived on a bed of flavorful smoked-wheat salad with tomato and corn kernels. The garlicky walnut sauce on top tied the whole dish together.
On my second visit, a new item had appeared on the menu: half a roasted Honeynut squash from Half Pint Farm, topped with slender shreds of bitter radicchio, goat cheese, hazelnuts and bread crumbs ($12). The double crunchy punch of the nuts and the crumbs lent the dish an exciting texture, and the squash flesh was sumptuous and sweet. The richly spiced dolmas ($7), stuffed with rice and lamb and seasoned with thyme, cumin and sumac, were the best I've had.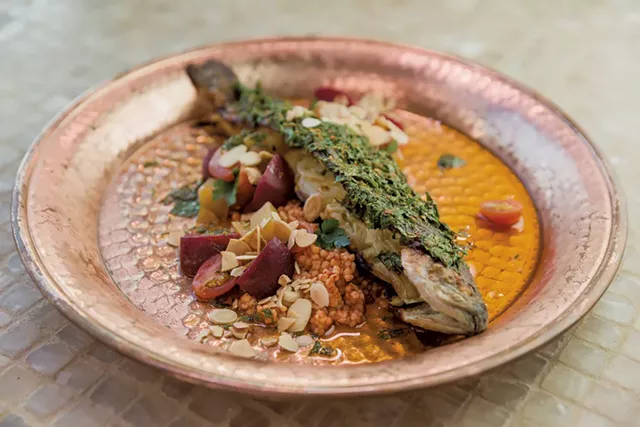 Oliver Parini
A whole trout
But the two best dishes were based on seafood. The grilled octopus mezze ($13) was stunning. Bites of baby octopus were tossed with slender green beans, dried beans, parsley and capers, and drizzled with aioli. What gave the dish its exceptional flavor were paper-thin slices of spicy pickled celery. The unusual combination married perfectly on the fork.
A whole trout ($27), head and tail included but bones removed, was the other standout. It rested on a bed of couscous laced with bitter spices, including prominent notes of toasted coriander. Cherry tomatoes and almonds were piled atop the couscous, and a generous quantity of parsley and dill delivered a bright, refreshing note. I ate the crispy and delicious skin, the tender cheek and, after a moment of hesitation, the eyeball.
Lacking a serious sweet tooth, I thought I'd have only a bite of the tahini ice cream sundae ($11) topped with crumbled halvah and sesame caramel. It was so good that I ordered it at both visits. The ice cream had a lush texture; the nuttiness of sesame, which was echoed in the halvah and the caramel, went perfectly with the fresh figs on top. Likewise, raspberry-rose sorbet ($3) was refreshing and complex rather than cloying.
Oliver Parini
Tahini sundae
I'm still puzzling over a few aspects of Honey Road. For one, there's the pink lighting in the bar, where a neon flamingo perches high on a shelf. The color and the iconography contrast with the rest of the décor: dark wood, deep blue upholstery and dishware that evokes the eastern Mediterranean, such as hammered brass platters and Turkish teacups.
One of my dining companions suggested that the bar lighting was "like that quirk that you're not sure about when you meet somebody, but [that] turns out to be the thing you like most once you fall in love with them." Whatever the reason, the bar is a conversation starter.
Then there's the tagline printed on the menu and the bill: "Honey Road: Judge for yourself." Unless I'm missing a reference there, the challenge comes off as a touch defensive. But there's no need for a special plea. After judging twice for myself, I can say that the only thing Honey Road is guilty of is doing pretty much everything right.