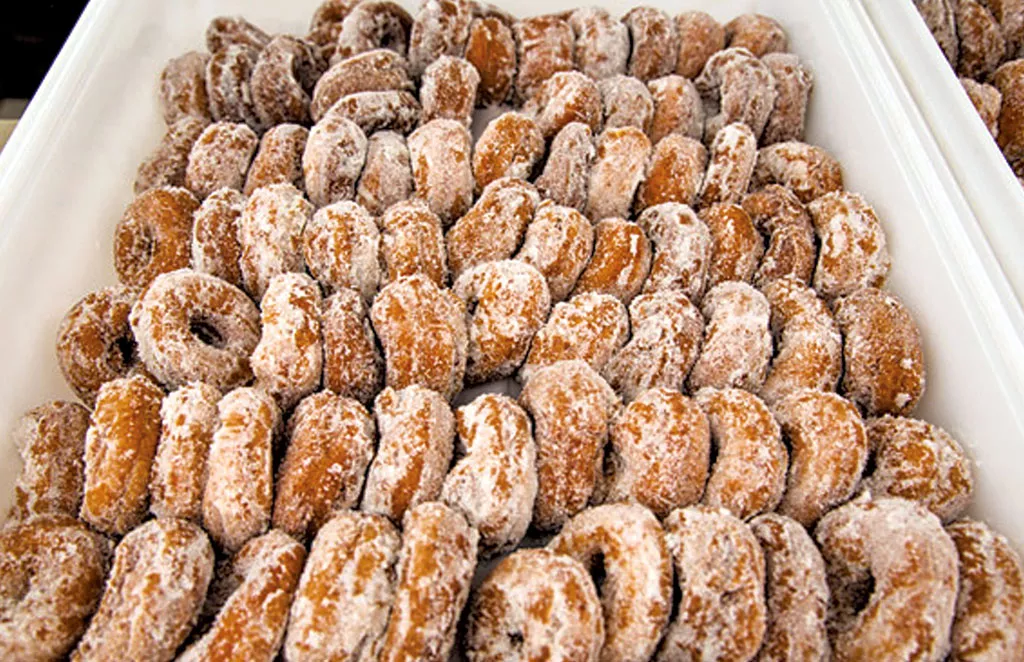 Courtesy of Rockville Market Farm
Squash doughnuts
For the first time since 1969, there is no Café Shelburne. Weston Nicoll, co-owner since 2013 along with Bill Iliff, confirmed that New Year's Eve was the restaurant's last supper. The darkened building now has a "for sale" sign out front. Nicoll chose not to comment further.
January 17 was the final night of service for Cabot's Downstreet Eats. Owner Elena Gustavson celebrated with a sold-out Korean feast.
Gustavson admits she took a risk when she opened the restaurant in the rural town late in 2013. Though busy nights could have kept her open at least through the summer, she says, she elected to find a new business model that didn't rely on foot traffic (or lack thereof) in tiny Cabot.
As luck would have it, another long-term business plan began to come to fruition just as Gustavson decided to close DownStreet. Perhaps it was serendipity — Vermont Serendipity, to be exact. That's the new box-of-the-month club on which Gustavson is partnering with Will Ameden of Marshfield's Under Orion Farm. In March, they'll begin shipping small-batch Vermont artisan products across the country.
Each month's box will have a theme. They'll contain products such as local maple and peanut butter along with Gustavson's homemade specialties, which include kimchi and Mexican hot chocolate.
Those who just miss the locavore Korean cuisine that Gustavson offered at DownStreet should keep their eyes out for a series of pop-up meals she plans to serve around central Vermont, including summer dinners at Under Orion.
Last year, collaboration beers hit the Vermont scene. Now a collaboration cheese from two top producers is on shelves. This week, Butterworks Farm Alpine Pastures, a joint product of Butterworks Farm and the Cellars at Jasper Hill, will ship to Hunger Mountain and Buffalo Mountain co-ops and probably to City Market, says Butterworks Farm owner Jack Lazor.
"It's very interesting," Lazor says mischievously of the cheese. "Mateo [Kehler] from Jasper Hill likes it better than the Alpine cheese they make from their own milk." Lazor and the Kehlers produced six wheels total. If this limited release is a success, the farms may collaborate again next summer, Lazor says.
— A.L.
Burlington-area fried-cake fans: A new doughnut is coming to town.
Eric Rozendaal's Rockville Market Farm in Starksboro produces about 100 dozen eggs per day and grows hundreds of thousands of pounds of butternut squash annually. In 2013, the farmers began selling squash doughnuts at weekend markets in Brooklyn. Those pastries landed on a list of 2013's best doughnuts on New York magazine's Grub Street food blog. Now Rozendaal has rented a space in Long Island City, Queens, where he's turning out old-fashioned cake-style confections on a commercial scale under the name Farm to Fryer. Look for them packaged by the half-dozen at City Market, Healthy Living market and café and Shelburne Supermarket starting next week.
— H.P.E.
The original print version of this article was headlined "Crumbs"