A sign outside a sprawling gray Victorian in West Brattleboro reads "CX Silver Gallery." Below that: "Dim Sum."
Inside, Cai Xi (pronounced "tsai-shee") and Adam Silver, a quirky pair of empty nesters, serve dim sum in their first-floor art gallery. By far the most authentic Sichuan-style Chinese food in Vermont, it's available most days — with advance notice.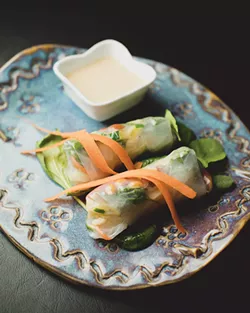 But diners will also pick up on a distinct Green Mountain flavor. That's because Cai blends the culinary traditions of her native city of Chongqing, China, with those of her adopted state of the last three decades.
So the sesame-scented, fork-tender bai zhan ji — poached chicken breast, sliced thin and served cold — comes with garlic-scape purée instead of the traditional scallion sauce. Likewise, dried cranberries add tartness to a tangle of spicy dan dan noodles — though cranberries were largely unknown in China until recent years.
"We use maple syrup, too, because we're Vermont people," Adam said, carrying a pot of Pu'er tea to the table one night. "That's our poetic license."
814 Western Ave.
Brattleboro/Okemo Valley
Brattleboro, VT
802-257-7898
Chinese and Catering
Much of the meat and produce comes from the Brattleboro Farmers Market, where the couple sells handmade dumplings and other Chinese specialties most Saturdays spring through fall.
It's likely, then, that the pork tucked into the paper-thin xiao long bao once frolicked in a nearby field. The petite dumplings make a fine warm-up for a plate of mala tofu or fish, smothered in scorching red-chile sauce with peanuts and green onions, or a beef stir-fry heaped with pungent shishito peppers and sliced red onion.
If mouth-numbing heat isn't your jam, anything can be made mild or medium — but you'll need to request that when you order, which happens when you reserve your table. Most dishes are priced between $5 and $15 and portioned for a crowd, all the better for sampling a spectrum of flavors.
So bring an appetite — and as many friends as you can.