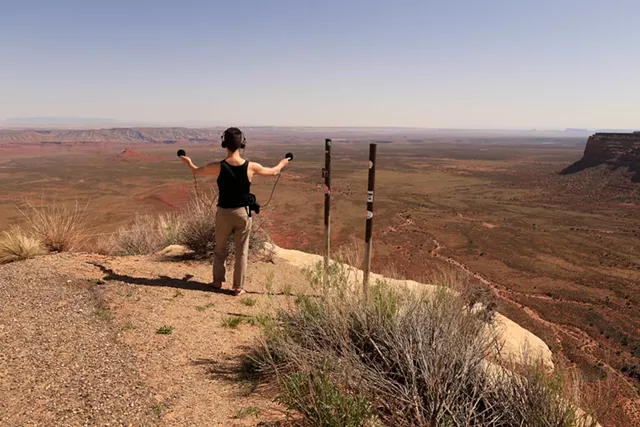 Photo: Jeff Moore/courtesy Of Jacob Kirkegaard
Jacob Kirkegaard recording for "Transmission"
Except to the profoundly deaf, sound is inescapable. Visual sensory information can be easily avoided by closing your eyes or looking away, but sonic stimuli is not so easily eluded, making it a rich artistic medium. Sound art is nebulous, transformative and time-based and often brings together disparate influences and disciplines in surprising ways.
The Hood Museum of Art at Dartmouth College in Hanover, N.H., recently unveiled a new exhibition called "Resonant Spaces: Sound Art at Dartmouth." Consisting of new, aurally inspired commissions from several international artists, it's the Hood's first-ever sound-art installation. Since the museum itself is closed for renovations until 2019, the sound works are scattered around the campus and auxiliary gallery space, the Hood Downtown. The exhibition runs through December 10 and will include a series of related events.
Curators Spencer Topel and Amelia Kahl, along with several of the artists, recently led a guided tour of the exhibition, on which a few Seven Days writers were happy to tag along. Topel and Kahl explained that the artists were given a list of on-campus venues for which to create site-specific works. Their use of space — and interpretations of sound art on a conceptual level — yielded wildly different results.
A few pieces are monolithic and impossible to ignore. Others are somewhat camouflaged and disappear into their surroundings. As you trek from space to space, you might observe the sea of everyday sounds: a whistling afternoon breeze, a door slamming in the distance, the siren of an emergency vehicle, snippets of overheard conversations, the trudge of footsteps. Yet the transition from this cacophony to strategic sounds can invite a reexamination of your environs.
If you want to model your tour on the one we had, start at the chic Hood Downtown, where the works of Terry Adkins and Jess Rowland are on display. (Adkins passed away in 2014 and is the only artist who did not create work specifically for the show.)
Among Adkins' submissions are a number of audiovisual pieces, such as "Mute," from his larger work "Songs of Hearth and Valor, Recital in 8 Dominions, After Bessie Smith." The video triptych reassembles footage of the blues singer, but her voice and any accompanying music is conspicuously absent. The void forces viewers to observe only the source of the sound and to mentally fill in the rest.
Rowland's work, "The Other Side of Air: Notations for Interactive Sound," is tactile. The composer created four electroconductive prints that resemble sheet music. Splashes of aluminum and copper foil zigzag across a musical staff, which produces a jagged, high-pitched frequency when the observer places a magnet, attached to a stethoscope, along the shiny squiggles. It's unlikely that a participant will produce the exact sound pattern twice, a concept that contrasts with the fixed nature of a standard musical score.
From there, take a quick walk up the street to Cummings Hall, where Laura Mae's "Spikes" is installed in the entryway. Outside, several solar panels provide power to the Belgian musician and composer's piece. Inside, a series of 200 handmade circuits, which emit crackling sounds and short flashes of light from tiny LEDs, are draped overhead like strings of improvised Christmas lights. It's as if Mae has created a tiny orchestra of mechanical insects, each one emitting a slightly different frequency. The exhibit is both anarchic and orderly, and its overall execution is dependent on the position of the sun and its visibility.
Jordan Adams
A sample of "Spikes" by Laura Mae
Update Required
To play the media you will need to either update your browser to a recent version or update your
Flash plugin
.
Next, jaunt over to Sherman Art Library at Carpenter Hall. If you didn't know where to look, you could completely miss Julianne Swartz's "Transfer (objects)" — three relatively small, wooden objects that nestle among books on a shelf. Each has a small, concave hole that's actually a diminutive speaker. When picked up, the wooden "books" activate and play recorded readings from several texts, such as Pauline Oliveros' Deep Listening: A Composer's Sound Practice. The connection between the objects and the library space is palpable. They linger somewhere between the antiquated notion of a book and the modernized, automated space we occupy today.
Just a few paces beyond, you'll find Bill Fontana's "MicroSoundings" outside the Class of 1978 Life Sciences Center. Earlier this year, the sound sculptor took field recordings from inside the building, cataloging various sonic spectacles such as the mechanics that operate the building's heating and cooling systems. Fontana then used accelerometers, which translate vibrations into sound, and mixed everything into 17 tracks.
Jordan Adams
A sample of "MicroSoundings" by Bill Fontana
Update Required
To play the media you will need to either update your browser to a recent version or update your
Flash plugin
.
These recordings play from a group of speakers that are affixed to a large metallic structure in front of the building. Fontana also attached accelerometers to the metal structure, which broadcast any vibrations the structure incurs in real time through a separate speaker. It's a confounding and convoluted piece. Fontana essentially removed the sounds from the building, augmented them, and then returned them to their place of origin.
At the Sherman Fairchild Physical Sciences Center, Jacob Kirkegaard's piece "Transmission" occupies multiple stories and plays with concepts of above and below. The Danish artist traveled around the American Southwest with scientists Jeffrey Moore and Paul Geimer. The team acquired seismic data from beneath the bowed formations known as rock arches, as well as acoustic recordings on the surface.
In the center's entryway, large speakers transmit rumbling recordings that were taken from deep within the Earth; several flights up, another set of speakers transmits the atmospheric recordings taken aboveground. Listeners can ascend the multiple stairs, making a slow ascent from the bowels of our planet to the surface.
Perhaps the most "invisible" piece in "Resonant Spaces" is Alvin Lucier's "5 Graves to Cairo." Loosely based on Billy Wilder's film of the same name — which Lucier loved as a boy but now describes as "kind of a terrible movie" — the longtime educator buried five loudspeakers in oil drums beneath the Bema Amphitheater. This choice mirrors the main plot point from the film, in which five supply depots scattered across World War II-era Egypt are similarly hidden.
You might stand in the secluded, grassy clearing for several minutes before you realize that the low hums you're hearing aren't distant 18-wheelers or low-flying aircraft. The bass-heavy resonance is actually coming up through tubing connected to the buried speakers. The installation promotes mindfulness and connectivity to the surroundings.
The last stop on the tour is another gallery. Christine Sun Kim's work, "The Grid of Prefixed Acousmatics," occupies the Strauss Gallery at the Hopkins Center for the Arts. Though she was born deaf, the artist primarily creates sound-based works — in a manner of speaking.
For this piece, Kim dealt with the concept of the "acousmatic," or sounds that are detached from their source. Given that she's only ever experienced acousmatic sounds, by way of subtitles or interpreters, Kim sought to capture the momentary space between signifier and comprehension.
After choosing the basic concept, she crafted a number of abstract ceramic objects that relate to her experience with acousmatic sound. Each is adorned with the word "acousmatic," preceded by various prefixes, such as "tele-" and "infra-." Audiences may not understand the connection between the prefixes and how they precisely relate to the individual pieces. But Kim seems to imply that, for a deaf person, the space where sounds are interpreted is not a vacuum.