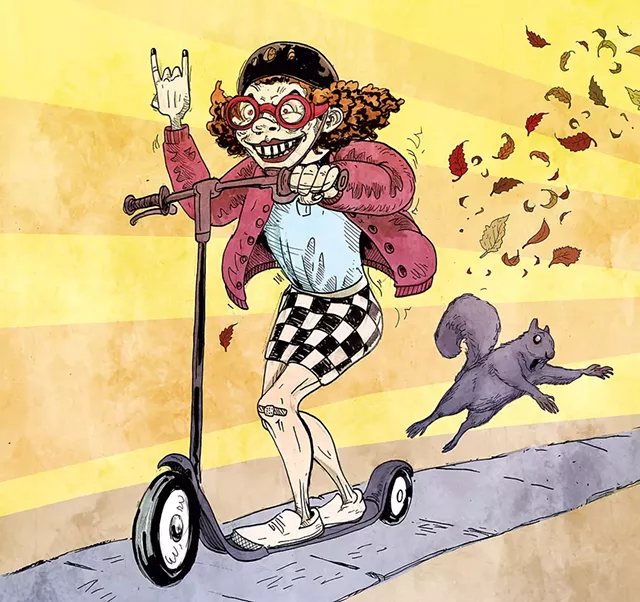 Three Chittenden County towns want to replace their current bike-share program with one that would roll out 400 electric bikes and scooters before summer.
The latest local effort to cut back on carbon emissions and promote alternative forms of transportation would fix at least one of the problems that doomed its pedal-powered predecessor: People don't like to bike uphill.
Since last April, when 105 green and blue pedal bikes arrived in Burlington, South Burlington and Winooski, riders have taken nearly 9,000 trips, about half of them from the waterfront. The Gotcha Group, the South Carolina company that provides the bicycles, had hoped to attract local commuters to its service but had better luck with tourists interested in leisurely rides along the bike path.
Gotcha had to hire Burlington's Old Spokes Home to haul the bikes back up the hill — up to four times a day — to the University of Vermont and Champlain College campuses. Nicole Losch, a senior transportation planner for the Burlington Department of Public Works, said there weren't enough bikes and hubs available to make the service convenient for commuting.
Corporate sponsors, such as Ben & Jerry's and Seventh Generation, paid for half of the annual cost of the $200,000 program. Institutions, such as Champlain College and the UVM Medical Center, together covered another 20 percent. The three municipalities split the remaining 30 percent. The rental money from customers went to Gotcha.
Now the company is offering to drop the annual fee and instead pay into a local transportation fund, but its new plan — especially the scooters — could still be a tough sell.
At a public meeting last week, Burlington resident Samuel Lurie described a recent hazardous trip to Santa Monica, Calif. He recalled tripping over scooters littering the sidewalks and being "run off the recreational path, getting run off the sidewalk" by speeding riders.
"Everyone hates these except the people on them," Lurie said.
At the same gathering, Mayor Miro Weinberger acknowledged, "We have work to do before we fully commit." But he expressed confidence that with public input — and appropriate regulation and infrastructure — the city could "find a Burlington way to get this innovation right."
The popularity of e-bikes and e-scooters has increased dramatically around the country in the past year. Uber and Lyft have gotten into the business. One of the three big scooter companies, Bird, launched a pilot project last October in Montpelier.
Around the same time, Gotcha approached Burlington about switching gears. "We're trying to ... make this a true viable commuter option for locals, as well as having it be a nice attraction," said Bob Dale, Gotcha's community manager in Burlington.
Chittenden Area Transportation Management Association director Sandy Thibault said she hoped the new fleet of 200 e-bikes and 200 e-scooters could change how locals get around. She imagined college students zipping around town on scooters and leaving their cars at home, or commuters using an e-bike to get from the bus stop to the office. Bikers who are intimidated by Burlington's sloping terrain could use an electric vehicle instead of a car.
Other important tweaks in the new arrangement: The hubs would be located in residential areas and near businesses, Dale said. Gotcha would charge by the minute, rather than the hour, to incentivize shorter rides. It would also continue to offer monthly and yearly membership options, as well as discounts for low-income residents and college kids, Dale said.
Old Spokes Home would switch out bike batteries that run low and do e-bike repairs; Gotcha would hire its own team to pick up the scooters each night and bring them back to a central charging station.
Now Burlington has to decide whether to move forward with Gotcha's proposal, accept part of it — just e-bikes or just the scooters, for instance — or reject the plan entirely. Gotcha hopes to have an answer by the end of February. If it's a yes, the city can continue to hold public forums and iron out the details until the launch around Memorial Day, according to Losch.
South Burlington and Winooski would also have to opt in.
The Queen City already allows e-bikes on the bike path. Burlington Segways owner Rick Sharp said he spent three years convincing the Parks, Recreation & Waterfront Commission to permit his customers to use electric conveyances. He pays a 5 percent tax on the revenues he makes from renting the Segways; the e-bikes aren't allowed to go any faster than 12 miles per hour.
Scooters are more problematic. In cities around the country, their numbers have increased along with horror stories about helmetless riders, collisions on sidewalks and scooters discarded in trees. Cities including Milwaukee, Wis.; Cambridge, Mass.; and Davis, Ventura and West Hollywood, Calif., have banned them.
In San Francisco, scooter opponents smeared feces on the contraptions to prevent people from riding them. Last summer, the city temporarily banned the scooters before implementing a permitting process for companies that provide them.
In a letter to Burlington officials last week, Lurie advised them to heed those cautionary tales. "Let's learn from these other cities and not just bring [scooters] here to Burlington without proper planning and consideration in advance," he wrote.
In recent years, officials have gotten pushback for some of the city's bike- and pedestrian-friendly initiatives. Many New North End residents objected vigorously to the installation of bike lanes along North Avenue in 2016. Other Burlingtonians are frustrated that more bike infrastructure means reduced parking downtown. Bike lanes on North Union Street and in the South End have also generated controversy, as have the new bollards and planters that have been strategically placed around town to make biking safer.
Existing state law treats e-bikes like bicycles, except that the electrical version is banned from sidewalks. But the law is silent on scooters. Burlington provides no more clarity.
Losch said that if e-bikes and e-scooters were introduced, users would ride in the road — not on sidewalks. Electric bikes and scooters would be off-limits in the same places where bikes are restricted, such as on the Church Street Marketplace.
Sharp's exemption aside, Losch couldn't determine from city ordinances whether e-bikes are legally permitted on Burlington's waterfront bike path. She and Weinberger said resident input would be key in determining whether to officially allow it.
Some businesses aren't waiting to plug in. Local Motion, an alternative transportation advocacy nonprofit that rents out bikes from a storefront along the path, has plans to add a few e-bikes to its fleet this summer, according to executive director Karen Yacos. The organization supports Gotcha's proposal — as long as there's adequate education and enforcement of safety rules.
The Chittenden County Regional Planning Commission has hired a consulting firm to study the legal implications and recommend local regulations. The city will likely implement new ordinances to clarify the rules for electric bikes and scooters, Losch said.
For now, "it's a gray area," she said.
The question of who will enforce the rules is also unclear, but Gotcha would use "geofencing" to regulate both speed and use, Dale said. Generally, e-bikes will go up to 20 miles per hour; scooters, 15. But Gotcha can program the bikes and scooters to have lower maximum speeds in certain places, Dale said. In areas that are out-of-bounds, the motor will shut off and a warning sign will pop up on the rider's phone, urging them to turn around.
Sharp envisioned speed demons zipping down Main Street to the waterfront: "No helmets, going downhill at a good speed — better hope the brakes work," he quipped. Riders can also manually pedal the bikes.
A rider reserves and pays for an e-vehicle on the Gotcha app and enters a four-digit pin code to unlock it, then the meter starts. At the end of the ride, users return the vehicles to any designated hub.
The cost has yet to be determined, Dale said; it'll likely be $1 or $2 to unlock the vehicle, then a set price per minute. Other companies charge about 15 cents a minute. The company operates the program with revenue from the rentals, according to Dale.
Local businesses will have the option to sponsor a hub, but the advertising income won't be necessary to run the rental program, he said.
Gotcha has also offered to pay $1 per day per scooter that's rented, money that would go into a fund managed by CATMA for local infrastructure improvements.
"We pride ourselves on being flexible to work with local communities, local universities and not [having] company-wide systems set in stone," Dale said.
Bike shop owners want a chance to weigh in.
Zandy Wheeler, co-owner of Skirack in Burlington, said his bike rental business dropped 30 percent last year — a change he attributed to the arrival of the bike-share. At North Star Sports, bike rentals also took a hit, according to JP Coseno, who works at the shop. Both businesses also rent e-bikes.
Wheeler urged city officials to consider the role of scooters: Would one really replace a car? Could a resident go grocery shopping with it?
"Are we just going to aggravate people?" he queried.
At the very least, he advocated for fairness in the market.
Sharp did, too. "They have to go through the same process that the rest of us did," he said, referring to the lengthy permitting efforts.
He believes that Gotcha should also have to pay at least 5 percent of its revenue, he added. He's a supporter of the electric scooters and bikes: "They're a lot of fun," he said. But "I think it needs to be run correctly, so that it doesn't supplant or overrun local shops."