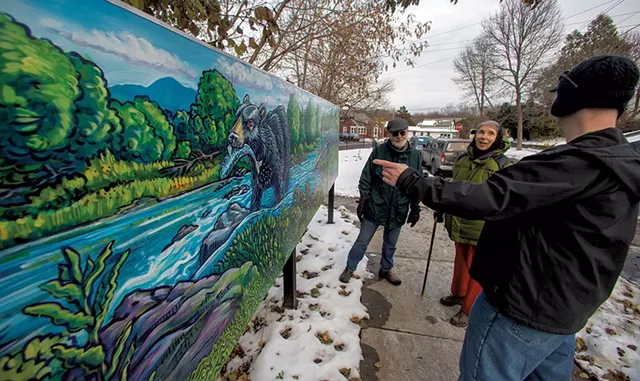 James Buck
Old East End mural on the corner of Chase and Barrett streets with organizers (from left) Dave Cawley, Sophie Quest and Jason Stuffle
Residents in one Burlington neighborhood are organizing and beautifying their streets to increase recognition of their unique spot in the city — and to make the area safer for pedestrians and bicyclists.
The Old East End Neighborhood Coalition formed in 2018 to address traffic issues in the Queen City close to the Winooski Bridge. According to the coalition, the Old East End is the area northeast of the University of Vermont along Colchester Avenue and its side streets. It includes Centennial Field, the 232-unit Bayberry Commons Apartments on Grove Street, Greenmount Cemetery, and businesses such as Pingala Café and the Boardroom, a new board-game café.
It's also a major thoroughfare — home to the chaotic confluence of Colchester and Riverside avenues, Barrett Street, and the Winooski Bridge — through which many drivers access Winooski, Colchester and beyond. Residents say that traffic moving too quickly through their neighborhood, and the lack of pedestrian crossings, endangers walkers and bicyclists.
In 2016, Sophie Quest moved to the Old East End from South Burlington, where she'd been on the planning commission, to live with her daughter Eva Sollberger, Seven Days' senior multimedia producer, on Chase Street. She joined a few of her new neighbors, including Dave Cawley and Jason Stuffle, and began working to improve the neighborhood. Cawley, who lives on Nash Place, is a retired manager of Vermont Energy Investment Corporation; Stuffle, on Colchester Avenue, is a research engineer.
Under the trio's leadership, the coalition first focused on the intersection of Colchester Avenue and Barrett Street, where a man was fatally struck by a car in 2012.
"There were zero pedestrian signals, and you just had to know it. It's such a complicated intersection. If you're trying to cross, there was never a time when the cars weren't coming," Stuffle said. "I literally had to show my wife, when she moved in with me, how to cross the intersection."
The group's advocacy paid off when pedestrian signals were installed in 2018.
"When we started working on it with [the Department of Public Works], several city councilors and legislators said, 'Well ... it's been in the works for so long, and you're not going to get it,'" Quest said. "But we kept pushing, pushing, pushing, and we got it."
The coalition also advocated for a parking ban on Colchester Avenue and designated bike lanes on the street, a plan that was approved by the city council this summer.
They group is also thinking about branding. Studies have shown that neighborhood connectedness can have a positive effect on residents' health and safety. A study published in the Journal of Community and Psychology in 2013 found that perceived "neighborhood disorganization" negatively impacted outcomes for youths. And in 2014, researchers at the University of Virginia reviewed studies on healthy neighborhood design and concluded that community design can make residents more active and foster social connection.
"Without some sort of recognition that this is a neighborhood, people can get very isolated," Cawley said. "This area needs a sense of place in people's minds ... If you know something about a place, you'll be a little bit more respectful."
Burlington is already home to the Old North End, New North End and South End. When longtime residents of the Old East End told the coalition that they had used that name for years, the coalition adopted it.
Cawley hasn't found any reference to that moniker in the city's history; in fact, the area has had many names. According to the Chittenden County Historical Society's Historic Guide to Burlington Neighborhoods, Ethan and Ira Allen and their relatives once owned the area, along with roughly 30,000 acres along the Winooski River. More than 800 acres eventually passed to Lucinda Allen, wife of Moses Catlin.
"The section of Colchester Avenue and the streets leading off it just below Green Mount Cemetery once earned the designation of 'Catlinburg,'" reads the Historic Guide. "No longer used now as a nameplace and long since forgotten, for the first half of the 19th century Catlinsburg was a real place and thought of itself more as a part of the mill village of Winooski Falls than as a part of Burlington. Most of the people who lived there belonged to churches on the north side of the river in what is now Winooski."
In his book Burlington: A History of Vermont's Queen City, Vincent E. Feeney wrote that hundreds of textile workers crossed back and forth over the Winooski River; they were members of Burlington's second-largest industry after lumber. Buildings on both sides of the river are included in the Winooski Falls Mill Historic District, which is listed in the National Register of Historic Places.
To help foster recognition of the Old East End, the coalition commissioned a mural by popular local artist Tara Goreau, who has painted murals around town, including at both City Market, Onion River Co-op stores. The 24-foot-long work at the corner of Chase and Barrett streets depicts wildlife and the river in bright colors.
Goreau said public art is an important way to bring a neighborhood to life and establish community presence.
"If you walk into somebody's house and it's a huge pigsty, you're not going to take off your shoes before you go in," Goreau said. "[But] if you see that people are caring about their environment, then you are inspired to also care for it. A mural is a way to say, 'We have a soul. We are thinking about this.'"
Goreau said she was honored to have been chosen to paint the mural, especially because Quest is an artist herself and an "incredible driving force" behind the neighborhood improvements. Goreau also lived in the Old East End when she first started painting murals, just a few houses down from the new public art.
The mural was supported by grants from AARP Vermont, SD Ireland Companies, and the University of Vermont Office of Student and Community Relations. The coalition estimates that more than half of the neighborhood's residents are student renters.
Gail Shampnois, who directs that UVM office, said it provides grants and people power for neighborhood improvement projects, supports students who are living off-campus, and mitigates conflict between students and the rest of the community.
On Isham Street, for example, Shampnois' staff worked with residents to build community gardens. A recent UVM report noted that, since the start of that project, students and other residents had begun to rent on Isham Street for longer periods of time and residents had launched more actions to beautify the neighborhood.
"We definitely have data that shows this strategy has been very successful," Shampnois said.
Cawley said that the day they started putting up the mural, pedestrians began stopping by to say hello. Members of the coalition said they want to see more people move into the neighborhood and turn it into a grand entrance to Burlington for travelers arriving from the north. They'd like the city to install historic placards and a "Welcome to Burlington" sign. In the meantime, the mural reminds drivers of the people who call those streets home — for whom it's worth slowing down.