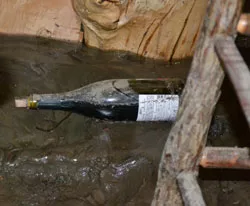 The Pitcher Inn after flooding
It's been just a few weeks since Irene pummeled Vermont, but the progress made by the state's scrappy restaurateurs (among others) is awe inspiring. Formerly flooded eateries everywhere have reopened, though some phone lines are still down and updates come via Facebook and blogs.
In hard-hit Waterbury, Arvad's Grill & Pub and the Reservoir reopened within four days. The owners of the Alchemist Pub & Brewery, whose main floor was waist deep in water, plan to reopen in December; their cannery and tasting room on Crossroad opened five days after Irene, bang on schedule.
A number of Waterbury's food businesses were working feverishly to get operations back up. The Vermont Peanut Butter Company manufacturing plant on Commercial Drive was ruined by more than three feet of water and mud, but owner Christopher Kaiser asserted it would be back in production "within a month."
The offices of Vermont Artisan Coffee & Tea Company met a similar fate — hip-deep water wiped out the company's inventory. The roasters still work, though, and the company is filling custom orders as it works toward full recovery.
In Waitsfield, American Flatbread at Lareau Farm opened five days following the flood, after a tide of volunteers accelerated its cleanup. On more devastated Bridge Street, the Green Cup and MINT Restaurant and Tea Lounge were still gutting and considering their futures.
Down at Warren's Pitcher Inn — where the entire basement tavern, Tracks, was submerged, and staff kayaked out a few cases of wine — rebuilding was proceeding hot and heavy one week after the flood, with a target reopening date of September 16 for the restaurant and October for the tavern. Still, as tens of thousands of dollars of undrinkable wine sat on the terrace — from a cellar that took 14 years to build — manager and sommelier Ari Sadri kept the situation in perspective. "What we lost is just stuff," he said, adding that the staff was overwhelmed by volunteers after the storm. "If I had to go through another natural disaster, I would choose to be in this community."
Montpelier's Kismet and That's Life Soup have reopened. In Quechee, Simon Pearce Restaurant lost its prep kitchen (and glassblowing studio) but was "charging ahead" toward service within the next week or two, according to Ross Evans, director of marketing. Neighboring Parker House Inn and Restaurant was substantially damaged but had reopened as of press time after a herculean cleanup; nearby Shepard's Pie on the Green was planning to open by the end of this week. Businesses in Woodstock and Killington — the Woodstock Farmers Market and Woodstock Inn and Resort among them — remained closed.
In White River Junction, Mel's Gourmet World Cuisine — also known as Taste of Africa — had recently expanded its kitchen on Bridge Street to accommodate new contracts. A few days later, owners Mel and Damaris Hall watched in horror as the White River flooded in. Within 10 days, they found a new space on Pine Street. Volunteers worked to get it open in a compressed time frame, a mission Mel Hall dubs "Kitchen Impossible."
For periodic updates on benefits for Vermont's farmers and eateries, check Blurt, the Seven Days staff blog.