Jeb Wallace-brodeur
The new Vermont Artisan Coffee & Tea headquarters;
When you arrive at Vermont Artisan Coffee & Tea in Waterbury Center, you may expect to see rows of cows inside, waiting to be milked.
That's how closely the nearly 15,000-square-foot structure, which serves as the beverage company's new home, resembles a barn. On former farmland off Route 100, the red, steel-sided building with a pitched roof and dormers evokes rustic simplicity and a sense of history.
The preparation of coffee and tea certainly is steeped in traditions that go back centuries. But inside this plant, only a few aesthetic details recall the past. Most of the open warehouse contains sleek, high-tech equipment befitting the demands of modern-day manufacturing — even for a specialty roaster that's small by commercial coffee standards.
"From the outside, it looks like a regular barn, but it isn't," says Mané Alves, who owns the business with his wife, Holly.
Last winter, the company started moving into the facility from its former site in Waterbury. At the old location, zoned only for manufacturing, Vermont Artisan had no café; now it has one, which opened in June.
Alves, a Portuguese native and former California winemaker, retrained his palate for hot beverages after he and his wife moved to Vermont. In 1995, he launched Coffee Lab International, a tasting and testing center that does quality control for clients worldwide, including large chains that serve coffee roasted by outside companies but lack the in-house expertise to judge it. He added the wholesale roasting operation, Vermont Artisan Coffee — and, later, Tea — in 2001 and combined the companies.
Joe Greene, principal of Joseph Architects in Waterbury, began working on Vermont Artisan's new HQ three years ago. He says that Alves had a clear vision from the beginning. "He wants to be able to have a client walk in and say, 'This is state of the art. This is definitely high-tech. And who would have known it would be inside this barn-looking thing?'"
The new building also houses the Vermont Artisan School of Coffee and its classes in "cupping" (tasting), roasting and brewing — including training for the international Specialty Coffee Association. At the old site, the classroom shared the lab space.
The café, at the southern end of the building, is where agrarian meets industrial. Exposed wood beams cross the ceiling. Wainscoting of old barn boards lines the walls around a cement floor. Huge front windows allow natural light to flood the space. The varnished wood bar is a recycled former bowling lane. Overhead, blown-glass pendant lights dangle from the long handles of farm tools.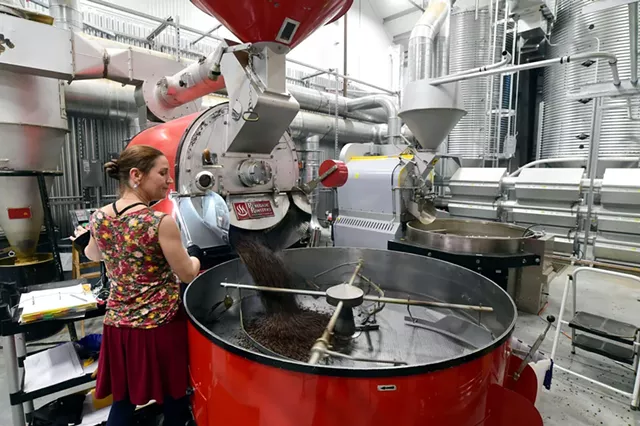 Jeb Wallace-brodeur
Anji Heath running the large roaster
Behind the counter, the brewing equipment looks as spotless as surgical tools. Baristas chat with customers about flavor nuances derived from the source of the beans or the roasting method. The sophistication extends to the café bathrooms, where Japanese-made toilet seats heat up automatically.
Through a big window behind the brewing station, café customers can see four roasting machines, each with different features, including a wood-fired version from Israel. This is where Alves conducts roasting classes. His students, who come from all over — China, Australia, Canada — are mostly commercial roasters who want to learn whether they're using the right process to achieve their intended results.
"We cup it blind," Alves explains. "Then it's your peers and you, as well, that are going to pick what tastes the best. It's not based on biases that they had before."
A few tables placed in front of the roasters enable café customers to watch the action. Vermont Artisan uses these smaller machines to roast limited batches.
Behind them, a 60-kilometer Renegade handles most of the company's roasting. Alves built it from metal he brought back from Portugal.
"This is our workhorse," Holly says. "I call it the red Ferrari."
In 2011, the company's original location at Route 100 South and Route 2 flooded during Tropical Storm Irene. Vermont Artisan lost 32 giant bags of coffee beans, and the "Ferrari" ended up under three feet of water.
Miraculously, the machine restarted, but the owners began looking for new quarters. And not just to get out of a flood zone: They needed more space to boost production, and they wanted to implement practices that create superior coffee.
Most small roasters, he says, don't bother to clean off the "dust" or chaff left behind by the beans' skins before roasting them. Alves designed a bean-cleaning system that he hopes to soon put to use. The green, pre-roasted beans will spill into a chute and go through a cleaning mechanism, after which they'll be vacuumed into one of four ceiling-high storage silos. For now, the beans remain in big woven shipping bags labeled by origin — Colombia, Mexico, Ethiopia — and stacked on tall metal shelves.
Once the plant is fully operating, an intricate maze of conveyors and pipes will move the beans into the roaster, then out and up toward the ceiling into a sorting machine that culls beans (by color) that aren't properly roasted. That equipment was recycled from Cabot Hosiery, the Vermont manufacturer of Darn Tough socks, which used it to weed out loose threads. From the sorter, gravity will drop the beans into smaller silos for packaging.
Jeb Wallace-brodeur
Max Duquette working the counter at the new Vermont Artisan Coffee & Tea
The tea part of Vermont Artisan occupies one small room that holds bins of leaves — such as hibiscus blossom, chai masala and green jasmine — imported from China, Sri Lanka, India and South Africa. Even the tea has its technology: A Japanese-made machine wraps it in the company's fine-mesh steeping bags, made of fully compostable material.
At the back of the warehouse and up a few stairs, a classroom features automatic-drip and espresso machines on counters along the walls. An advanced lighting system provides blue illumination to mask colors that standard red-based bulbs would show. Color sways flavor assessments, Alves says; a darker hue, for example, suggests richness.
"We basically teach you how to work on the coffee sensory environment and analyze what is your ability to taste — not just coffee, but everything," he says.
Also upstairs, a kitchen awaits a possible baker to supply the café with housemade pastries. Behind it is the new $250,000 testing lab. The sterile space includes commercial-grade grinders, machines to test the integrity of packaging and devices to measure color consistency.
Designing the building to complement the landscape wasn't the only nod to the environment. The Alveses invested in a wood-pellet system to heat the entire building. An exterior silo — which further enhances the farm theme — holds the pellets.
Supplementing parking spaces in front of the café, a carport for 20 vehicles is capped with solar panels. The owners hope to glean most of their electricity off the grid, even though they run a power-intensive business.
The Alveses adapted their ventilation system to burn the particles released by roasting, rendering the smoke invisible, though the scent of cooked coffee beans remains.
Finally, the building features reclaimed materials wherever possible. Stairway landings are made from discarded barn boards. The building's multipaned windows came from an old school.
Coffee-themed artworks, which the owners collected during their travels, appear all over the plant. Some are big, bold paintings of field workers by artists in the coffee-growing hub of Brazil. Others are mixed-media reliefs that incorporate coffee berries and beans.
As Alves says, "It's coffee everywhere."