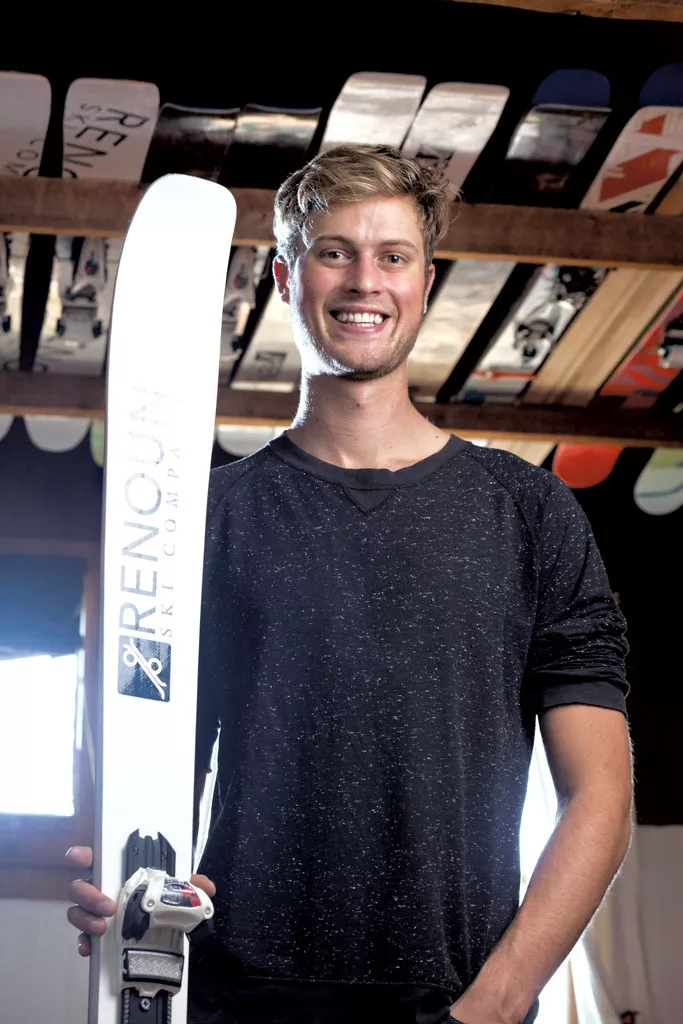 Matthew Thorsen
Cyrus Schenck
Like many young boys, Burlington's Cyrus Schenck was obsessed with Legos and catapults. Unlike many teenagers, he could fly an airplane before he could operate a car — and so decided to major in aeronautics engineering at Clarkson University.
But when the longtime Sugarbush skier heard of an impact-protection material called D3O, it was a revelation that led him way off his intended flight path. In the summers, Schenck, 23, washes Chittenden County windows through his business Inside & Out. This winter, his new Renoun Ski Company will unveil the first of its line of skis made with D3O to adapt to changing conditions. Renoun's website describes the patented process, to debut in the 2015 Endurance model, as "an engineering perfection and one of the first to revisit internal materials since carbon fiber."
What will the skis look like? That's up to you — if you're up for submitting a graphic design for the Endurance. On Wednesday, October 15 (the same day customers can begin ordering the $890 skis), Renoun will launch a design competition. The top 20 graphics will be showcased at Burlington's ArtsRiot during Renoun's launch party on Saturday, November 15.
Seven Days caught up with Schenck between gigs to talk about his snow job.
SEVEN DAYS: What led you to invent a new ski and found Renoun?
CYRUS SCHENCK: It really sparked when I was with a group of guys at college at Clarkson, and we did a three-hour trek each weekend to Jay Peak and back. We were a bunch of nerds just talking ideas and things we could put in a ski, and, one day, one of us was like, "Let's do it; let's build a ski." We had no idea what we were getting into.
SD: What was wrong with the skis you were on?
CS: Being engineers, we were exposed to so many new and cutting-edge materials that were being used all over the world, but in different industries. We decided that these are materials that somebody should be putting into a ski.
SD: So what goes into Renoun skis?
CS: D3O is a non-Newtonian material — it's unlike 99 percent of other things in the world. It changes its physical properties depending on the forces acting on it. Think of Silly Putty that hardens into a bouncy ball. The way the molecules are shaped, in some forms, it can be like liquid, and you can put your finger in it. But if you were going to punch it, your fist would get stuck in the surface.
SD: Space-agey.
CS: Yeah, it's really funky stuff, because it changes its form; it changes its properties based on what's hitting it.
SD: Why haven't ski companies used it before?
CS: The funny thing is, D3O, they actually went to the big ski companies first, and it meant changing manufacturing procedures — expensive for a big ski company. So we came on board and said, "We're going to start from the ground up with your material. That's part of our cost; that's why we can do it."
SD: OK, so how can Renoun help Vermonters ski better?
CS: Well, the D3O material allows us to stabilize the ride to smooth it out, so, basically, the faster and harder you ride, the more shock is absorbed, and the more predictable and in control your turn becomes. So whether you're out west dropping cliffs or on bulletproof ice on the East Coast, it's going to allow you to have a much more controlled experience, and a much more predictable ride.
SD: What's it like now to start a ski company in Vermont? Those big companies like Rossignol and Dynastar are gone, but new startups are emerging.
CS: It's phenomenal. Burlington as an entrepreneurship hub is amazing. And, as for the ski industry, I can't think of any other industry where you can cold-call someone and ask them about manufacturing and get a legitimate answer. Jason Levinthal here, who started Line Skis, he said, "What can I help you with?" And then there's Harrison Goldberg [the Burlington-based founder of HG Skis]. We're all competitors, but we're constantly sharing, and I feel super fortunate for it.
SD: Besides using D3O, how is Renoun different?
CS: The way skis are sold today, it's pretty antiquated, a business model from the 1960s. We're going to talk directly to distributors and leverage the national retail network, but continue that connection all the way to the customer. Right now, Rossignol, for example, they've sold maybe 100 million pairs of skis in their time, but they have only 18,000 followers on Twitter. If there's a problem they wanted to fix, they wouldn't even know where to start. We'll know who our ski went to, and we'll be able to reach out to them in a personal way [that] the big guys wish they could.
SD: So if I break these space-age skis, you guys will fix them?
CS: Absolutely. You call us up, and we'll recognize your phone number.
SD: And you're still washing windows in the summer — how do your businesses synergize?
CS: It's pretty funny; Siri and I have become pretty close. I'll be out on the ladder somewhere, get an idea, and I'll talk to my phone to save it for later.
SD: You didn't finish your degree at Clarkson ... so you're part of the group of dropout genius inventors like Thomas Edison?
CS: Ha! Unless this works, I think I'm considered a dropout.
INFO
'14 Renoun Launch Party, Saturday, November 15, 7:30 p.m., at ArtsRiot in Burlington. renounskicompany.com
The original print version of this article was headlined "Smart Schuss"