Aretha Franklin, Anthony Bourdain, John McCain, Stephen Hawking, Barbara and George H.W. Bush: These are a few of the celebrities and public figures who died in 2018.
The Vermonters profiled here are less recognizable, but they were all remarkable in their own ways. Their stories are part of an annual tradition at Seven Days that started in 2014, the year we began publishing obituaries: In our final issue of the year, we bring you stories of Vermonters who died that year. We look for those who stood out in some way, whose passing marks the end of an era, whose lives instruct and inspire us.
As always, we're grateful to the families and friends of those featured here for sharing their remembrances.
Find an archive of all the "Life Stories" we've published
here
.
— Cathy Resmer
Stella Sławin Penzer
September 9, 1921-August 7, 2018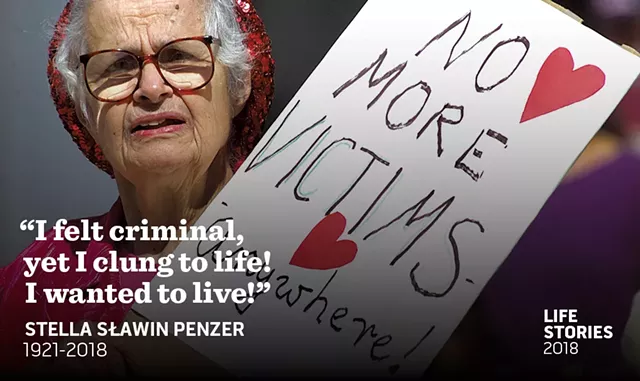 Courtesy of Tom Herde/The Boston Globe
Stella Penzer at a demonstration in Boston on September 17, 2001
Armed men began rounding up the Jews of Otwock, Poland, early on a sunny August day in 1942, herding men, women and children toward cattle cars bound for the Treblinka death camp.
"Run! Run!" a friend shouted to Stella Sławin. She ran, leaving her family behind. She slipped through the barbed wire that enclosed the Otwock ghetto and hid on a riverbank not far from the rail yard.
There, 21-year-old Stella listened to the staccato of bullets. SS men were shooting Jews in the streets, killing the first of thousands who would die that day — Stella's parents among them.
"I ran away, leaving my parents. I felt criminal, yet I clung to life! I wanted to live!" she cried as she spoke to an oral historian 44 years later. "If there is a god, I don't think he can forgive me. I can never forgive myself ... I wanted to live."
Stella and her twin brother, Lazar (nicknamed Lolek)
Stella lived. She survived liquidation of the Otwock ghetto and three more harrowing years of war, during which she lost nearly all of her family, including her twin brother. She lived to become a wife, a mother of three, an American citizen, and a passionate activist for peace, nuclear disarmament and racial justice.
Her survivor's guilt coexisted with this relish for life. As a young mother, she awoke screaming from nightmares, scaring her children; she was prone to mysterious outbursts of rage. But she also wrote poetry, adored Chopin and danced until a few weeks before her death, at 96, in Burlington.
"I admired her sheer life force," her son, Daniel, recalled this month. "There was nothing she couldn't deal with. My golly, she had spirit!"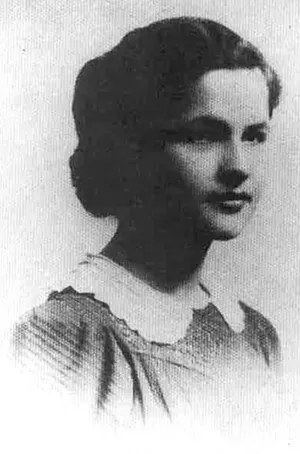 Stella grew up in the resort town of Otwock, southeast of Warsaw, where her father's small bookshop across from the railroad station was a gathering place for the Jewish intelligentsia. There she acquired the love of literature and of political debate that stayed with her all her life.
As the noose tightened around Poland's Jews after the German invasion, a friend purchased false papers identifying Stella as Sabina Gąsiorowska, a Polish Christian.
Those papers allowed her to rise from her hiding place in Otwock that distant August day, numb with grief and terror, to face the danger of discovery and certain death.
"I had to square my shoulders, to look Christian, to look merry, to have a gleam in my eye," she recalled in the 1986 video interview, part of the United States Holocaust Memorial Museum collection. "I had to be a different person."
She made her way to the city of L'viv, where she found work cleaning the home of a secretary of an SS officer. Fearing discovery of her true identity by other Poles, she volunteered to work in a factory in Germany.
Her quick wits enabled her to escape detection — and on one occasion, a threatened rape. When two soldiers in the liberating Russian army invaded the room where she lived with a friend in 1945, she overwhelmed them with a speech — in Russian — about her love of Russian literature and music.
"On the ship [USS] General Muir on the way to America, July 28, 1949. Your Pappa took this photo."
She met her future husband, the late Victor Penzer, in a displaced persons camp after the war. In 1949, they emigrated to the U.S., where he became a dentist and she a housewife in the Boston suburb of Newton.
But "housewife" falls far short of describing Stella, who hated folding laundry and preferred protest marches to kitchen duties.
"My image of her is being perched on an old metal stool in the kitchen reading the New Yorker while something burns on the stove," her daughter Rosita Hopper recalled.
Stella made friends with left-leaning neighbors, joined the Women's Strike for Peace, boycotted Woolworth's during the lunch-counter sit-ins by black students in 1960 and for nearly 40 years bombarded the Boston Globe with letters to the editor.
In 1962, the Penzers offered a temporary home to 18-year-old Moses Scott, a black youth whose Virginia county had closed its schools to protest desegregation. He moved into Stella and Victor's bedroom — they slept in a basement room — and finished high school in Newton.
Scott's widow, Melodie Toby, recalled this month that her husband even then was a big, burly man who might have intimidated some people. "But they took him in ... I can't describe Stella as anything but heroic. Her commitment to the struggle for justice was beyond what you would normally find."
In 2001, a week after 9/11, Stella joined a demonstration in Boston to oppose any military response to the terrorist attacks.
"Some in attendance were so fearful of backlash they declined to give their names," a Boston Globe story noted. "Stella Penzer had no such fears." She readily gave her name and told the Globe, "We believe that war will accomplish nothing but unbelievable misery."
In 2012, when she was 91, Stella moved to Burlington to live with her daughter Martha. She soon joined a weekly folk dance class at North End Studios, where she waltzed and danced the polonaise with artistic director Ben Bergstein.
"If you put on music at a party or a rally, it didn't matter what everyone else was doing, Stella would get up and dance," Bergstein remembered. "She was always a character and always opinionated."
Nor did age still Stella's pen. As dementia eroded her mind and death approached, she still scribbled in a slim reporter's notebook, the same phrases over and over.
"Tomorrow, we shall dance and romance," she wrote earlier this year. "Tomorrow we shall dance. I will dance ... I must dance. I must dance."
— Candace Page
James Larry Davio
December 19, 1960-February 8, 2018

James "Jim" Larry Davio grew up in Newport, the oldest of five siblings. He was a "walking smile," his mother, Jocelyn Davio, recalled. "Jim was always just a very gentle soul."
He loved the outdoors and was drawn to farming at a young age. At 12, he started helping out on a family friend's dairy farm in Coventry, cleaning the barn and milking cows. His interest in farmwork took a strong hold, and he would go on to work in agriculture for 40 years — until his death in a farm accident in Berkshire last winter. He was 57.
"He's been farming forever," said his sister, Terri Gardner. It seemed somehow inevitable, she said, that his death would occur on a farm.
As kids, one of their favorite games was playing under a big pine tree in the yard, she said, where they built roads and steered their Matchbox bulldozers.
After graduating in 1979 from North Country Union High School in Newport, Jim got a job at the Jordan farm in Morgan.
"We looked for help, and he seemed honest, sincere, like he had good character," recalled Jim Jordan. "He was a nice kid." Young Jim moved into the farmhouse with Jordan; his wife, Sharlyn; and their five kids.
"He was a member of the family," Jordan, 68, said. "My wife thought of him as another son."
When the couple decided farming wasn't for them, Jordan's father, Clarence, a dairyman and veterinarian, took charge of the farm, and Jim stayed on.
"The freedom of being a farmer, that's what Jim liked," Jordan said.
Davio family photo, Christmas 2017, with Jim (back row, second from left) surrounded by his family, including his mother, Jocelyn (front row, far left)
Jim would go on to marry twice and have three children and six grandchildren. He was living in Derby with his fiancée at the time of his death. Yet through these changes in his family life, he stuck with farming and enjoyed longtime hobbies: hunting, fishing and NASCAR racing.
His 25-year-old son, Josh Davio, named his own son Levi James Larry Davio. The almost 6-month-old shares middle names with a grandfather he'll never know.
"I loved being his kid," Josh, an excavator who lives in Albany, said of his father. "We used to go fishing all the time and go hunting, or just hang out."
A favorite fishing spot was on the River Road in North Troy, where Josh and his father would sit by the Missisquoi River, talking about "life things" and waiting for brown trout to pull on the line.
"He always told me that he'd never get mad at me for doing something if I told him," Josh said. "He didn't want to find out from somebody else."
Levi is only a baby, but Josh is looking forward to teaching him to fish and hunt, carrying on the practices he shared and cherished with his dad. "I feel like it was great bonding time for me," Josh said.
In 1997, Jim started working at Chaput Family Farms in North Troy. He was the feed supervisor, ensuring that the animals' daily nutritional needs were met. He mixed corn and grass with grain and fed the farm's herd, composed of 1,500 cows at the time.
It was a "pleasure" to have Jim at the farm, said Reg Chaput, who owns the dairy operation with his brother. "He was just such a delight to work with," Chaput said. "It was just so good having him around."
Jim arrived for his shift at 4 a.m. and worked until noon, six days a week. When he worked, he worked. He didn't chitchat. Jim seemed to value the independence of farmwork, Chaput said, an occupation in which "no one's riding him."
"He just came in and did his work and did a good job with it," Chaput recalled. "My father always said that dependability is half the man." That fit Jim, Chaput said, as did the other half of his father's equation: integrity.
"If you could clone [someone] as an employee and a friend, he'd be one you'd want to clone," Chaput said.
Jim left Chaput Family Farms about six years ago for a better-paying position at Pleasant Valley Farms in Berkshire, Chaput said. There, he also made the feed rations and became a "valued friend and coworker," according to owners Mark and Amanda St. Pierre.
The St. Pierres remember Jim asking, "How's it going, bud?" they wrote by email to Seven Days. They recalled his "smile and positive attitude" and his commitment to his work.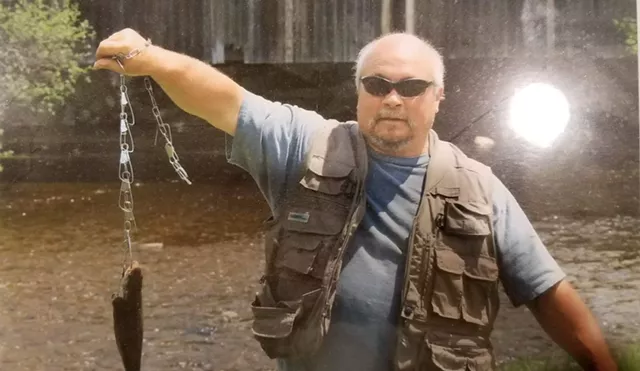 Jim was a family man who dedicated his life to a job that few Vermonters choose to pursue. He died at Pleasant Valley Farms on the morning of February 8, 2018, when he was accidently run over by a bucket loader.
He will be missed, the St. Pierres said.
"Like many others who work [on] dairy farms," they wrote, "[Jim] devoted himself to a difficult and challenging job."
Jim and his siblings were raised to value commitment, his mother said. "They were taught, if you're going to start something, you're going to finish it," she said. "So you might as well enjoy it."
— Sally Pollak
Maggie Van Duyn
October 30, 1979-October 21, 2018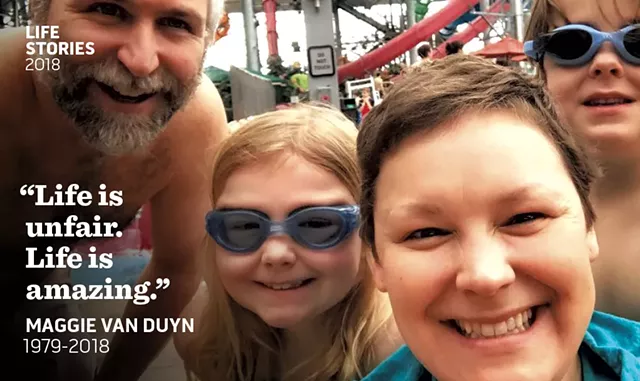 Maggie Van Duyn with husband Jim and kids Zoey and Emmet
When Maggie Van Duyn was a baby, her mom, Deb Malgeri, would go into her room in the morning. "Every day was just like, arms wide open," said Malgeri. "You'd walk in to get her, and she'd be laughing and ready to move into the day."
Maggie maintained that open-hearted, exuberant attitude throughout her life, even after she was diagnosed with metastatic breast cancer in 2015. The blog she started to chronicle her life with cancer, Maggie's Brightside, inspired thousands of readers, many of whom never met her but were moved by her irrepressible spirit.
Maggie grew up in Essex Junction, the middle of three daughters, and was known for cracking jokes, gleefully participating in family sing-alongs, and choreographing dance routines to Vanilla Ice and Gloria Estefan songs with her older sister. Her irreverent sense of humor sometimes got her into trouble. Malgeri recalled that when her daughter was in elementary school, she enlisted the whole class to get up and sing and dance to "Kokomo" by the Beach Boys when her teacher stepped out of the classroom.
Maggie attended college in New Hampshire and Colorado before returning to her home state to complete her undergraduate degree at the University of Vermont. Around that time, she met Jim Van Duyn at a potluck before a Michael Franti show. "She was the most vibrant and alive human being I've ever met," said Jim. "When we started dating, I was just kind of confused as to why she wanted to be with me."
Maggie returned to graduate school at UVM, becoming what one friend on Facebook described as "a badass advocate for children" as a social worker for the Vermont Department for Children and Families. She and Jim settled in Richmond, where they raised their children, Zoey and Emmet. Pre-bedtime dance parties were a regular occurrence in their household. For Zoey's birthday, Maggie turned her family's home into a Parisian café one year and a dance club the next; she made a huge pile of mud in the backyard for a construction-themed party for Emmet.
Whatever the kids wanted, within reason, she would find a way to make it happen, said Jim: "Her favorite time in life was when just the four of us were doing something, even if it was just the littlest adventure."
Maggie loved motherhood so much that she helped a friend become a mom by serving as her gestational surrogate. Maggie carried her friend's child while her own kids were just 6 and 3 years old. That experience, said Jim, was one example of how Maggie made bold plans first and figured out the details later.
Her cancer diagnosis amplified her desire to go "all in" and be the person she wanted to be, said her younger sister, Becca Byrne.
Two years ago, Maggie traveled to Paris to attend a Victoria's Secret fashion show in the historic Grand Palais that her older sister, Sarah Lidz, helped organize. Before the show, one of Lidz's colleagues asked Maggie if she wanted to walk the runway. "She was like, 'Hell, yeah,'" Lidz remembered. The sound engineer cued up a Lady Gaga song, and Maggie strutted down the glitter-covered runway with a hand on her hip, blowing kisses to her imaginary fans.
"She saw her moment and grabbed it by the balls," Lidz later wrote in an email to their mom. "It was amazing,"
In 2017, Maggie partnered with local businesses to offer discounts to Vermonters with cancer through a program she called the Maggie Card. It was inspired by her experience buying hats at a store on the Church Street Marketplace; after learning of Maggie's cancer diagnosis, the shopkeeper gave her a 50 percent discount. Her initial thought was, "Wow, this should be happening for everyone," said Jim.
In the months before Maggie passed away, she continued to embrace life — surfing at Becca's bachelorette party and giving a speech at the wedding at the end of August; taking a technology-free family vacation to a cabin in Cape Cod, Mass., she had stayed in as a child; and traveling with Zoey to New York City to see a Broadway show for her daughter's 10th birthday in September.
Maggie's friend Cassie Gillespie recalled a girls' trip she and Maggie took over the summer to see Beyoncé and Jay-Z at Gillette Stadium. As they were leaving, Maggie stopped to use a Porta-Potty. The man next to her started singing "A Whole New World," from Aladdin, and Maggie chimed in, belting the Jasmine part. When they finished, they exited their respective Porta-Potties, shook hands and hugged.
Said Gillespie: "Even going to the bathroom, she made it really fun."
In a blog post from 2016, Maggie reflected on her outlook on life. "There is no invitation to live," she wrote. "Bad things happen. That's life. Life is unfair. Life is amazing ... I know that I will deeply regret every moment that I fail to live fully and joyfully."
— Alison Novak
Lyndol Harley "Lindy" Palin
July 18, 1921-July 14, 2018
Lyndol Palin was just 6 years old in 1927 when aviator Charles Lindbergh made his historic solo transatlantic flight from Long Island, N.Y., to Paris, France, earning him the nickname "Lucky Lindy." Lyndol's family doesn't know if that's when people starting calling the boy "Lindy." But Nancy Palin Langan of Grand Isle confirmed that her father loved airplanes from the time he was a kid and dreamed of flying them one day.
That wasn't a likely scenario for an only child born and raised on a struggling dairy farm in Derby. According to Langan, her paternal grandmother was sick and bedridden throughout most of her father's childhood — she died when he was 20. Lindy spent much of his youth working on the farm: rising before dawn to milk the cows, then walking to school and returning home to more chores.
But at age 12, Lindy received a life-changing gift. His father took him to a local airfield and bought them two tickets to ride in an airplane. "So he and his father experienced their first flight together," Langan said. "Who would have guessed he'd end up flying B-17s?"
Eager to escape life on the farm, Lindy graduated high school and went off to work as a machine operator, first in Derby Line, then in Hartford, Conn. After the 1941 Japanese attack on the U.S. naval base at Pearl Harbor, which thrust the country into World War II, Lindy enlisted in the Army Air Force Aviation Cadet Program. He earned his pilot's wings in December 1943.
With only a few months of training in B-17 bombers — giant, four-engine planes known as "Flying Fortresses" — Lindy was assigned to a crew with nine other men and sent to England, where he served with the 385th Bomb Group. In all, Lindy flew 35 missions over France, Luxemburg, Belgium, Germany, Austria, Poland and Czechoslovakia. Despite two emergency landings, including one caused by enemy fire that destroyed two of the plane's engines, Lindy always landed safely. For this he was awarded the Distinguished Flying Cross for courage and outstanding airmanship.
As Langan put it, "He made it back unscathed and never lost a man."
After the war, Lindy resumed civilian life. Within weeks of returning home from England, he married his longtime sweetheart and "favorite dance partner," Evelyn Lindsay Bray, on May 26, 1945, in St. Bartholomew's Church in New York City. The couple spent their wedding night in the Carlyle Hotel's honeymoon suite. Cost: $9. For their 60th wedding anniversary, their five children mailed a copy of the original hotel bill to the Carlyle, which treated the Palins to another stay at the same price.
Lindy attended the University of Vermont, then the University of Oxford for a semester, earning his degree in just three years. He went on to work a variety of jobs in sales, management and even teaching English at the Peoples Academy in Morrisville. Then he accepted a position as vice president of Shelburne Industries, owned by Vermont's future governor, Dick Snelling.
Snelling owned a single-engine plane. Whenever he went on business trips, he asked Lindy to fly him in it. In appreciation for these services, Snelling gave Lindy use of the aircraft, and he often took his kids flying. "I remember climbing into that plane and feeling so safe and secure because Dad was behind the wheel," Langan recalled.
In 1970, Lindy went into real estate, working for Hickok and Boardman until his retirement in 1990. In 1995, Lindy and his wife returned to their family home on Newport's Lake Memphremagog, where Evelyn's family had owned and operated an inn, the Lindsay Lodge, years earlier.
Courtesy of Staff Sgt. Jonathon Alderman
Col. Christopher Tumilowicz and Lyndol Palin at the Vermont National Guard Base in June 2018
Lindy, whose vision remained excellent throughout his life, continued flying planes into his late eighties. In June of this year, airmen with the Vermont Air National Guard invited Lindy, one of the founding members of the Green Mountain Boys, to tour the base. They showed him the F-16 jets and listened to his stories about WWII. Though the room was packed with airmen, Langan recalled, when Lindy spoke, "You could've heard a pin drop."
Lindy's visit held special significance to Lt. Col. Thomas Graham, whose grandfather was a navigator on a B-17 in WWII. Though his grandfather didn't serve in Lindy's unit, Graham discovered that both men had flown about a half dozen of the same missions.
"When you meet someone who did what Lyndol Palin and the other airmen of his generation did, we were all impressed," said Graham, who noted that bomber crews in that war had higher casualty rates than even ground infantry units. "That's how dangerous their missions were," he added. "So, it's incredible [to see] the modesty and general humility with which those guys carried themselves throughout their lives."
Indeed, Langan remembers her father as a man of great modesty who never boasted about his wartime heroism. So she was surprised to learn, a few years ago, that he had written his own obituary in advance, leaving only the dates for his children to fill in.
When Langan told him that made her sad, he replied, "Don't be sad for me ... It's going to be a sad enough time [when I die]. You don't need the extra stress."
It was his final, gentle landing.
— Ken Picard
Gisele Seymour
June 21, 1918-November 9, 2018
Fifteen years ago, Gisele Seymour, an octogenarian who weighed about 90 pounds soaking wet, sashayed into Brian Smith's office at Mulkin Automotive in Newport and slammed a clipboard on his desk.
"Sign this petition," she declared, "or I'll break your arm."
Smith, a Republican state legislator from Derby, had known Gisele for a few years as a customer at the dealership. She and her husband, Bill, had purchased a Buick from him, and Smith had taken a shine to her. The petition to the town selectboard she shoved in front of him that day was part of her single-minded crusade: getting a big-box store in Derby. After the local Ames closed in 2002, folks had to travel an hour or more to get to the nearest major retailer, and Gisele was fed up.
Smith was already on board, but even if he hadn't been, he said, Gisele's pitch would have been enough to change his mind: She wasn't someone who took no for an answer.
Nearly 2,000 signatures later, Gisele got her way: Walmart signed a deal with Derby. When construction finally began in October 2015, the 97-year-old stood beside then-governor Peter Shumlin at the groundbreaking ceremony and took the first dig. And the second. And the third. Finally, Smith had to stop her. When the crew collected Gisele's shovel at the end of the festivities, she was none too pleased. Jeff Davis, the developer behind the project, saw to it that she got it back.
The following November, Gisele cut the ribbon for the grand opening. That day, she looked around at the crowds of people lined up to get inside and said to Smith, "Well, I guess I can croak now."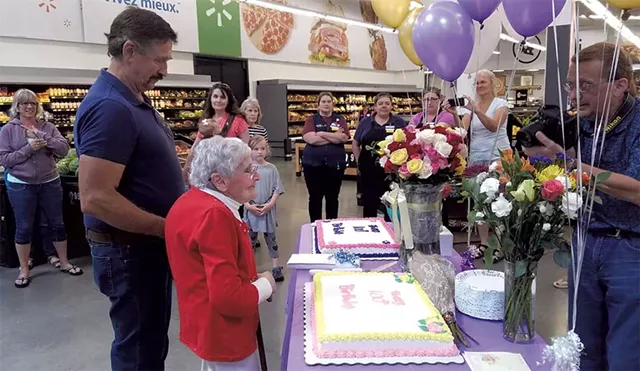 Gisele Seymour at her 100th birthday party at Walmart
But she didn't, not before celebrating her 100th birthday on June 21, 2018. With permission from corporate headquarters, the Derby Walmart hosted her party. She died five months later.
Gisele, one of 12 children, was born Gisele Breton in Shawinigan Falls, Québec, and spent most of her youth in Sherbrooke. Money was always tight, and her mother took on boarders in their already-crowded house to bring in extra cash.
Gisele's daughter, Nancy Dowling, believes that those early hardships left a lasting imprint.
"She became such a saver," Dowling said. "When we were growing up, she made us clothes, quilts, anything we didn't have."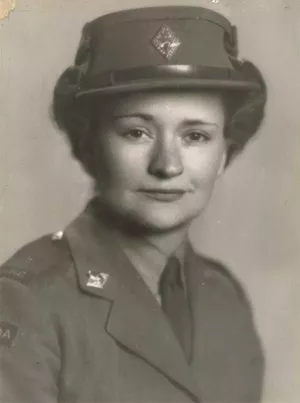 In 1942, Gisele joined the Canadian Women's Army Corps as a switchboard operator. Discharged at the end of World War II, she got a job as a sales clerk at Eaton's in Montréal, then one of the biggest department store chains in Canada. In 1952, Gisele "went to Vermont to find a husband," as she was fond of saying, and fell in love with William Seymour at the Splendid Restaurant in Newport. They married in 1953 and bought a house in Beebe, where she lived until her death.
According to Rita LaPlante, a neighbor who befriended Gisele in her last decade, the job at Eaton's had a long-term side effect: For the rest of her life, Gisele never left the house without dolling up. When LaPlante drove her to the Derby McDonald's, where Gisele met friends for coffee every morning, she always checked her lipstick in the car mirror. She wore a little mink vest to walk to her mailbox. At one point, in her gentle, no-nonsense way, Gisele advised LaPlante to wear bright colors more often, because they livened up her complexion.
By all accounts, Gisele was a force to be reckoned with. When her husband was struggling to pass his GED exam, she wouldn't let him quit. While he worked for dairy giant H.P. Hood, Gisele stayed home and raised their three children, Nancy, Gary and Lolita, whose special needs required her to be placed at the former Brandon Training School. Gisele and her husband made the three-hour drive to visit Lolita as often as they could, usually bringing along clothes that Gisele had made for her. Later, when Lolita moved to a group home in Newport, Gisele was her daughter's constant advocate.
"Whatever she said was just common sense," said Dowling of her mother. "When she asked for something, she got it. You couldn't argue with her."
Gisele never got a driver's license — not that it stopped her from becoming a highly accomplished backseat driver, Dowling noted. Her world was her community: Her 7 a.m. McDonald's coffee klatch, her church, her garden and other people's yard sales. Before Bill died in 2009, the two of them would canvass the Northeast Kingdom in their van, hunting for bargains. Gisele had a knack for refurbishing jewelry, which she sold along with her handmade quilts at the St. Edward's Catholic Church holiday bazaar.
After Gisele's centennial birthday in June, the state legislature passed a resolution celebrating her life in mannered, gushing prose, which Smith coauthored with fellow Rep. Lynn Batchelor (R-Derby Line). (A tidbit: "Whereas, she is a talented craftswoman whose sewing, crocheting, and knitting have resulted in many beautiful creations, such as quilts.") In early November, Smith decided to drop by Gisele's house to give her the resolution in person, because she'd been nagging him to visit her.
When he got there, the door was unlocked. He found her on the living room floor, where she'd fallen, and sat down beside her.
"Just keep me comfortable," she told him, taking his hand. "I think I'm gonna be seeing Bill pretty soon."
She passed away peacefully later that night.
— Chelsea Edgar
Arthur Ross Shelmandine IV
July 5, 1953-May 14, 2018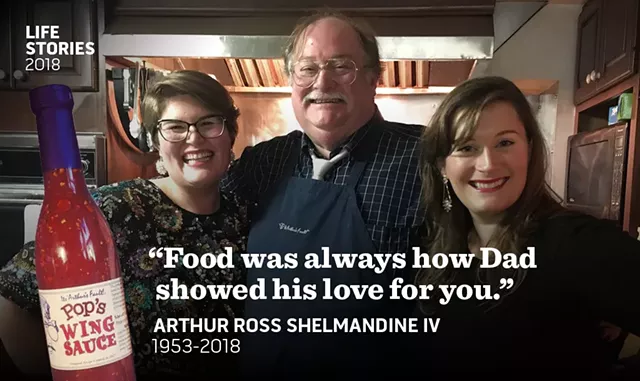 Arthur Shelmandine had a big heart. According to his friends and family, his outsize warmth and good cheer were equivalent to the size of the man himself. But, as Arthur lay in the hospital in May following the brain bleed that would prove fatal, his doctors informed his family that his large ticker was more than just figurative.
"They kept saying, 'His heart is enlarged!'" recalled daughter Annalise. "And we were like, 'It's not enlarged. He's a big guy, and that's just who he is.'"
Arthur was a beloved cooking instructor who taught hundreds of home chefs from his family's Jericho kitchen. But he was best known to Vermonters as the mastermind of It's Arthur's Fault!, an acclaimed line of small-batch gourmet sauces, marinades and seasonings that the Shelmandines have produced and sold since 2000. The name stemmed from a running family joke that his irresistible concoctions were responsible for a dieting aunt's weight gain.
Arthur was more than a great cook. He was every bit as complex as his mouthwatering peanut sauces, decadent hot fudge and finger-licking barbecue rubs.
"He was a true Renaissance man," said daughter Marikje. "The cooking is just what he's known for now."
Arthur was also passionate about aviation, a trait inherited from his father, who worked for Eastern Air Lines when Arthur was a kid in Amsterdam, N.Y. Arthur worked for the airline, too, before he became a luggage designer and entrepreneur in the 1970s. A job designing bags for CB Sports in Bennington brought him to Vermont. He later worked in graphic design and had a snowmaking stint at Stratton Mountain Resort. Arthur followed his interests and his heart — even when that meant staying put.
In 1991 the young family moved to Jericho so that Arthur's wife, Laurel Shelmandine, could take a full-time job with software company IDX. Consequently, Arthur was home with his daughters throughout much of their childhoods.
"He was the original stay-at-home dad," explained Marikje. "This was way before there were changing tables in men's bathrooms. He was ahead of his time."
He was also keen to impart his passions to his daughters.
"He would always think of fun things for us to do, whether it was figuring out the aerodynamics of a paper airplane or making spaghetti sauce from scratch," Marikje said, describing her and her sister's unconventional upbringing. "All of these things that now you see on Pinterest, Dad was just doing it."
"I didn't watch Saturday morning cartoons," agreed Annalise. "I watched Saturday afternoon cooking shows on PBS."
Those shows — in particular "Yan Can Cook" and anything with Julia Child — were hugely influential for Arthur and, by extension, his daughters.
"He and I shared the bond of food and being able to conceptualize flavors in our heads," explained Annalise.
Not every concept was perfectly realized.
"There were a lot of fails, and we suffered through them," said Marikje. She specifically remembers him experimenting with a spicy peanut sauce. "We learned that you really can burn off your taste buds," she recalled.
Annalise began acting as her dad's sous chef at age 4. By 11, she was co-instructing his cooking classes.
"You'd think more people would have had a hard time taking instruction from a 14-year-old," said Annalise. That his students didn't, she surmises, was because they sensed Arthur's confidence in his pint-size teaching assistant.
As much as Arthur guided his daughters, they helped him, too. He suffered from severe attention deficit disorder. So it often fell to Annalise and Marikje — the former has three nonverbal learning disabilities, the latter is also diagnosed with ADD — to rein in and focus their dad.
"He would have a great idea, but it would be a flash in the pan and nothing would happen with it," said Marikje, who moved home from New York City to help run the family business following the 2008 recession. She currently runs It's Arthur's Fault! under her own LLC, Lady Boss Sauce.
"For every sauce that he created, he had another five recipes in his head," she continued. "Harnessing Dad's creativity and keeping him on track was kind of my full-time job."
Impulsive and endlessly creative, Arthur was equally emotional.
"Dad was a crier," said Marikje, recalling that he'd tear up at everything from dance recitals to family gatherings. He was also a hopeless romantic. Perhaps nothing illustrates all of those qualities as well as the story of how he and Laurel got together.
The two first met in 1976 at the Fox Hollow Festival in Petersburgh, N.Y., which Laurel's father and stepmother ran. Arthur was selling Tough Traveler bags, which he had designed, at the festival. Laurel bought one, then decided she'd sell them at Earth Works, the gallery she ran in Rhinebeck, N.Y. On January 4, 1977, Arthur called the gallery to see if Laurel was in that day.
"They told me Arthur called, and I said, 'Who the hell is Arthur?'" remembered Laurel. Later that day, Arthur arrived looking, as she recalled, like a '70s version of Matthew McConaughey. "He was very handsome," she said.
Laurel invited him to lunch, but he had other sales calls that day and suggested dinner. Four days later he asked her to marry him.
"The only problem was that I was with someone at the time," said Laurel. "I called Jonathan and told him he'd probably better not come up that weekend. When I told him why, he said, 'But you said you'd never get married!' I said, 'I guess I changed my mind.'"
Laurel and Arthur were married four months later, on April 30, 1977.
Marikje believes food sealed her parents' fate — specifically, the crêpes suzette that Arthur made Laurel the morning after that first date. Throughout their 44-year marriage, and with friends, family and strangers, food was how he expressed himself.
"Food was always how Dad showed his love for you," said Marikje. "If you were well fed, you were loved."
— Dan Bolles
Janet Makaris
April 29, 1952-September 5, 2018
Janet Makaris leading a tai chi class
For his eighth birthday, in 1997, Tyler Wilkinson-Ray received a memorable cake from family friend Janet Makaris. An accomplished baker and restaurant pastry chef, Janet was a legend among customers and friends for her sweet treats.
She made Tyler his favorite kind of cake, chocolate, decorating it with some of his favorite things — a drum and a palm tree, since he'd just been to Jamaica, and the pièce de résistance: a pile of plastic dog poop.
Tyler and his brother Elliot often played pranks with plastic poop; they thought the cake was hilarious.
Janet's whimsical choice hinted at her sense of humor and how well she knew the boys, recalled their mom, Holly Wilkinson. Like all of Janet's cakes, it was also delicious.
Some of Janet's cake designs
The presentation made an impression, too. Janet knelt on the floor and looked Tyler in the eyes. That's how she was — fully engaged with those around her. "She was eye to eye, heart to heart with people," Wilkinson said.
Janet made many such connections in her 66 years, as evidenced by the overflowing crowd at her December 1 memorial service at All Souls Interfaith Gathering in Shelburne. Wilkinson spoke during the service, as did Janet's longtime friend, Carol Fournier. Janet was "a soul friend," said Fournier. And, she added, "I have the sense that she was that way with everyone."
Janet had a generous and adventurous spirit. The oldest of three children in her Polish Catholic family, she was born and raised in New York City and was proud to have grown up in the same Brooklyn neighborhood as Sen. Bernie Sanders (I-Vt.). In 1979, she moved on her own to Massachusetts.
"She said she moved to Cambridge to meet me," explained her husband, Arthur Makaris. Raised in a Greek Orthodox family in Arlington, he was studying at the nearby New England School of Acupuncture. The two unconventional baby boomers met at a friend's apartment and hit it off immediately. "Our first date, we walked in the woods, went back to her place and she cooked a vegetarian meal. And that was it," remembered Arthur. "I just knew she was the one."
When Arthur moved to Florida later that year to continue his martial arts studies, Janet followed. The two married in 1980 and moved around while teaching martial arts; Janet spent a year working for a French chef in Cambridge, Mass. — the extent of her culinary training. In 1986, they settled in Richmond and Janet went to work as a baker at the Burlington restaurant Déjà Vu, which closed in the early '90s.
In 1995, they moved to Huntington, and Janet started Sunflower Bakery from her home kitchen. She specialized in eclectic cakes.
Arthur has photos of some of the most elaborate. There's a spherical confection shaped and decorated like a soccer ball, and a stately miniature ocean liner heading out to sea; a baby shower cake in the shape of an actual bassinet, and a graduation cake decorated with cookies topped with chocolate mortarboards. It bears the inscription, "Congratulations to a bunch of smart cookies."
Arthur watched her spend long hours decorating them and noted her ability to transform whatever she had into something special. "I would see her take very mediocre ingredients and give [a cake] to an accomplished chef, who raved about it," he said.
Their daughter, Sierra Skye Makaris — a retro fashionista who, like her mother, favors berets — agreed. Her mom was "always looking for the gold in the dross," she said, "or the sacred in the profane."
Though Janet was "really interested in the spiritual side of things," she didn't adhere to any particular belief system. "When pressed, she would say Buddhist," Arthur said.
Like Arthur, who founded the Vermont Kung Fu Academy, Janet studied martial arts. She trained in tai chi and qigong and became an instructor. Her former pupils, many of whom became friends, describe her as graceful and full of life. Her emails to them often began with the playful salutation, "Dear Tai Chi Warriors," or sometimes, "Hello Beautiful Tai Chi Goddesses."
Cynthia Knauf was one of those pupils who became friends. "I found Janet's ad in Seven Days," wrote Knauf, in response to an email inquiry. "It was so beautifully and invitingly written. I could almost envision arms coming out from the newsprint and embracing me."
Knauf studied with Janet for several years and remained her friend until she died in September of a rare form of uterine cancer.
"I can still recall her warm smile and focused eyes as she greeted me on the first day," wrote Knauf. "I noticed the sincerity with which she helped each student with their moves. It was a student's birthday that week, so, at the end of the class, Janet presented the most creative cupcakes I'd ever seen with a thermos of relaxing tea, and we all celebrated."
Janet often delivered baked goods unexpectedly. When she volunteered for Sanders' presidential campaign in 2016, she brought "bucketloads" of food for the office, said Arthur. Janet baked Sanders birthday cakes in 2016 and 2017, which he reportedly enjoyed. A member of his staff attended her memorial service with a card from the senator, which included messages from her fellow campaign alums.
Her friend Carol Fournier expressed a sentiment that many in Janet's life seem to have shared: "Always ready with some thoughtful surprise, a quick laugh or inspiration, she was a delight to know and journey with."
— Cathy Resmer
Silic Yiel Nai
January 1, 1979-November 3, 2018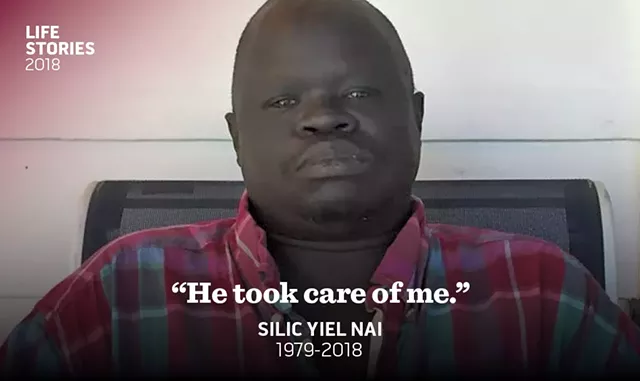 Like many other Sudanese men of his generation, Silic Yiel Nai lost his childhood to the country's second civil war. When the conflict broke out in the 1980s, he and his cousin Alex Pial were separated from their families as they fled their village in Yirol. They joined groups of boys who trekked about 1,000 miles to refugee camps in Ethiopia.
When the Ethiopian government was overthrown in 1991, Silic and Pial were forced to flee again. Crossing the Gilo River, near the Ethiopian border with Sudan, was the most harrowing part of their escape, Pial recalled. The currents were strong, the river was swollen and crocodiles lay in wait. The boys risked drowning or getting shot by the pursuing Ethiopian rebels.
They made it across, but because of the continuing civil war in Sudan, the boys couldn't stop there; they traveled to the Kakuma camp in Kenya.
Silic Yiel Nai (center) in South Sudan, 2016
In Kakuma, Silic was a camp leader. He was in charge of logistics, including food distribution, and had about 1,000 people under his care, said Atem Kuol Yak, who met Silic in the camp and now lives in Essex.
Silic was fair, Yak remembered: "No one got more; no one got less."
He was also a problem solver. Fights were common there, and Silic often defused the situation by telling jokes. He concocted stories to relieve anxiety when food supplies were disrupted. He persuaded camp shopkeepers to give occasional treats to the younger boys.
Sometimes, over dinner, Silic and his cousin discussed their aspirations for themselves and a peaceful Sudan, Pial recalled. "Instead of talking about the bad things that happened," said Pial, "we talked about the future to keep our hopes going." Reminiscing about the past would only have made them cry as they remembered their families.
"We are not kids anymore," Pial remembered saying. "We are adults."
In 2000, the United States began accepting Sudanese refugees for resettlement. Silic initially went to Pennsylvania; he moved to Vermont in 2005 to join Pial. In the absence of other family members, the young men had formed a close bond.
Silic feared for his life in Pennsylvania, recalled another former Sudanese refugee, Gabriel Poth, who met Silic in Kakuma and now lives in Burlington. "He was afraid to go to his apartment," said Poth.
But Silic had difficulties in Vermont, as well. Court documents dating back to 2006 show that he had a few minor scrapes with the law and a history of undefined mental illness. In one instance, he did not contest two charges of disorderly conduct, and he was ordered to attend substance abuse counseling after grabbing a woman in a Burlington bar; in her victim impact statement, she expressed misgivings about calling the police, given Silic's mental health issues and refugee background.
Silic's younger brother, Mabor Yiel Nai, who lives in Juba, South Sudan, believes that the hardship his older brother suffered as a child likely caused his mental illness. They last saw each other when Mabor, now 29, was just 8 months old.
Though Silic had completed secondary school in Kakuma, his illness kept him from finishing his studies at the Community College of Vermont. He wasn't known to have a stable job; the Howard Center provided housing for him, and he qualified for supplemental security income and food stamps. But he encouraged others to further their education and make something of themselves.
Chol Dhoor, founder and executive director of the Sudanese Foundation of Vermont, met Silic at a social gathering. Dhoor recounted his friend's advice: "Do not waste time. You need to go to school." Dhoor went on to graduate from the University of Vermont.
Poth said Silic was like his big brother. They met each other every day to reminisce about their time in Ethiopia and Kenya. They spent their weekends playing dominoes with other Sudanese men. Sometimes, Silic chased out guests at Poth's apartment who had overstayed their welcome. "He took care of me," said Poth.
Though he had limited income, Silic wired about $100 each month to his mother in South Sudan. "The little that he sent made a big difference over there," said Poth.
Silic also had high hopes for his younger brother, including bringing him to the U.S. He sent Mabor money intermittently when the younger man was in college in South Sudan. "He was unwell," said Mabor, "[but] he educated me."
In 2016, Silic was able to visit his family in Yirol. The Sudanese community in Vermont raised money for his plane ticket.
The trip had a profound impact on Silic. He told his cousin Pial, as well as Dhoor and Poth, that he wanted to turn his life around to start a family. He would get a job and a driver's license. He would improve his credit score so that he could take out a loan to buy the cattle he needed to pay for his bride. Though a U.S. citizen who had been in the States for close to 20 years, Silic planned to be faithful to his native Sudanese marriage custom.
He never got the chance. About two months ago, Silic traveled to Rhode Island without telling anyone. "He doesn't have any business there," said Poth. Because he was listed as Silic's emergency contact, Poth heard from a Rhode Island case manager who informed him of his friend's whereabouts. When Silic returned to Vermont, Poth said he didn't notice anything out of the ordinary.
But on November 3, police recovered Silic's body from the Winooski River.
The tragedy stunned the Sudanese community, who learned about it from the media. How could this happen to someone who had conquered the Gilo River? "It doesn't make sense," said Pial.
The autopsy report shows that Silic drowned, but the circumstances of his death — whether it was an accident or suicide — remain unknown. The Winooski police said the case remains open, though they're not actively investigating.
Earlier this month, a memorial service for Silic was held at St. James Episcopal Church in Essex Junction. The event was filmed so that a DVD recording could be sent to his family. It will be years before they'll have any chance of coming to the U.S., Pial said.
Poth said Silic sometimes appears in his dreams. The two of them do what they usually did: hang out, smoke cigarettes and talk.
Said Poth: "It was a privilege to know him."
— Kymelya Sari
Correction, January 9, 2019: An earlier version of this story misattributed a quote by Carol Fournier to Holly Wilkinson.