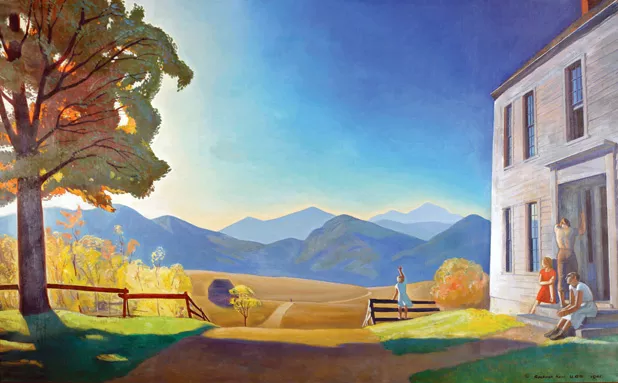 "Asgaard Landscape Mirror"
If you want to become better acquainted with the work of one of America's most intriguing artists, look no farther than Plattsburgh, N.Y. The State University of New York campus is home to a collection of some 5000 pieces by Rockwell Kent (1882-1971), a ballsy, left-wing activist as well as a prolific painter, best-selling author, dairy farmer, boreal adventurer, Thoreau-like mystic and notorious philanderer.
Kent, who lived in Vermont for six years, is now being rediscovered in a big way by scholars and museumgoers. His wide-ranging artistic achievements are highlighted in simultaneous shows this summer at the Philadelphia Museum of Art; the Portland Museum of Art in Maine; and the Bennington Museum in Vermont. Another Kent exhibit opens in Winona, Minn., in January, in a centennial celebration of the artist's visit there.
Ardently celebrated — and angrily cursed — during his long lifetime, Kent receded into the shadows of American art history in the first decades after his death. His communist associations rendered Kent a political pariah during the Reagan era, while his rejection of abstract art made him aesthetically unfashionable from the 1950s until relatively recently.
"It's true that most people in Vermont know nothing about him and aren't aware that this place exists," says Cecilia Esposito, director of the Plattsburgh State Art Museum, which houses the Rockwell Kent Gallery. And that makes Kent something of an unrequited lover. He entered into an intense romance with Vermont, as the Bennington show demonstrates.
In one of his many uprootings, Kent moved from New York City to a hill farm in Arlington in 1919. His mystical tendency found full expression in the light-drenched mountainscapes that Kent painted in and around "Egypt," the name he gave to the farmstead where he settled with Kathleen, the first of his three wives, and their five children. But Kent's restless spirit led him away from Egypt, and Kathleen, in 1925.
"Vermont was not the Eden-like existence he had envisioned," reads a text panel at the Plattsburgh gallery. "Though he often cursed city life, he began making longer, more frequent trips to New York City."
But Vermont continued to occupy a corner of Kent's soul. The tombstone on his grave in Au Sable Forks, N.Y., not far from Lake Champlain, is made from Vermont granite.
Kent had moved to that Adirondack village in 1927. But the farm he bought there and renamed Asgaard — the home of the gods in Norse mythology — wasn't so much a homestead as it was a resting place from his frequent travels. He lived at various times in Newfoundland, Alaska, Argentina, Ireland and Greenland.
So it was harsh punishment indeed when the U.S. State Department revoked Kent's passport in 1950. The following year, a New York court ordered the dissolution of the International Workers Order, a sort of socialist insurance agency of which Kent had been president. Both blows were struck as part of the anticommunist crusade led by then senator Joseph McCarthy.
Kent was not one to cower as the witch hunters brandished their torches and pitchforks. Many of those hauled before McCarthy's committee sought to ward off accusations of treason by invoking their constitutional right to remain silent. But when Kent was called to testify, he began by reading a statement charging McCarthy with treason.
"I'll not hear a lecture from you, Mr. Kent," the Republican senator sputtered.
"You certainly won't," the activist artist replied. "I get paid for my lectures."
Several samples of Kent's political drawings and prints are displayed in the Plattsburgh gallery and can be seen in the Bennington show. Although all are well executed, some do verge on mawkish propaganda. For example, a poster he made in 1936 in support of a Vermont marble workers' strike shows a ragged but defiant mother clutching a blanketed baby as three children shelter beside her. Furnishings of the home from which they've been evicted are stacked in the snow behind them.
Like such imagery, Kent's long love affair with the Soviet Union can be viewed as courageous or pigheaded. He traveled to Moscow to receive the Lenin Peace Prize in 1967 — many years after most American leftists had ceased sympathizing with the aggressively tyrannical USSR.
But, regardless of their personal politics, visitors to the Plattsburgh gallery or the Bennington Museum will most likely come away with an appreciation of Kent as a versatile visual artist. Born the same year as George Bellows and Edward Hopper, Kent studied alongside them at the New York School of Art under the tutelage of Robert Henri, a gifted portraitist and acute observer of life in immigrant slums. Kent was also influenced by European social satirists — most directly by William Hogarth, the 18th-century printmaker. Some of Kent's own anti-elitist, pen-and-ink drawings are signed "Hogarth Jr."
He also owes a lot to the English mystic poet and painter William Blake. The debt is most evident in Kent's pastel-colored depictions of soaring angels and swirling earthly souls. Like Blake, Kent sometimes comes across as a prophet of wrath. Anyone exploring the Plattsburgh gallery on one of this summer's 90-degree days is likely to respond with a rueful smile to the lithograph in Kent's "End of the World" series entitled "Solar Flare." It shows writhing bodies and bleached skeletons scorched by the rays of a merciless sun.
But, as his three sojourns in Greenland suggest, Kent was more a penguin than a snowbird; he was attracted to lands of chilled stillness. His oil paintings often take vast, rugged and unpeopled spaces as their subjects — most dramatically, perhaps, the icebergs and glaciers he renders in bluish light. Kent also made a memorable series of 280 woodcut illustrations for an edition of Moby-Dick, featuring the white whale pursued across the world's oceans.
Despite having a high degree of aesthetic integrity, Kent did not always make art for its own sake. Financial obligations to his wives and children exceeded the sums he made from gallery sales of his work, forcing Kent to hire himself out to companies such as General Electric. But his rebel spirit remained unbroken.
A text panel in the Plattsburgh gallery quotes Kent complaining: "I support myself by turning my hand to the production of almost every low-down job that commerce, the great prostituting patron of the arts, demands. How I hate all that!"
"Rockwell Kent's 'Egypt': Shadow and Light in Vermont" is on display at the Bennington Museum through October 30. Info, 447-1571. benningtonmuseum.org