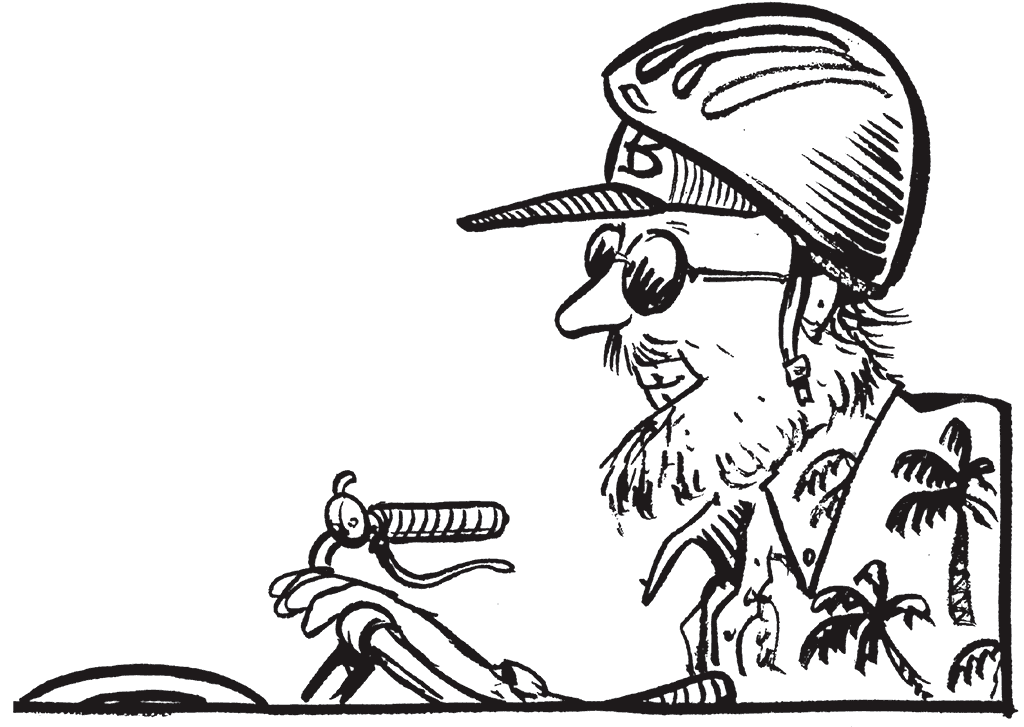 File: Tim Newcomb
Peter Freyne
Six reporters create the robust news section in every issue of Seven Days and break stories 24-7 on our Off Message blog. But not that long ago, we had just one dogged journalist covering city hall and the Statehouse: the late, great Peter Freyne. For years, his Inside Track column was a must-read for Vermont decision makers and news junkies. It legitimized the paper in circles that were more interested in policy than personals. Or so they would have had us believe...
A former cabdriver, Peter was a student in the barstool school of journalism. He taught himself how to find stories and cultivate contacts: He listened — and, in press conferences, posed uncomfortable questions that other reporters were too polite to ask. Ruthless and charming, he was the rare reporter who could skewer a politician in his column and have a drink with him two days later. Many of his "victims" became his sources — and, in some cases, friends.
Public figures knew they had arrived when they landed in Inside Track, which the Vanguard Press started publishing in 1981 — the same year Bernie Sanders was elected mayor of Burlington. Peter dubbed him Ol' Bernardo, and his nicknames for politicians became legendary: "Gov. Scissorhands" Douglas, "Ho Ho" Dean and "Straddlin' Madeleine" Kunin. Peter left journalism once — for a brief stint as Kunin's press secretary — but he was fired for making a sexually suggestive remark to a female reporter.
Peter wasn't easy to manage — and he generated a lot of angry phone calls — but we welcomed him with open arms when he jumped ship from a competing newspaper to join Seven Days in November 1995. We were two months old and by no means sailing smoothly, but Peter couldn't resist such a renegade operation. He delivered his column every Tuesday, like clockwork, just a few hours before we went to press.
Peter never missed his deadline in the 13 years he wrote for Seven Days. Even on the occasion he fell down the stairs at Finnigan's on a Monday night, he wrote Inside Track before he went to the hospital. He later gave up drinking, took up bicycling and joined the digital revolution. He used his blog, Freyne Land, to document his battle with non-Hodgkin's lymphoma. He approached his own story the way he did all of them: with honesty and humor.
Peter survived cancer, but he stopped writing Inside Track on March 19, 2008. Six months later, a strep infection spread to his brain and he died on January 7, 2009 — just hours before the start of the legislative session. Vermont lawmakers remembered him with a moment of silence. He was 59.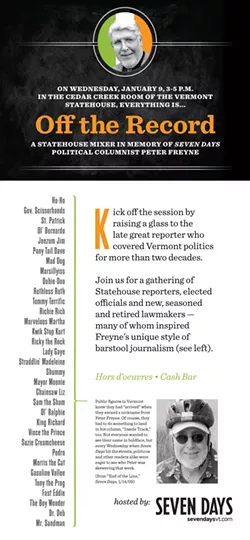 "Vermont has lost its own version of Mike Royko," Sen. Patrick Leahy, a fellow Irishman, wrote at the time. "He brought insight to some of the biggest stories of our time here — the civil unions debate, the Dean campaign, the Jeffords switch and the war in Iraq." Sanders called him "one of the most remarkable individuals I ever met." Writer David Goodman settled on "the forerunner to Tina Fey."
For the past three years, Seven Days has hosted an Off the Record mixer in Peter's memory on the first day of the legislative session. It's "an event on opening day when lawmakers and journalists sheath their swords," former AP bureau chief Chris Graff observed in his remarks at the inaugural event. He went on to remind the crowd, some of whom proudly wore on nametags the nicknames Peter gave them: "Peter believed in democracy, in the power of the press, and that freedom is something you fight for."
Peter would have preferred Graff's simpler version: "He had the best bullshit meter of anyone." His successors strive for nothing less.