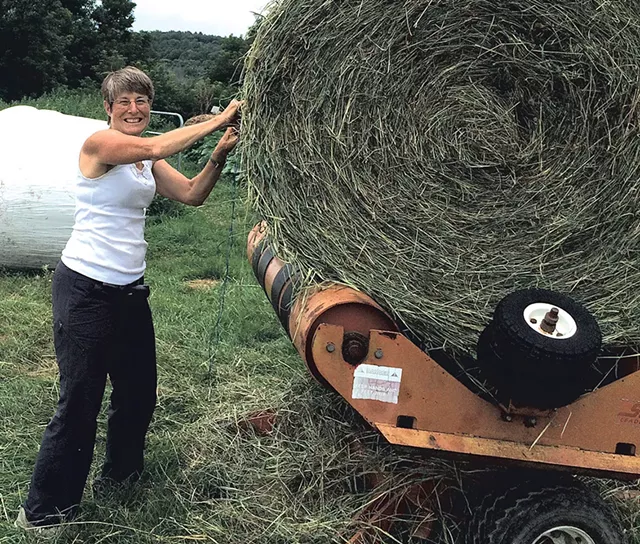 courtesy of Casey Engels
Karen Freudenberger
Last week, Vermont's New American farm community lost one of its most devoted advocates when Karen Freudenberger died. The founder of Pine Island Community Farm in Colchester suffered from a "preexisting and known heart condition," her husband, Mark Freudenberger, tells Seven Days. She died peacefully in her sleep, he adds, but "it happened maybe 20 years too soon."
Freudenberger moved to Vermont in 2009, where she made a name for herself helping refugees and other New Americans living in Chittenden County produce traditional, homegrown meats and vegetables. In 2013, she began working with Bhutanese refugees Chuda Dhaurali and Tika Dulal, who cofounded the Vermont Goat Collaborative to bring fresh goat meat to New American tables.
In partnership with the Vermont Land Trust — which conserved the Colchester farm for agricultural use in 2012 — and the Association of Africans Living in Vermont, Freudenberger worked with Dhaurali, Dulal and dozens of other new Vermonters to grow the farm into a multi-strand enterprise.
The 230-acre site now includes a state-inspected goat slaughter facility and a 17-acre vegetable garden where more than 60 families tend individual plots to stock their larders. Pine Island is also home to productive beehives and a poultry operation that fattened and sold about 2,000 birds (most of them retired layer hens and roosters) in 2015.
Mark Freudenberger says his wife's work at the farm will continue. "It's business as usual — at least as much as possible," he says. "Karen had put in place strong sustainability mechanisms, and all parties are fully committed to the farm."
Freudenberger donated her body to science, and her family will not hold a church service. Memorial celebrations were still being planned at press time. Check the online version of this story for updates and for opportunities for friends and community members to donate gifts in Freudenberger's honor.