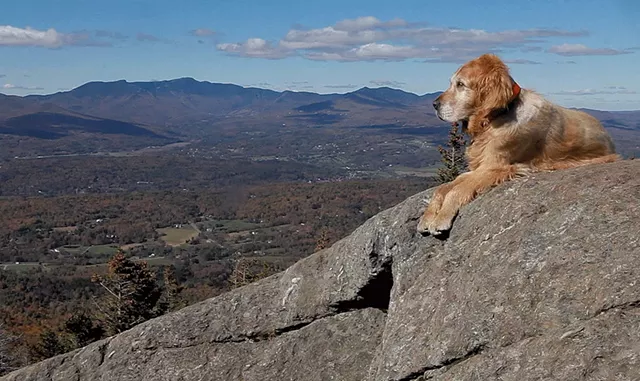 Courtesy Of Aynsley Floyd
Baylor in a still from "The Mountain Dogs" by Aynsley Floyd
Every so often, an animal captures the heart of the general public. This year, those creatures included the winner of Alaska's annual Katmai Conservancy Fat Bear Week tournament; Joe Biden's shelter dog, Major; and every feline who participated in the worldwide phenomenon of cat-butt Zoom-bombing.
On a sadder note, in Vermont and New Hampshire, 2020 saw the deaths of several prominent animals that had caught the public's attention over the years. They spanned species and geography, but one thing they had in common was the outpouring of love that followed their deaths. Here are our tributes to them.
Oliver the camel, North Ferrisburgh
Courtesy Of Lee Krohn
Ollie and Shelburne Town Manager Lee Krohn
Oliver "Ollie" T. Camel was a two-humped Bactrian camel who lived on a sheep farm along Route 7 in Ferrisburgh. According to a 2017 Addison County Independent story, Ollie arrived in Vermont in 2002, 3 months old, from a breeder in Wisconsin. His owner, fiber artist Judith Giusto, thought owning a camel would be interesting, both for the fiber from his coat, which she blended with merino wool, and for the marketing value of a unique and exotic animal. At the time of his death, the Independent reported, Ollie was 17 and weighed 1,500 pounds.
Giusto declined to comment for this story, citing ongoing distress over the loss of Ollie. His February 21 death was announced on his Facebook page, which was quickly flooded with farewell messages and photos from Ollie appreciators in Vermont and beyond. Twice-daily commuters and occasional visitors alike expressed the sentiment that the drive up Route 7 would never be quite the same.
Mink the bear, Hanover, N.H.
Courtesy Of Michael Hinsley
Mink the bear
Mink the black bear was a constant presence in the college town of Hanover, and a controversial one. In 2017, the New Hampshire Fish and Game Department recommended she be euthanized after her cubs broke into a home.
Nearly 10,000 people signed a petition to save Mink, and New Hampshire Gov. Chris Sununu stepped in and offered to work out an alternative solution with wildlife officials, according to New Hampshire Public Radio. In 2018, Mink was relocated to the remote northern part of the state. But, by the summer of 2019, she'd trekked hundreds of miles back to the Hanover area.
"We don't really know why bears can home so well, but they're very good at it," said Andrew Timmons, bear project leader at the fish and game department.
Mink and Hanover had a tumultuous history. According to rumor, a resident had fed her deliberately, after which the bear became accustomed to snacking from bird feeders and dumpsters. Some people loved her; others thought she was a nuisance.
But summer 2020 was relatively uneventful, bear-wise, until Mink was found dead in August. Timmons said the cause of death wasn't clear: She might have been hit by a vehicle or have succumbed to natural causes.
Two of Mink's three cubs from the 2020 season were caught and taken to a rehabilitation facility. In any given summer, Timmons said, the Hanover area hosts 10 to 15 bears, many of them likely related to Mink.
"She became the poster child of the need for people to be responsible with food attractants," Timmons said. "We're a lot better off now than we were five years ago, especially in that area, as far as people knowing how to coexist with bears ... Hopefully, the attention that Mink has brought and the lessons that Mink has taught will make things better for the bears that are there."
Baylor the dog, Stowe
Vermont's best-known golden retrievers made a mountain their stage. Sampson and Baylor hiked Stowe Pinnacle Trail every day by themselves, greeting and accompanying hikers. Their owner, Perry Schafer, lives near the trailhead; she told media outlets that she couldn't stop the dogs from escaping the house and hiking the trail.
Sampson and Baylor were large, mild-mannered, sometimes smelly and always ready to make friends. Hikers could hear them coming by the gentle clank of the cowbells that hung from their collars. They were seen dozing for hours on the Pinnacle summit.
Massachusetts-based filmmaker and photographer Aynsley Floyd met Sampson and Baylor on a trip to Stowe and was enchanted. During the fall of 2019, she hiked the trail with the dogs four times to make a short film called "The Mountain Dogs," documenting the dogs' treks and the enthusiastic reactions of those who encountered them. (Watch it here.)
"They're sort of local celebrities," Floyd said. "Several of the people I talked to actually chose to hike the Pinnacle Trail because they hoped to see the dogs."
People have reached out to Floyd to thank her for the film and express their love for the dogs.
"Both dogs had such lovely personalities," she said. "Both of them loved people, were extremely docile and were just excited by interaction they had with people. I really think that's what motivated them."
Baylor died in November at the age of 12. Recent Instagram posts from Stowe Pinnacle indicate that Sampson — also 12 — is still hiking the trail by himself.
Marty the cat, Mount Washington, N.H.
Courtesy Of Mount Washington Observatory
Marty with Ryan Knapp
Life at Mount Washington Observatory can be harsh. Weather observers live there in weeklong shifts, taking hourly measurements and conducting research. During the winter, they often have to wait out all kinds of inclement weather. The observatory regularly experiences winds more than 100 mph; in fact, the summit holds the world record for highest wind speeds measured by humans — 231 miles per hour in 1934.
A cat-in-residence, then, is the perfect morale booster. The most recent feline, a fluffy black fellow named Marty, lived at the observatory full time for 12 years until his death in November.
Marty won his post in an online public vote, beating out two other cat candidates, observer Ryan Knapp recalled in a blog post on the observatory website. Marty arrived at the summit at age 2.
"He was high energy, springing from any and all objects around the summit like he was playing a game of 'The Floor Is Lava' or parkour," Knapp wrote. Over the years, though, Marty mellowed; he even took to sitting in the laps of weather observers while they worked.
Marty had a genetic condition that caused all his teeth to fall out a few years into his tenure at Mount Washington. Nonetheless, he was a consistent mouser and was fascinated by the wildlife that visited the summit. When the weather was decent, he followed staff around the mountaintop and hiked down to see various sights.
Before his death, Marty was due to retire to a quieter life at a lower elevation at the end of 2020, Knapp wrote. But the cat tradition will continue on Mount Washington, according to Krissy Fraser, the observatory's director of marketing and communications. Keep an eye out for updates in 2021.
Tank the dog, Burlington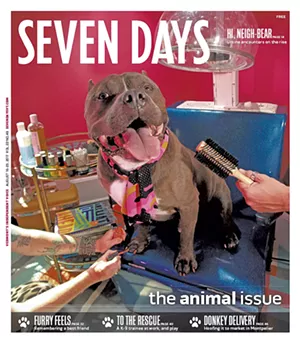 File: Matthew Thorsen | Rev. Diane Sullivan
August 2017 Seven Days cover featuring Tank
When she started taking her rescue pit bull on regular walks around Burlington, Dina Senesac stopped being known by her own name. She was "Tank's mom," she recalled with a laugh.
Tank, an 80-pound gray pit bull with a wide, goofy grin, loved to stop into shops on Church Street and greet everyone he met. "He was a very intense-looking dog but also one of the most gentle creatures you could possibly imagine," Senesac said.
He was a media ham, too. Besides gracing the cover of Seven Days in 2017, Tank appeared in videos for the Burlington Discover Jazz Festival and Waking Windows.
"He applied to be a character in Lyric [Theatre's production of] Legally Blonde, but he was so big that the actress couldn't pick him up, so he got understudied for that," Senesac said.
She liked to keep Tank in the public eye, hoping to help counter the stereotypical view of pit bulls as aggressive. Tank's ears were docked, which led Senesac to suspect someone had wanted him to be a fighting dog before he was found as a stray in New York City. She adopted him when he was 4, and he quickly showed his loving personality.
When Tank died in July at the age of 11, Senesac received hundreds of comments, some from people she didn't know, all expressing love for the gentle giant.
"He was beloved by many," Senesac said. "I miss him every day."
Correction, December 16, 2020: An earlier version of this story misstated Perry Schafer's gender. Schafer is female.