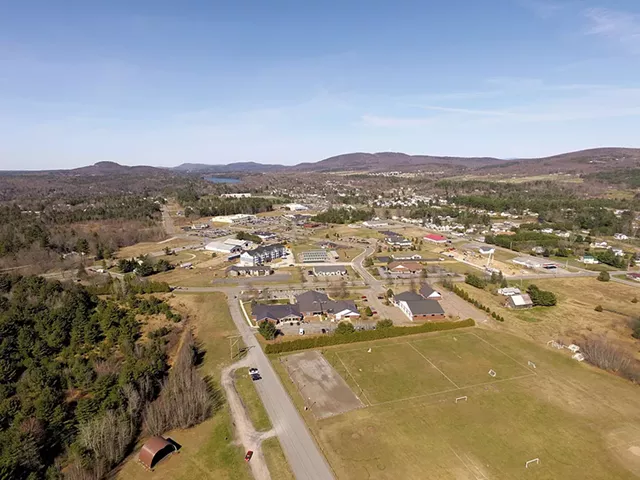 Courtesy Of Northeast Aerial Services
There are plenty of jokes about Chittenden County's northernmost town. How are tornadoes and divorces similar in Milton? Either way, somebody loses a trailer. Why do seagulls fly upside down over Milton? Because there's nothing worth shitting on.
But while some people have been laughing about it, Milton, Burlington's boomingest bedroom community, has been remaking itself.
Diana Greenough and her husband, Todd, moved to Milton from Essex Junction about eight years ago. Their commute times to Burlington are about the same as they were.
"There are more eateries and there's more stuff to do without having to stay in Burlington after work, or go back to Burlington," Diana Greenough said of Milton. "You can find whatever you need here."
Fueled by an increase in population and home prices that are cheaper than in most other Chittenden County towns, Milton is making a play to shed its image as a Burlington backwater. Our team of reporters converged on the town to find out what's new, what there is to do, what's changing — and what's next.
Documenting the ups and downs are two young women who helm the Milton Independent, the town's free weekly newspaper. Courtney Lamdin and Abby Ledoux have seen a place struggling with its identity as new residents flood in, changing the complexion of an old Yankee town. Reporter Mark Davis tells their stories in "Independent Thinkers."
Some of Milton's own history could be preserved if a local group has its way. A fundraising effort is under way to revive a farmstead that once belonged to General George Stannard, a Civil War hero from Vermont. Ken Picard explains how he got from Gettysburg back to Milton in "This Old House." Check out the accompanying cartoon.
Milton's present is changing, too. Young couples and families are moving to Milton in droves, reports Molly Walsh in "Home, Sweet Milton." With these new arrivals come new attitudes about everything from schools and diversity to Milton's missing downtown. Alicia Freese gets to the bottom of the town's efforts to create a cohesive center along Route 7, after decades of deliberation, in "Milton's Metamorphosis."
And what's a town without good eats? Hannah Palmer Egan dug into Milton's culinary scene in "Food in Common," and found an old biker bar alongside a new barbecue spot.
Feel another Milton joke coming on? Maybe not.
Milton by the Numbers
Population: 10,827 in 2015, up 4.6 percent from 2010
Percentage of population with high school degree: 93 percent;
college degree: 26 percent
Land area in square miles: 51
Median home sale price, 2016: $253,250, up 7 percent over 2015
School enrollment, 2015: 1,738, down from 1,868 in 2005
Milton High School four-year graduation rate, 2014: 91 percent (state rate, 88 percent)
Milton High School average SAT scores, 2014-2015: math: 487 (state average: 524); reading: 500 (state: 523); writing: 489 (state: 507)
Sources: U.S. Census Bureau, Coldwell Banker Hickok & Boardman Realty Mid-Year 2016 Market Report, Milton School District