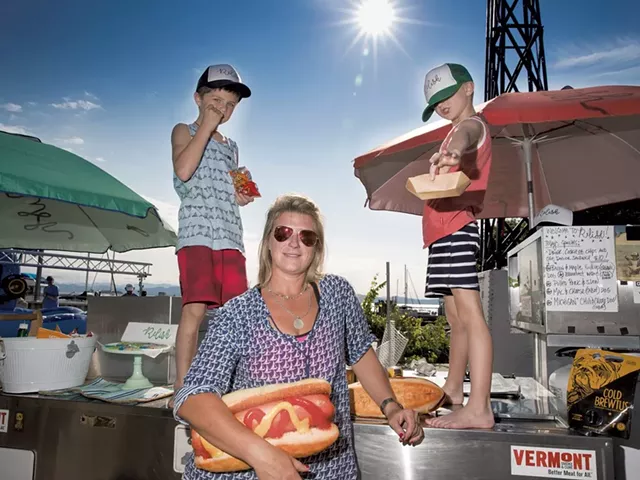 james Buck
Mom: Jamie Wilhite, 41, owner of Relish gourmet hot dog cart
Sons: Jameson, 7, and Clayton, 6
Pull into the Gulf gas station on South Burlington's Shelburne Road, and you may see Jamie Wilhite serving up locavore hot dogs and cold-brew coffee out of a shiny silver umbrella cart. While it's not surprising to find a gourmet hot dog stand in Vermont, the path Wilhite took to get it there surely is.
The mom of two boys, 7-year-old Jameson and 6-year-old Clayton, has a master's degree in education and has worked as a high school soccer coach and teacher. Growing up in Michigan, she was a self-described "motorhead redneck" who raced motorcycles with her dad.
She took up backcountry snowboarding and snowmobiling and soon caught the bug for snowmobile racing, which she did for close to a decade in Salt Lake City. She's also an Ironman athlete and world traveler.
Back then, Wilhite never imagined she'd be in Vermont, adding fixings to hot dogs. Nor did she imagine she'd get divorced, become a single mom, lose a close friend in an accident, or pack up and move from Salt Lake City to Shelburne — where she spent some of her youth and where her parents and two of her three siblings now live.
Not one to dwell on the past, Wilhite quickly rolled up her sleeves and got down to business. The idea to own a cart came in early 2017 while talking to friends at a food event in Stratton, where she was doing consulting work. Two months later she set up Relish in the Dealer.com parking lot and started dishing up dogs. In warmer months, you may spot the cart outside ECHO Leahy Center for Lake Champlain, at the Burton Flagship Store, the Ben & Jerry's offices in South Burlington, Heritage Toyota or the Gulf gas station on Shelburne Road.
Wilhite's days may be slower now, but she's still a woman on a mission. From coaching her kids' soccer teams and renovating her Shelburne home to brand-building for local companies and hawking hot dogs, she's motoring right along.
On traveling with her kids:
Jamie: Living in Salt Lake was great for my career. As a professional athlete, I was in Steamboat and Jackson Hole a lot, and there is great training and an airport there. I have a lot of friends who were overseas, so it enabled me to take the boys to China, Turkey — we lived in Italy — they've been everywhere! People give me a hard time, saying [the boys] are not going to remember this or that, but that's not the point. They hear a different language; they heard the call to prayer in Turkey. I think people are shocked that a woman would travel alone with her two kids. Everyone has been so welcoming everywhere.
On juggling competitive snowmobiling and parenting:
Jamie: I was on my own with the boys, and they would be with me in the pits. I'd have teammates and sponsors literally watching the boys, handing them off. Everyone else was going through their preps, and I was just sitting there. I have some of the best pictures of them with me as we would ride around, warming up the sleds. They have these two little jerseys with my number (92). I think seeing a female in that role is pretty great for them.
On losing a friend and changing course:
Jamie: Right when I was going through the divorce, and it was terrible, one of my best friends from [snowmobile] training — there was an accident and I had to give her CPR. She had collapsed a lung; she died in 30 seconds. Her father was her best friend and he's one of my sponsors, and I am calling him from the morgue. You get to a point — that was probably the most pivotal — you watch someone take their last few breaths, and she had a son who was friends with my sons. You only get one shot at life. I had always been in super good shape, played sports in high school and college, and had always been really outcomes-based. Even in marriage I was like, "You should get a red card! You just fouled! You can't do that! That's not right!" I am about as tough as they come, but that was a real low point. I left my snowmobiles out there [in Salt Lake City], loaded up the snowmobile trailer, sold the house and moved out here [to Vermont] with no clue.
On being there for her kids:
Jamie: I learned right away [that my sons] expected me to be there — and I want to be. For me — I don't want to say it's guilt — [but] it's like, You've got one parent, so I won't miss your soccer game, I will coach your team. I have never been a cookie-cutter person, almost to a fault. There were some opportunities, like, maybe that corporate job would have been good, but then I would need a nanny to raise my kids, and we're already running on one parent. I had to step back and reprioritize. Finances can't be the most important thing. After watching my friend die, I just don't work that way anymore.
On solo parenting:
Jamie: Sometimes I wish people were more honest about parenting, especially single parenting. In the morning there's no tag team. It's always me saying, "Get in the car!" You know, it's really hard. And that's not to say that it's not amazing and the best thing ever — I love those boys, my loves, my life — but I think a lot of people feel this pressure of needing to be, like, put together at [school] drop-off. I mean, I wear my zebra-print bathrobe and my sunglasses sometimes.
On how her attitude has shifted:
Jamie: I found a great counselor. She said, "You need to let things fall into place," and I never really thought about it like that before. As an athlete, you make things happen. I was always very robotic. Things didn't affect me. You kind of learn how to be human when you go through stuff. You learn a lot of humility, I guess. I like to think I was kind [before], but you get a different appreciation for what people go through.
On having a male presence in her sons' lives:
Jamie: My dad is at almost all their games, and they have their fishing day, and he takes them to Sunday school and they go get chocolate milk after. I've definitely always been a tomboy, and they've got to watch me go to Ferrari driving school and use tools, and they understand how to use a power drill, so I don't worry too much about it. I can't even express how blessed we are to have my dad and my brother around. If they have Lego questions, I'm like, "Call up Uncle Rob right now!" and they ask if he can come over and help them, and he's like, "Sure!" I don't feel like we are lacking in anything.