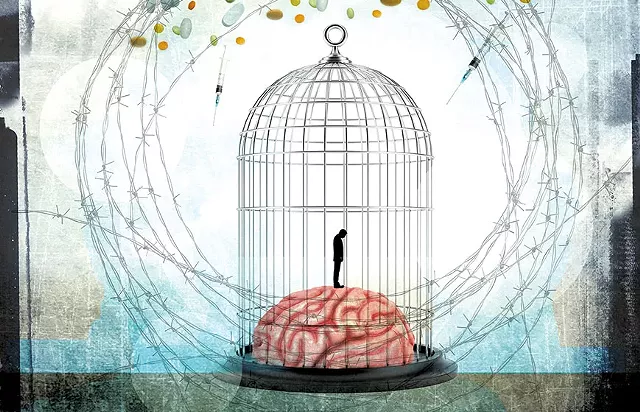 Jack McCullough has long represented psychiatric patients in court proceedings which determine whether they should be committed against their will and forced to take medication. McCullough directs the Mental Health Law Project for Vermont Legal Aid.
On February 18, the white-haired and full-bearded attorney urged the House Human Services Committee to reject a Shumlin administration proposal to expedite the legal process that begins when mentally ill people land in the hospital.
"We just shouldn't be here," McCullough began. He reminded the lawmakers that only two years ago, they spent hundreds of hours taking testimony about the merits of moving patients through the system more quickly.
Parents and former patients back then had jammed a hearing, some to recount how frightening it was to watch relatives suffer in a psychotic state until courts acted. Others shared the humiliation and trauma from being forcibly medicated. Lawmakers decided they needed to accelerate the process and, McCullough noted, gave the Department of Mental Health the permission it sought.
The bill passed overwhelmingly in both the House and Senate.
"Here we are again," McCullough complained recently. "They are asking for more."
Rather than try to get another bill through the legislature, the governor has slipped the changes into his proposed budget in hopes of realizing a $5 million hospitalization savings. State officials reason that if psychiatric patients were medicated sooner, they'd be released sooner, too — by as many as 40 days. The average daily cost for seriously ill psychiatric patients is $1,300.
It's a touchy proposal that pits the administration's practical concerns against patients' rights to make their own medical decisions. While some lawmakers are hesitant to revisit the recent controversy, the fact that it's in the governor's budget makes the issue impossible to ignore.
Frank Reed, mental health commissioner, acknowledged that the loaded request resurfaced without forewarning. But he defended it, saying the 2014 revisions failed to eliminate the long hospital stays that some patients experience — without medication — while awaiting legal decisions.
"We have an obligation to keep bringing up this controversial issue, knowing that it is going to be an uphill slog every time we do," Reed said.
"Vermont is a major outlier nationally," said Dr. Tom Simpatico, chief medical officer for the Department of Vermont Health Access. In other states, he said, decisions about involuntary commitment and medication are reached in no more than two weeks. In Vermont, it takes at least twice that long.
The process is complicated. First, people who pose a danger to themselves or others are taken into custody and brought to hospitals for emergency exams to determine if they should be admitted temporarily against their will for treatment.
Once patients are admitted, psychiatrists typically file applications to force patients to remain hospitalized. These commitment applications trigger probable-cause reviews by judges, who decide if patients should remain hospitalized until their commitment hearings.
Legal Aid represents those patients, who have the right to be evaluated by independent psychiatrists. Patients remain hospitalized while awaiting a second court ruling on a more lengthy commitment. Whether it is a week or months depends on court schedules and how much time attorneys need to prepare.
If patients refuse recommended medication, psychiatric staff may seek court orders to force them to take the drugs — prompting another legal proceeding.
The Shumlin administration wants to eliminate the probable-cause reviews done shortly after patients are admitted. It wants commitment hearings to proceed within 12 days of the application even if patients' independent psychiatric evaluations are incomplete. It also wants to consolidate the medication and commitment proceedings.
Why? Since 2005, the number of commitment requests has doubled and medication applications quadrupled. In 2015, the Mental Health Law Project recorded 552 involuntary temporary admissions to hospitals, 492 applications for extended involuntary commitment and 80 applications to allow forced medication.
Dr. Sandra Steingard, chief medical officer at the Howard Center and a clinical associate professor of psychiatry at the University of Vermont College of Medicine, testified against further changes before the House Human Services Committee. She said was she surprised by the state's slow approach to commitment when she arrived 23 years ago. In Pennsylvania, where she had been working, authorization to involuntarily medicate a patient often came within a week.
There should be no rush to medicate people against their will, she said: "I have come to believe that caution is warranted."
Steingard said some research challenges the long-held belief that antipsychotic drugs are essential to treat psychosis and that delaying treatment could cause irrevocable harm. She cited common and serious side effects of psychiatric drugs: tremors, muscle spasms, involuntary motor movements, weight gain and diabetes. "There are good reasons why people would be reluctant to take them," she said.
While she acknowledged that forced medication might be the only way to help some patients, Steingard said, "Some people come out of this experience angry, frightened and alienated, and I have, in the past, at least taken some comfort in knowing we had a vigorous legal process in place."
She added, "Gov. Shumlin mentioned in an interview that it was cruel to withhold treatment. I think it is cruel to deprive people — who often have so little — of their rights to a fair hearing."
The House Human Services Committee also heard from Dr. Gordon Frankle, chief of psychiatry at Rutland Regional Medical Center. That hospital has 23 psychiatric beds and, along with Brattleboro Retreat and the Vermont Psychiatric Care Hospital in Berlin, admits and cares for patients with the most serious mental illnesses.
Frankle agreed with Steingard that administering powerful drugs involuntarily should be minimized.
"We constantly work at de-escalating the situation without medication," Frankle said. Still, he suggested that speeding up the process could benefit the patients in crisis, other patients and staff. Last year, he said, a judge denied a request to combine the commitment and medication hearing for a patient in Rutland, saying that the person's threatening behavior wasn't sufficient to expedite the process. "A week of threatening sexual statements is really a long time on a small unit," Frankle said.
Frankle also supports another change the Shumlin administration is proposing: eliminating a requirement that the court could order a long-acting medicine only with "clear and convincing evidence" that it was the most appropriate. Some long-acting drugs are administered every two weeks; others, monthly, Frankle said. "I really believe these medications work well," he added.
Tavid Bingham at the National Alliance on Mental Illness Vermont said officials should have to make a case for using long-acting drugs. "These are the ones at the heart of the controversy, because the side effects are scary," he said.
Legal Aid's McCullough also objected, saying the protection was added in 2014 because the use of time-release drugs was becoming routine. If patients develop side effects, he noted, they have to endure them for days, even weeks.
McCullough predicted an explosion of court proceedings if the Shumlin administration succeeds in further streamlining the process. Many times, while commitment cases are pending, patients and doctors resolve their differences over treatment, he said. Accelerating everything would eliminate this opportunity. "The Mental Health Law Project doesn't have the capacity to handle such an increase in trials, and neither does the judiciary," McCullough said.
Most importantly, a quicker process would further erode the legal rights of psychiatric patients, a development McCullough described as "unconscionable."
Commissioner Reed and Dr. Jaskanwar Batra, medical director at the Department of Mental Health, disputed McCullough's contention.
"Protecting due process is very important to the department," Batra said. "Decisions about involuntary medication must not be made for the convenience of the system. It is for the treatment of the individual."
Batra also defended making it easier to give patients long-acting injections. Those medications allow patients to function without getting into daily arguments about the drugs, he said.
The House Human Services Committee heard enough to conclude it couldn't recommend the changes. In a February 24 memo to the House Appropriations Committee, the panel recalled the intense hearings in 2014.
"The committee believes that a revision of this magnitude to a major policy in mental health treatment has no place in the budget," the memo reads. It went on to say that the committee could take up the issue as a stand-alone bill but asked that it be stricken from the budget one.
The proposal could hit a roadblock in the Senate, too. When asked if her committee would take up the proposal, Health and Welfare chair Claire Ayer (D-Addison) said flatly: "No. I don't want to."
But, because it's built into the budget bill, the appropriations committees can't ignore the proposal. Senate Appropriations chair Jane Kitchel (D-Caledonia) said, "We ought to at least hear them and their rationale."