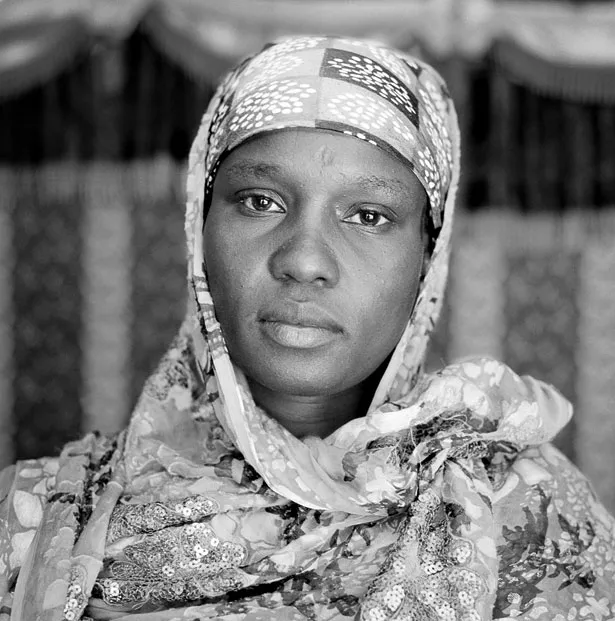 The experience of the refugees who have made their way to Vermont in recent years has often been presented as a feel-good story in which a tolerant, benevolent community welcomes hardworking newcomers. Charlotte-based Ned Castle's series of photos and testimonies at the Vermont Folklife Center in Middlebury subverts that reigning narrative. "In Their Own Words: Stories from Refugees Settled in Vermont Communities" supplies a texture absent from many of the accounts composed by outsiders.
Castle's 13 sets of photos include portraits notable for the yearning and sorrow evident in the eyes of their subjects. Similar sentiments are expressed in the verbatim interview excerpts that accompany each group of photos.
John from Burundi conveys the isolation felt by an African arriving in what appears to be an all-white state. "When I moved to Vermont," John relates, "I spent three days in the house. When I was watching through the window, I would see only white people, and I was wondering if one day I would be able to see another black person.
"Being a refugee means suffering and broken-hearted," John adds.
Alex, a Sudanese, implies that no matter how accepting Vermont may be, it cannot ease refugees' psychological burden. "So when many people come here they are really stressed," he says. "What you went through - for how many years before you came here - it's no surprise."
Dalabor, on the other hand, suggests that refugees are able to reconcile past horrors with their present-day lives through a psychic numbing process. This Bosnian man's attitude points to the diversity of outlooks within a "refugee community" that actually consists of émigrés from Africa, Europe and Asia - who may have little besides their refugee status in common.
"In Vermont," Dalabor muses, "if there was snow for 20 or 30 days you'd get used to it - you don't care. It's the same with the bombing. Sometimes I feel that we really appreciate being here more than native Vermonters do, because you don't have that feeling."
Castle's assemblages generally consist of a close-up of a particular refugee and a family scene flanking a display of documents. In the trio devoted to John, a photo of his certifications as a teacher, security guard and soccer coach in Burundi and Tanzania is accompanied by a soulful portrait and a shot of his wife and four children in a sparsely furnished living room decorated with American and Burundian flags.
Castle, who graduated from Williams College in 2006, gained access to his subjects via the Vermont Refugee Resettlement Program and the Association of Africans Living in Vermont. He learned about these groups from two Rwandan brothers who fled the 1994 genocide, and whose photos are included in the show.
Perhaps the most poignant set of words and images features Victoria, a Sudanese girl who works as a custodian at the Malletts Bay Elementary School in Colchester. In one shot she smiles shyly at Castle's camera; in another she's waxing a classroom floor. In the text panel, Victoria explains that she worked full-time while attending Burlington High School - a schedule that granted her only four hours of sleep per day.
Then there's Aziza, an older woman from Uzbekistan. "We have a general rule," she notes. "We say, 'Never look back, only look forward . . .' But . . . our hearts are in our Motherland."