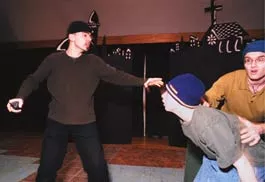 Andy Duback
SCENES FROM A LIFE Admir Dobraca (left) urges haste in a rehearsal for Once Upon a Time And Never Again
At a rehearsal for the upcoming play, Once Upon a Time… and Never Again, an actor shows the cast how to flee sniper fire. "You're trying to trick him," he says, mimicking staggered sprints across the stage. He didn't pick this up in acting school. He lived it on the war-torn streets of Bosnia.
"Reality can get you hurt," the director warns another young actor who attacks the same scene too aggressively a few moments later. The comment passes as a typical stage note — but the irony lingers a beat. No one needs to tell this cast what reality can get you.
Until recently, four of the cast members were living in Bosnia or Croatian refugee camps. Once Upon a Time… and Never Again, which tells their stories, opens this week in their new hometown.
The inspiration for the play struck when Admir Dobraca noticed stage lights stashed in a friend's garage. That friend, Paul Zuckerman, had previously been Dobraca's English tutor at Essex High School, helping him prepare for the exams that would eventually lead to the engineering program at the University of Vermont.
When Dobraca inquired about the theater equipment, Zuckerman described his own experiences producing original plays for unique populations in special education, counseling and treatment contexts. Now the executive director of Our House, a child advocacy center in Barre, Zuckerman says that Dobraca became interested in using theater to tell the stories of his own unique population — the Bosnians whom he joined in Burlington three years ago. "We became a mutual admiration society," Zuckerman says with a laugh.
Dobraca and his fellow Bosnians Kadina Malicbegovic and Melita Sedic began to develop the play in August 2000 — they dubbed the project bosniAct. Champlain Arts Theatre Company was enlisted to produce the play's Vermont run, with CATCo head Veronica Lopez in the director's chair. Zuckerman, the project coordinator, hopes to take the work out of state eventually, and has connected with the Regional Educational Television Network to document the project for broadcast.
Although Sedic dropped out of the production to have a child, hers is one of the autobiographical reflections on life in Bosnia and Burlington that weaves through Once Upon a Time. Sabina Mujic, a Burlington High School student who arrived in 1996, joined the cast more recently. Her story is not part of the play, but she can relate to many scenes, such as one involving a Bosnian family bidding farewell to the father they must leave behind, or translating for an elder whose health benefits are in jeopardy.
Without a doubt, Once Upon a Time is a serious play based on serious stories. As Zuckerman recalls, the first significant funding contribution came from Burlington filmmaker Robin Lloyd, who posed the question, "How will you keep this from filling up with hate?"
The answer is a series of stories more personal than political. While the set includes a church and a mosque, religious conflict is also only incidental to the plot — loose sketches, really, tracking a few young refugees on their journey to Vermont. Rather than probe geopolitical complexities, Once Upon a Time mines the feeling of being caught in the crossfire, literally and figuratively.
Movement is as much a part of the play's vocabulary as words, bringing a heightened visual dimension to the story as bodies sway with sorrow, reel in horror, lie lifelessly on stage. Sound enhances the effect — rock music yielding to a tinkling lullaby, a Muslim prayer call mixing with gunfire and air-raid sirens.
But the play is not without its lighter moments, particularly in the second act, which is set in Burlington. Scenes depicting the challenges of adjusting to local life, and its attendant bureaucracies, sometimes strike a humorous note. Comical may be too strong a word to describe one in which a young Bosnian boy must translate for his mother on a visit to the gynecologist. Still, the play offers engaging insight into the refugee experience.
Insight, more than a polished theatrical production, is the intent of Once Upon a Time, Zuckerman emphasizes. Although he and Lopez have worked extensively in theater, he sees this play as a community-building project, an English-as-a-second-language exercise and a dramatic stage presentation. With a few exceptions, cast members lack formal acting training, but Lopez is still satisfied with the results, however uneven.
"Technique was borne out of passion," she says, recalling the words of an acting mentor. "Nothing was ever borne out of technique."
Non-Bosnian cast member Kym Mooney, one of the few trained actors aboard, agrees that the passion plays a vital role in Once Upon a Time. "Sometimes it's the amateur that brings the freshness, the innovativeness," she suggests.
A graduate student in arts education at St. Michael's College, Mooney usually sticks to theater in a much lighter vein: She directs the comedy-improv group Soapflakes, and is currently directing Guys and Dolls for Edmunds Middle School. Still, she appreciates what the Bosnian production offers the community. "It's always valuable to put a face to esoteric facts," she says. "You'll think about a person's reality."
Actor Jacob Sirotkin, a New York State transplant, calls the theatrical experience nothing short of "enlightening." The 13-year-old Hinesburg resident — and self-proclaimed Buddhist with Catholic and Jewish parents — embraces the opportunity to learn about a place rarely discussed at his school. For him, though, the big lesson has to do with getting along: "You can be coming from anywhere in the world," Sirotkin says, "but we can all relate to each other because we're all humans."
"If you can communicate," Dobraca interjects.
And that's a big if, as Once Upon a Time reveals. "Language is a commodity in the currency of displacement," as Zuckerman puts it.
Dramatizing the communication breakdowns between Bosnians and Burlingtonians sometimes shows the host community in an unflattering light. Several scenes depict locals, from public servants to grocery store patrons, as boorishly indifferent or downright inhospitable. These are characteristics of "a tra-la-la nation," Malicbegovic says, referring to the sheltered lives many Americans lead. Not that she is looking for sympathy: "I don't feel like I need someone to feel sorry for me," she says. "Just be cool… It doesn't matter that we're coming from the worst place in the world. We've got soul."
Dobraca hopes the play will foster a deeper understanding of the Balkan conflict. "It's not just that we can't get along," he says. "It's the whole world that's responsible."
Once Upon a Time… and Never Again promises a tapestry of original tales brought to life in bold visual and aural textures. If those production values prove too much for this modest production to execute seamlessly, the rough edges may convey the chaos of the refugee experience.
As for messages in the play, none could be more positive than the simple fact that Burlington's Bosnian refugees have survived the trials of becoming our neighbors. Life in any community, after all, is a work in progress.