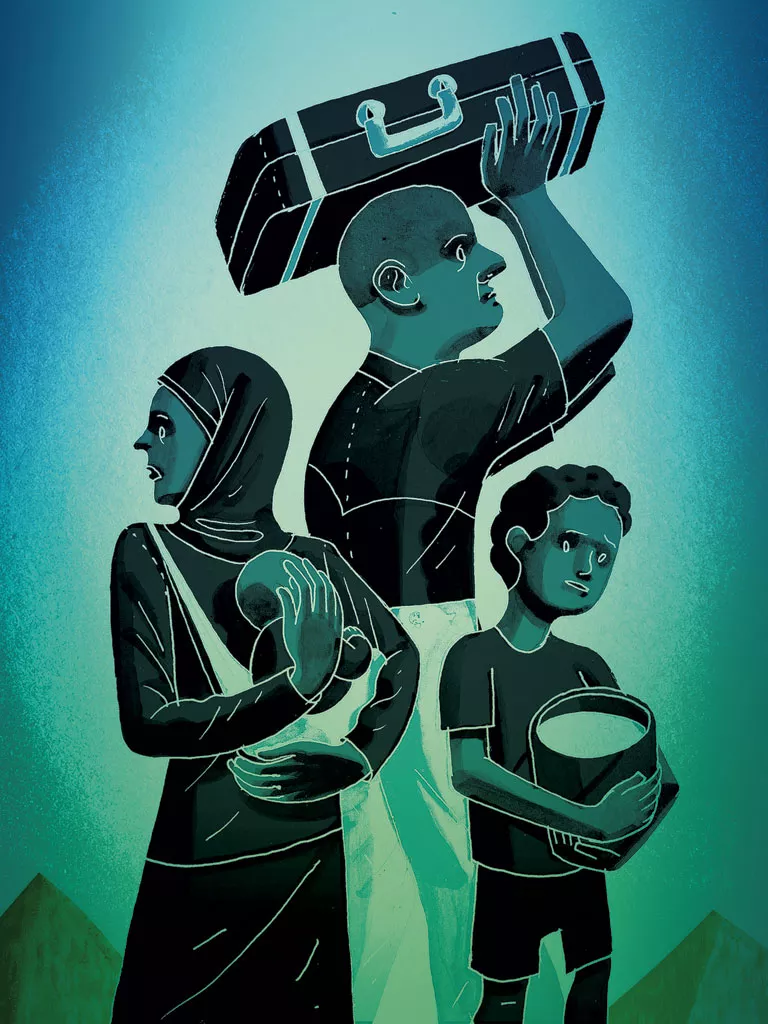 Long-simmering immigration issues boiled up again recently as tens of thousands of Central American children crossed into the U.S. Some of approximately 57,000 unaccompanied minors who have made the journey since last October could land in Vermont. Gov. Peter Shumlin has expressed a desire to help house them, while also noting that the state lacks the large facilities that federal officials are seeking.
In the past, Burlington-based Vermont Immigration and Asylum Advocates, the state's leading authority for refugees seeking asylum for 30 years, would likely have been preparing to spring into action, representing the children in court and helping them adjust to their new surroundings.
But now, a message on the organization's voicemail tells the story:
"Vermont Immigration and Asylum Advocates is no longer taking any new cases. If this is an emergency or you would like the return of your file, please call..."
After helping thousands of refugees who had made their way to Vermont, the organization stopped taking new cases in June and is winding down its operations. Struggling with an increasingly difficult financial climate, and wary of carrying out their vital mission on a shoestring budget, executive director Michele Jenness said, the decision to shut down was unavoidable.
"It's hard to close doors on people, and it was a complicated decision, but it was untenable," Jenness said in an interview. "We just couldn't sustain it."
Though the group is disappearing, officials hope other organizations will pick up their work.
Jenness intends to start up and lead a department at another local refugee organization, the Association of Africans Living in Vermont, which she said has agreed to incorporate legal assistance into their social service programs.
That association assists immigrants of all nationalities, Jenness said.
Jenness' former staff attorney, Erin Jacobsen, plans to take some asylum applications and humanitarian cases in her new job at the South Royalton Legal Clinic.
No single financial blow forced the organization to close. Grants were getting harder to secure, Jenness said, and were coming with more restrictions on how the money could be spent. The burden of running the organization with nominal funding year after year became too much, she said.
For example, when Jacobsen left in January, it was difficult to find a qualified professional willing to work for VIAA's wages, Jenness said.
VIAA had less than $108,000 in revenues in 2012, according to publicly available tax records. The federal Office of Refugee Resettlement contributed more than half of that. VIAA's second largest chunk of revenue came from individual donors, who collectively kicked in more than $19,000. Several organizations, including the Vermont Bar Foundation and the Sisters of Mercy, contributed as well.
"Grant-funding sources across the nation have reduced their support, and it's become harder and harder to receive the funds," Jenness said. "We've always responded to the need and tried to figure out the money after. Maybe that was untenable."
"It is largely financial," echoed Larry Mires, president of VIAA's board. "In an ideal world, we'd still be there."
In a letter to supporters announcing the decision, Jenness and Mires cited both the funding challenges and the "need for our ... staff to correct the balance between their work and other aspects of their life."
The organization launched in 1987 as Vermont Refugee Assistance, to support refugees who had fled civil wars in Central and South America. Most were in Vermont en route to Canada, which has historically been more receptive to asylum seekers than the U.S.
In the old days, Jenness said, friendly border guards would tip them off when people had difficulty crossing into Canada. She and other staffers carried pagers so they could fetch and house those refugees who needed help.
Mark Banks remembers taking in refugees 20 years ago — usually because some paperwork problem was keeping them out of Canada temporarily. Typically, he said, Jenness would call with word that a family, a couple or an individual needed a place to stay.
He and his wife, Iris, and their boys hosted people from conflict zones in Africa and Central America — first in Williston, then Essex. He said his boys learned an important lesson: that not everybody enjoyed the kind of life they did.
Despite the short-term nature of the visits, "In each case, a very human-to-human relationship developed," Banks said.
The same could be said of VIAA's immigration contacts. While she still rails against the practice of detaining asylum seekers and others who don't pose a security threat, Jenness said VIAA has long maintained communication channels with some veteran border officials.
"It's been workable," she said, "and beneficial for our clients."
The organization gradually evolved into what essentially became a pro bono legal clinic, representing detained immigrants — who are not eligible for public defenders and often face removal hearings without attorneys — and asylum seekers, who have to navigate a complex legal landscape.
They also tried public outreach and advocacy around asylum issues. Asylum is a legal status granted to immigrants who arrive in a country and can prove that they would be persecuted or tortured — often for political or religious reasons — if forced to return home.
A 2006 study from Syracuse University found that only 7 percent of asylum-seekers who did not have attorneys were granted asylum by judges, compared with 36 percent of those with legal representation.
Mostly, VIAA has been a troubleshooting organization, helping immigrants here in any way it could from its humble office on North Winooski Avenue.
The group made national news in 2003 when it assisted hundreds of immigrants, mostly Pakistanis, who sought asylum in Canada after the United States enacted new laws forcing them to undergo a special registration process with federal officials. Nervous about getting arrested or deported, many of the Pakistanis tried to flee to Canada but became stuck in Vermont after Canada enacted a new law allowing its border agents to send asylum-seekers back to the United States while their cases were pending.
"Just being able to accompany people on a critical journey, just playing a role, being allowed into people's lives, I like that I can be a part of this community in a small way," Jenness said. "We've had a lot of good fights."
VIAA is not quite done yet. They are still working with 30 or so clients with pending asylum cases. They are referring new people who come knocking on their door to other attorneys.
Said Mires: We are just so proud of our staff and our reputation and the people we've been able to help."