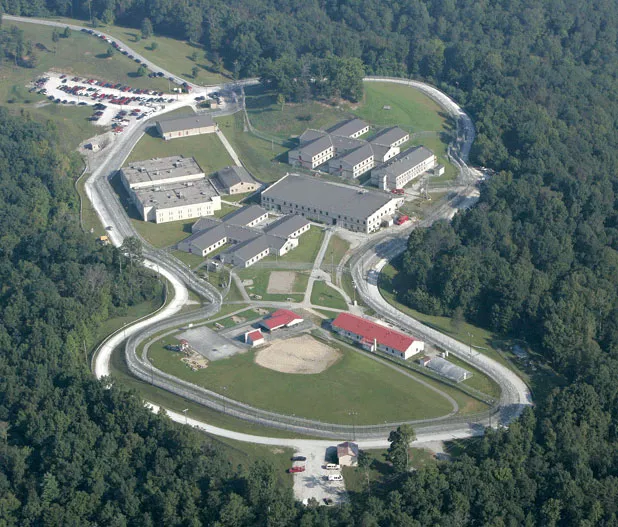 From Vermont's Statehouse to its courtrooms and police stations, everyone seems to be talking about reforming the criminal justice system and spending less money on prisons.
Earlier this year, Gov. Peter Shumlin signed a marijuana decriminalization bill intended to divert people from the criminal justice system. In 2012, Chittenden County State's Attorney T.J. Donovan based his candidacy for attorney general largely on his program to get substance abusers and the mentally ill out of court and into treatment. Even many police officers talk publicly about the need to stop sending so many people to jail.
"You can't arrest your way out of a drug problem," Vermont Public Safety Commissioner Keith Flynn said in a recent interview.
But a few months ago, the Vermont Department of Corrections quietly extended its contract with the Corrections Corporation of America for another two years, meaning the state will continue to ship up to 660 inmates — and as much as $34 million — to private prisons in Kentucky and Arizona.
Why? Vermont's criminal justice system continues to send the DOC far more inmates than the agency can house, and the DOC expresses little optimism that the numbers will decrease any time soon.
Even though Vermont's crime rate has fallen in recent years, the state's inmate population of 2100 remains stubbornly higher than the 1600 beds the DOC maintains in seven prisons statewide. While the population has declined slightly, it's still more than double the number of inmates who were locked up in 1995.
Most alarming to DOC officials and criminal justice reformers is the number of nonviolent offenders who continue to be incarcerated, primarily for drug or property crimes.
In June 2013, more than 40 percent of DOC inmates — 845 prisoners — were locked up for nonviolent crimes.
"Corrections should be a felony business. We should be talking felonies and violent misdemeanors. That's where the bulk of our work should be," DOC Commissioner Andy Pallito said in an interview last week. Speaking to the broader goal of reducing Vermont's prison population by removing nonviolent offenders, he said, "It's not falling fast enough where we can see the light at the end of the tunnel on the out-of-state program."
CCA, the nation's largest private corrections company, owns or controls 90,000 beds in 53 facilities across the country. It generated $442 million in revenue in the second quarter of 2013, according to filings with the Securities and Exchange Commission.
Vermont has sent inmates out of state since the mid-1990s, Pallito said, and to CCA, which is headquartered in Nashville, Tenn., since 2005.
In June, the state exercised an option to extend by two years a contract it signed with CCA in 2011, leaving intact almost every provision of the original agreement. Both the Department of Corrections and the Vermont Attorney General's Office had to approve the extension.
Pallito said the DOC went the renewal route instead of going back on the open market because it guaranteed relatively small cost increases for each of the next two years. The cost per inmate is scheduled to grow 3 percent next year, to $65.47 per bed per day, and another 3 percent in the final year of the agreement.
Putting the agreement out to bid could have opened the state up to more substantial increases, Pallito said.
Inmates awaiting trial are kept in Vermont, as are those who have specialized mental or physical health needs, but nearly every other male inmate is sent to the Lee Adjustment Center in Beattyville, Ky., for at least part of his sentence. Female inmates, who represent 8 percent of Vermont's prison population, are not exported out of state.
CCA owns roughly 95 percent of all private prison beds in America and offers them at cheaper rates than other states with available beds in their publicly owned lockups, Pallito said.
But CCA has a long track record of controversy and is something of a bête noire for critics of mass incarceration. Inmates rioted inside Lee Adjustment Center in 2004 after visiting hours were reduced and accusations of prison guard abuse surfaced. Media reports across the country have documented lawsuits against CCA for alleged lax supervision that created dangerous environments for inmates. In 2011, CCA settled for an undisclosed sum a lawsuit brought by an inmate who alleged guards encouraged extreme violence among inmates and denied injured prisoners medical care inside an Idaho prison that had been dubbed "Gladiator School."
Last month, an inmate inside the Lee Adjustment Center slashed the throat of a Vermonter incarcerated there. The identities of the inmates and other details of that incident have not been released.
In July, the State of Kentucky announced it would not renew its contract with CCA. The state has reduced its inmate population through a variety of initiatives, including releasing many from prison early.
Meanwhile, the Lee Adjustment Center is now populated almost entirely by Vermonters. "We have a long experience with Kentucky, and incidents are low," Pallito said. The recent throat-slashing "was the first in quite a while."
The CCA public affairs office did not respond to requests for comment.
But even CCA's most strident critics in Vermont say the focus should be not on the corporation, but on eliminating the need to outsource corrections.
"It's not good for Vermont. On the other hand, we don't have enough beds here, and we don't necessarily have a better option," said State Rep. Suzi Wizowaty (D-Burlington) who introduced a failed bill that would have banned the state from contracting with a private prison company. "The solution is reducing inmates. I hate that we're using CCA, but there's no immediate fix to this."
Much of the reform talk focuses on reducing the number of nonviolent inmates by giving them sentences that don't include jail time, expanding substance-abuse treatment options and diverting law breakers from the criminal justice system entirely. But neither the DOC nor the state's lawmakers have the sole authority to make those calls.
Judges have wide latitude in issuing sentences, and they, in turn, preside over cases advanced by independently elected state's attorneys, who have discretion in deciding which charges to bring. Police also play a key role in deciding whether or not to arrest someone.
Flynn said the Vermont State Police is aware of the goal to trim the prison population and has stressed the need for treatment and alternative sentencing where appropriate.
But the state's top cop questions the notion that nonviolent criminals do not belong behind bars, citing the recent case of a man arrested and charged for allegedly committing several daytime burglaries in Addison County — technically a nonviolent criminal.
"Maybe some would argue that's not a crime of violence, but I think the expectation of society is if someone repeatedly keeps breaking into residences and continues criminal behavior, that punishment has to be a part of the calculation," said Flynn, a former prosecutor.
And nonviolent inmates aren't the only factor driving the state's prison population beyond the 1600 beds the DOC has available in Vermont. For the past several months, the department, which has a $143 million budget, has seen a small, unexplained spike in the number of detainees — people who have been arrested but are unable to post bail while awaiting trial.
Additionally, nearly 192 inmates have served a minimum sentence and are eligible for release but can't find a place to live.
Pallito insisted the crunch starts with state legislators.
"We haven't done much of anything," Pallito said. "We haven't lessened penalties on anything. We're pretty good at creating more crimes and penalties, but in terms of rolling back, we haven't done it."
A new grassroots group hoping to build support for those kinds of legislative efforts, Vermonters for Criminal Justice Reform, huddled in the Statehouse last week, trying to figure out how to spread their message, and which, if any, legislative proposals they would back.
Members, including state officials, former prosecutors and other advocates, reached no conclusions, though they pledged to meet again in December.
Meanwhile, when legislators return to the Statehouse in January, they will be confronted by a slew of bills that would create longer sentences or new crimes for everything from forgery to selling drugs on abandoned property to making any noise "that would disturb a person of average sensibilities." And sometime after they adjourn, the DOC will start the process of bidding out the next private prison contract to replace the existing deal when it expires.