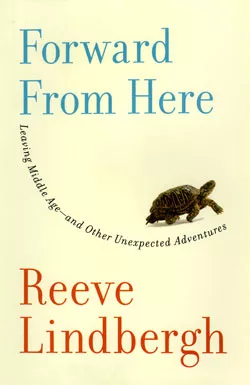 In Reeve Lindbergh's new book Forward From Here, the youngest child of famed aviator Charles Lindbergh and author and aviatrix Anne Morrow Lindbergh writes of her life spent in the Northeast Kingdom, the "back to the land" movement that led her there, and the consequences — both mundane and thrilling — of turning 60. A collection of 19 chapters that meander from the dangers of vanity to the reassurances of routine to the bittersweet process of children leaving home, the book is a journey through late middle age — or, as Lindbergh puts it, "the youth of old age."
Lindbergh, who lives in St. Johnsbury with her second husband, Nat Tripp, is the author of Under a Wing: A Memoir (Delta, 1999) and No More Words: A Journal of My Mother, Anne Morrow Lindbergh (Simon & Schuster, 2002), along with two other memoirs, two novels and a number of children's books. She serves as Honorary Chairman of the Charles A. and Anne Morrow Lindbergh Foundation, which has offered grants to a variety of artists, inventors and scientists since 1977.
Lindbergh wasn't always so firmly embedded in her adopted community. The book begins with memories of her wobbly days in a new Vermont home with first husband Richard Brown. She describes how, following the spiritual lead of back-to-the-landers Scott and Helen Nearing, the couple learned to grapple with practical difficulties such as neighbor relations and the challenges of being even partially self-sufficient in the early 1970s. Lindbergh is admirably quick to point out that she represented a particular type of back-to-the-lander: one who had the resources to live anywhere but chose a life in the Northeast Kingdom.
The book never specifies Lindbergh's reasons for moving from Cambridge, Massachusetts, to St. Johnsbury, but it's not hard to imagine why the child of one of the most scrutinized families in American history would choose a life of relative simplicity. Her father's celebrity soared into the stratosphere following his completion of the first nonstop transatlantic flight in 1927 — an ascent contrasted by an almost equally extreme public dressing down after Lindbergh repeatedly declared his admiration for the Nazi regime's focus and efficiency. (As late as 1938, he was presented the Service Cross of the German Eagle by no less a figure than Luftwaffe chief Herman Göring.) Lindbergh makes only a brief mention of this controversy in the book, though she acknowledges its abiding power in her life.
Whatever her reasons for leaving the metropolis, the country seems to have done wonders for Lindbergh. Though she describes some terribly painful moments, such as the deaths of her sister and mother, her prevailing worldview is one of gratitude, simplicity, gentle humor and pleasure in the quiet.
Insofar as it works its way into the pages of Forward From Here, however, that tranquility may be just a bit too lasting. In dramatic contrast to No More Words — a soul-searching, searingly honest account of her mother's last 22 months, complete with descriptions of the strokes Morrow Lindbergh suffered and the torturous dissolution of her writing ability — Lindbergh's newest memoir is largely a light-hearted paean to country life. The author dwells on subjects that may occasionally strike fellow North Country folks as being on the formulaic side. Birds, turtles, dogs, romping children and quirky local characters wander through the pages, and at times their literary treatment struck this reviewer as reminiscent of episodes of the Vermont-set NBC sitcom "Newhart," with an occasional dash of "Hee Haw."
In a way, the idyllic country clichés make perfect sense. Sometimes Lindbergh says something to remind us that the isolation which fosters her wide-eyed thoughts on raising lambs, the virtues and terrors of Brussels sprouts, and the seasonal residents of her husband's birdhouses is a product not just of distance from the crowd, but of privilege. Take her reflections on unpacking her recently deceased mother's trove of wedding gifts, including crystal bowls, silver candlesticks and 18th-century Georgian feather-edge-pattern flatware. Such passages quickly awaken a reader to the fact that the narrator's voice is not exactly that of a hardscrabble homesteader.
Of course, there's no sin in being well off, but Lindbergh's assumptions may make her advice on gracefully entering one's seventh decade a little less useful to those who lack access to psychologists, supportive and at-the-ready MDs, and a beautifully loving family. In the chapter entitled "Drugs," for instance, she writes: "One of the most shocking things I have heard lately about aging in America is that many older citizens on fixed incomes must choose between their prescriptions and their groceries. They can't afford both."
There's no denying the truth of this statement, but it's not exactly breaking news. One might be forgiven for supposing that the honorary chair of one of the most prominent foundations in the nation would have a stronger understanding of this issue. Lindbergh's failure to delve deeper into one of the most critical dilemmas facing people in their sixties (or any age, for that matter) is frustrating, and it's an example of Forward From Here's tendency to keep its analysis on the surface.
Not that the book is entirely without gravity. Its central chapter, both literally and philosophically, is entitled "Brain Tumor Diary," wherein Lindbergh describes her battle with a benign meningioma. A series of journal entries, the chapter is a timeline of shock, treatment, side effects and recovery. It is wonderful, conveying all the raw pain and flashes of humor that such crises generate, and its humble honesty harks back to the power and energy of No More Words.
Lindbergh frequently puts her wit on display, particularly in the chapter "Ashes," in which she describes the difficulty a friend had in choosing a spot to dispose of a loved one's "cremains." (Chucking traditional Hallmark-card locales, such as a placid stream or a stand of trees, the friend eventually opted to dump the urn's contents into a potted palm in one of the departed's favorite New York restaurants.) The author expresses unrepentant admiration for her pharmaceuticals in "Drugs" — a good-humored poke in the eye to those who think bodily purity means eschewing chemical aid. In this refreshingly unpretentious account, we learn how, whether treating her depression, anxiety or seizure disorders, she opens her prescription bottles with a welcoming eye.
Thereafter follow chapters devoted to the sweetness of dog ownership ("When a couple lives with a dog and no other human beings, little by little the dog becomes the third person in the minds of the two humans") and the delusion of eternal youth ("No matter how good the results of plastic surgery may be, they don't last forever. Everyone who gets old will look old, someday"). Once again, these are heartening homilies whose truth is undeniable, but it's hard not to expect more from a woman of Lindbergh's wit.
In the final chapter of Forward From Here, Lindbergh returns to weightier matters. She details how another aspect of her father's controversial past found its way to Vermont, a full 20 years after his death in 1974: In 1994, she learned that Charles Lindbergh, a model of propriety who was given to extended sermonizing at home, had, in his fifties and sixties, fathered seven children with three different mistresses in Europe. One of the most remarkable parts of the book is this section describing Lindbergh's process of internalizing the astonishing information and introducing herself to a group of half-brothers and -sisters a generation her junior.
Sadly, though, these revelations come at the end, and it was easy to hear the voice of this reviewer's professor in journalism school, wearily warning of the hazards of "burying the lead." When Lindbergh says her fury and indignation lasted "in full force, for only about a month," it's hard not to see this as a nearly superhuman act of maturity. That aside, the book's final thoughts on the power of forgiveness are the stuff of true wisdom.
Chapters such as this one make the reader keenly aware of what a craftsperson Lindbergh is on the page. Her stripped-to-the-bone style and at-the-ready honesty could produce a book on aging with real power and purpose. This just isn't it. Instead, Forward From Here is an unpredictable mix of introspection, unfulfilled anticipation and gentle resignation.
Which, come to think of it, may not be a bad way to characterize the process of getting older.