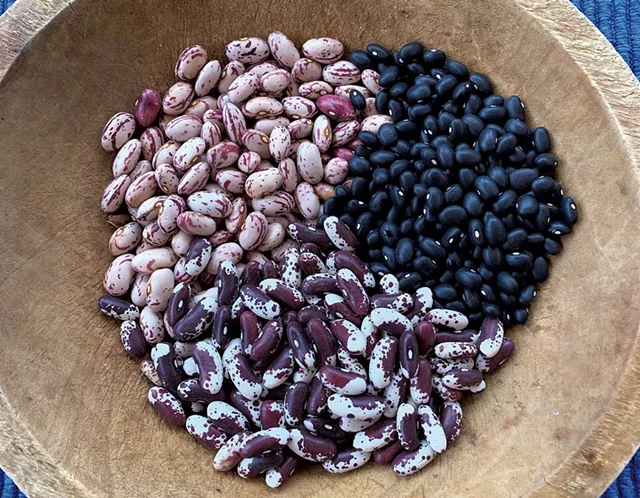 Melissa Pasanen
Vermont cranberry and black beans from Lewis Creek Farm and Jacob's Cattle beans from Morningstar Farm
Despite New England's proud tradition of maple baked beans, Jeannette Johnson of Glover observed recently that cooking dried beans is "kind of like a lost art."
Jeannette and her husband, Seth, grew about 20,000 pounds of beans last year on their Morningstar Farm, from pinto to black beans to Jacob's Cattle to soldier beans.
They sell them all without much trouble, but Jeannette noted that dried beans have become a bit of a mystery to many. "Somebody said to me the other day, 'Who even buys beans anymore? Do they know how to cook them?'"
Beans are a nutrition powerhouse, and thanks partially to the trend toward eating less meat, they're having a moment. Of course, you can buy them canned, but culinary experts aim to convince you that beans are worth cooking from scratch — and to help you do so.
Deep winter in Vermont is the perfect time for slow-cooked pots of local beans. Morningstar Farm sells a selection of dried beans at co-ops and other independent stores, and both Lewis Creek Farm of Starksboro and Full Moon Farm of Hinesburg sell them at the winter Burlington Farmers Market.
"I'm on a bit of a crusade to get people to cook beans more often," award-winning cookbook author and cooking teacher Molly Stevens of Williston writes in her new book, All About Dinner: Simple Meals, Expert Advice. Canned beans are fine, she acknowledges, but "when I really want to appreciate the goodness of beans, I go back to basics and cook them from scratch."
Mara Welton, former co-owner of Burlington's Half Pint Farm, is a self-described "bean queen." She and her husband, Spencer, never grew dried beans for sale, but she still plants her favorite scarlet runner beans for their own consumption.
Welton grew up in Denver in a family with deep Spanish and indigenous Pueblo roots. Every weekend, she recalled, her grandmother, Rosabel Piedad Vallejos Sandoval, would cook up a pot of beans, usually pintos from a local farm, and "we would watch the Broncos." Seasoned with just salt, those beans were served with freshly made flour tortillas and chile verde made with Anaheim-style green chiles, pork and tomatoes.
Welton follows family tradition and makes a weekly pot of beans. She strongly recommends cooking in a clay pot, which is brought to a slow boil on the stovetop and then moved to a 325-degree oven.
"I have so many memories of sitting at the kitchen table with my grandma sorting through beans," she recounted. "We'd pick out small sticks, stones and any beans that were broken or wrinkled."
Sometimes Welton would ask her grandmother what was wrong with a specific bean she had discarded. "She'd just say, 'I didn't like how it looked,'" Welton said with a laugh. "My grandma always said that was her only prejudice."
Seven Ways to Enjoy Beans
Melissa Pasanen
Lewis Creek Farm beans at the Burlington Farmers Market
Ladle beans warm from the pot into a bowl and eat with "a long draw of peppery olive oil," a generous grating of fresh Parmesan, crusty bread and a glass of wine, cookbook author Molly Stevens of Williston suggested.
"I like them plain, just with, like, onion, maple syrup and a little sugar, I think," said Herluf Johnson, age 8, of Morningstar Farm in Glover.
Mash warm beans on thick, lavishly buttered slices of toasted country bread and top with olive oil, flaky sea salt and fresh chopped herbs, Stevens recommended with a hat tip to Steve Sando, owner of California-based heirloom bean purveyor Rancho Gordo.
Toss firm beans into a salad, as former farmer and lifelong bean lover Mara Welton of Burlington often does. Try them in a crunchy, chopped winter vegetable salad of diced carrots, celery root, kohlrabi, Valentine radishes, shredded cabbage and finely ribboned kale, with a mustardy apple cider vinegar dressing.
Make a bean gratin following Stevens' general method: Combine about three cups of cooked beans with one chopped, caramelized onion or equivalent shallots, plus two cups of diced tomatoes. Stir in optional add-ins such as a bit of cooked bacon or sausage; roasted cubes of winter squash or turnips; or braised, chopped winter greens. Season to taste. Scrape into a shallow ovenproof dish and top with fresh bread crumbs, grated hard cheese and a generous drizzle of olive oil. Bake at 350 for 30 to 40 minutes until browned.
Add beans to soup, Welton said: "Any kind of soup deserves a bean."
Save in the fridge for several days, or in the freezer for several months; in either case, store in their cooking liquid.

A Good Pot of Beans

Melissa Pasanen
Bean gratin made with locally grown Vermont cranberry and Jacob's Cattle beans, kale and mushrooms

Adapted from All About Dinner: Simple Meals, Expert Advice by Molly Stevens.Makes three to four cups cooked beans.

Ingredients
1½ cups (about 12 ounces) dried beans, picked over and rinsed
2 garlic cloves, lightly smashed and peeled
1 carrot, finely chopped
1 celery stalk or small peeled chunk of celery root, finely chopped
1 bay leaf
Salt and freshly ground black pepper
Directions
Put the beans in a bowl, cover with cool water by at least two inches, and soak for six to 12 hours. Drain and rinse.
Place the beans in a heavy saucepan large enough to allow beans to plump up to three times their original size. Add the garlic, carrot, celery, bay leaf, a pinch of salt and enough water to cover by about one and a half inches. Bring to a simmer over medium-low heat, skimming any foam that appears on the surface.
Partially cover, adjust the heat to maintain a gentle simmer, and cook — gently stirring from time to time so that the beans on the bottom don't get crushed and the ones on top don't dry out — until they are just tender, 30 minutes to two hours, depending on the beans. Add water as needed to keep the beans covered.
When the beans are tender to the bite but not falling apart, season with salt and pepper and eat, or move them to a heatproof container to cool in their cooking liquid for later use.