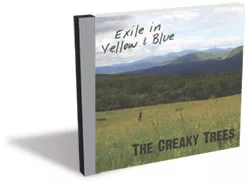 (Self-released, CD)
A good friend of mine — let's call him Kelvin — has a deep, unwavering appreciation for Toby Keith. For most relatively hip, worldly twentysomethings, having, nay, boasting about an affinity for the flag-waving pop-country superstar would reek of supercharged irony. Yet Kelvin's admiration for Keith is genuine. You couldn't even call it a guilty pleasure, because Kelvin feels no shame about it. He just likes his TK, dammit.
I have a feeling Kelvin would feel similarly about RedHouse. The Northeast Kingdom-based trio is not likely to win over the local hipster set anytime soon. But, much like Keith, they trade in a brand of music that, while perhaps short on artistic merit, is long on blue-collar appeal. In other words, they're a bar band. But as their radio-ready debut, Midnight Train, proves, they are also a damned good one. So, line 'em up, Kelvin. We're going drinking.
The disc begins with "Burn the Rain." Mark Fortin introduces the track with a buzz-saw guitar line. Head nodding and fist pumping are likely unavoidable by the time drummer Travis LeBlanc and bassist Chris Doncaster join in and lay down a sizzling hard-rock groove. Fortin proves a talented vocalist, unfurling screeches and howls with aplomb and, more impressively, maintaining his pitch without, it appears, the aid of AutoTune. We'll drink to that.
A simmering blues-rock riff sets "Dead Man's Prayer" adrift. It's doubtful RedHouse will garner any literary prizes for their songwriting. "Predictable" would be a charitable description of their generic rhyme schemes. But we didn't come to this bar for profundity, we came to rock. And that's exactly what RedHouse do at the bridge, as Fortin tears into a fiery solo. Another round?
The title track cooks, even if it bears an uneasy resemblance to "Burn the Rain." The following cut, "The Fool," is primed, primped and ready for heavy pop-country radio rotation. Calling WOKO? "Promised Land" is a roadhouse scorcher. Two more, bartender.
Actually, hold that thought. Might be time for a breather, because the band is slowing things down. And the less said about breakup ballad "Your Soul" the better. Otherwise, we'd have to think about why anyone intentionally wrote the line, "It feels like the most painful feeling in the world." Even Kelvin just winced.
Time to switch over to whiskey. And not a moment too soon, as RedHouse close out the night with a trio of high-octane crowd pleasers. Pumping his fist and banging his head, Kelvin approves. Or, as TK himself might say, "Mm-mm-mm, I love this bar." And I like this bar band.
RedHouse plays Phat Kats in Lyndonville this Friday and Nectar's in Burlington this Tuesday.