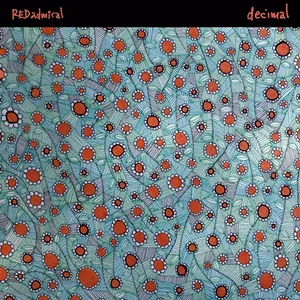 Courtesy
REDadmiral, decimal
(Self-released, digital download)
Burlington swamp-rock outfit REDadmiral have been honing their sound on the local circuit for years. Their latest offering, decimal, exists thanks to undisputed BTV superfan Tim Lewis, who hosts "The Sounds of Burlington" radio show Thursdays on local streaming station WBKM. Lewis brought the band in for a live session at Ryan Cohen's Robot Dog Studios in Williston in February, shortly before the world ground to a halt.
REDadmiral liked the results so much that they went back to do another session with Cohen in the summer, duly masked up and distanced. The combined end result is a record full of energy and raw edges — the telltale signs of a talented crew having a blast. But sonically decimal, which is essentially a live album, is a bit of a hot mess.
At least some of that mess is deliberate. REDadmiral make some defiantly oddball choices. These start with lead singer Gordon Glover, who blasts his vocals through a bright-red Wembley megaphone. His lyrics are smart and funny — from what I can work out, anyway. Unfortunately, much of Glover's wit gets lost in a wall of noise. Peter Frampton on a talk box is more intelligible.
Similarly, Glover's rhythm guitar is often buried in a wash of heavy tremolo, providing a sharp counterpoint to John Billingsley's clean, tasty work on lead guitar. At slower tempos, that contrast works exquisitely. But when the group is working at a full crank, it just sounds excessive.
Then there's Sam Crawford's limber work on bass — a most unusual bass, at that. He's using an Ampeg BB-4 Baby Bass, a '60s-era anomaly that aimed to provide a lightweight, portable upright bass with a wood neck and plastic frame. The results, predictably, were rather muddy. While Crawford has sharp chops, his low-end work disappears in the mix throughout the album's 10 tracks.
The LP leads off with "Barbie's Plastic Army," a reimagining of a track from REDadmiral's 2016 eponymous debut. What was once a radio-rock scorcher is now dark and menacing. It's also the first indication of what an asset percussionist Ed Hall is. Abandoning the regular old drum kit, he brings a huge array of textures and sounds to every song. His choices are unpredictable, and his pocket is rock-solid.
While decimal leans heavily on upbeat foot-stompers, the most impressive moments come when the band slows it down. "Texas" is a cold, mournful ballad about toxic love — I think. And the boozy gem "Layer of Dust" is an album highlight. The latter tune is built around Crawford's bass and Hall's zydeco pulse. The other instruments hang back, which makes for a much bigger sound. The song also offers one of Glover's most compelling vocal performances.
All told, decimal is a joyously dirty ride, but it merely squints toward the band's future. Some bright, shining day, when they can hole up in the studio and invest more time in postproduction finesse and nail pristine takes, REDadmiral are going to deliver a catchy, weird knockout of an album. Not quite yet, though.
decimal by REDadmiral is available at redadmiral1.bandcamp.com.