Hannah Palmer Egan
Greenhouse at Red Wagon Plants
Imagine a foggy summer dawn. You wander the garden, plucking dewy leaves of kale from low plants, then pick a plump, ripe tomato from a bushy row. As your bare feet prickle over the wood chips, you twist a spiny cucumber off a trailing vine. Then you take it all inside, where a few chops, a squeeze of lemon and a sprinkle of salt render your finds into a bright and juicy breakfast.
As any gardener will tell you, few pleasures are more satisfying than eating just-picked food you grew yourself. And if the thought of a DIY summer harvest has you salivating, now is the time to get it started.
In Hinesburg, Julie Rubaud and her crew at Red Wagon Plants supply young, healthy seedlings to more than 30 retail stores in the area, including City Market/Onion River Co-op, Healthy Living Market & Café, and Mad River Garden Center. Most of those plants will be growing in home gardens around Vermont by early June.
Right now, workers at the nursery are shifting into high gear. Starting in late February, they plant and nurture hundreds of thousands of seedlings — nearly 1,600 varieties in all. Rubaud's nine hoop-houses are green to the gills by May, and most of the plants are gone by July 4.
During a recent visit, dark clouds are churning outside, and a fierce wind ripples the greenhouse plastic. "I started this business because I'm into food, and I wanted to help people grow their own," Rubaud says, opening the door to one of the high, plastic tunnels.
Inside, the air is warm and humid, rich with oxygen emitted by plants. Trays of seedlings present a patchwork in hues of lemon-lime, viridian and emerald-purple. Most of these plants will service the final weeks of Red Wagon's popular Winter Salad Club. In other greenhouses, shelves are laden with trays of brown dirt. Within thousands of tiny cells, summer's seeds are silently germinating.
While Red Wagon's early-season practice looks vastly different from that of most home gardeners, Rubaud says starting seeds at home isn't difficult or terribly technical. Still, she advises growers hoping to maximize their summer harvest to invest in a little plant-supporting infrastructure. The rest is observation, mindfulness and patience. Below are six seed-starting tips gleaned from a nursery visit.
Select plants for success
Hannah Palmer Egan
Julie Rubaud
Choose low-maintenance plants that can handle the conditions in your home. Heat-loving plants such as peppers, eggplants and basil can be tricky if you're trying to grow them in a south-facing window at room temperature. Grow lights and garden-specific heat mats are key to producing healthy seedlings for these veggies, many of which take a long time to get established. And onions come with a laundry list of highly specific, nonnegotiable timing and daylight-hours requirements, so it's easy to go astray.
For novice gardeners, Rubaud recommends starting with lettuces, arugula, kales, cabbages, broccoli and Brussels sprouts, which give reliable results with minimal effort. Chard, scallions and herbs such as cilantro are also somewhat tolerant of the low-light conditions common in home operations. And such cold-hardy cultivars can handle frosty nights, so they can go outside as soon as your garden soil is dry — in some places, as early as mid-April. Start seeds inside four to six weeks before transplanting outdoors.
Don't start too soon
Seeding too early produces stressed, skinny plants. "With leggy growth, a plant just stretches out cells it already has, rather than producing healthy new ones," Rubaud says. With weak cell walls, aphids and other bugs can attack the plant more readily. "If [plants] are leggy at the baby stage, it makes a big difference down the road. A [human] baby who has had severe malnutrition is going to be affected later in life. It's exactly the same with plants."
In Vermont, many growers start tomatoes on Town Meeting Day. Rubaud says April is a much healthier timeline — and plants such as kales, cabbages and herbs can wait until four to six weeks before your last frost date. That's early to mid-April for Champlain Valley growers, and mid- to late April for cooler areas. "It's better to put out a short, healthy tomato than a leggy mess," Rubaud says. A stout little plant will have no trouble catching up.
Give them lots of light
A bright, south-facing window alone doesn't cut it. "If you want a really fantastic, abundant garden," Rubaud says, "you should have quality grow lights." In a greenhouse, sunlight streams in from all sides — and above. In your home, light enters via windows on the sides of the house. "Plants know the difference between light that's directly above them versus light that's to their side," Rubaud says. "So, you may think you have a really bright, sunny window, but the plant does not think so."
Buy grow lights. Hang them inches above the plants, and attach them to chains so you can move them up as the plants grow higher. For a standard 10-by-20-inch tray, lit with long fluorescent lights, you'll need two lights to shed adequate wattage over the width of the tray.
Use quality, compost-based potting soil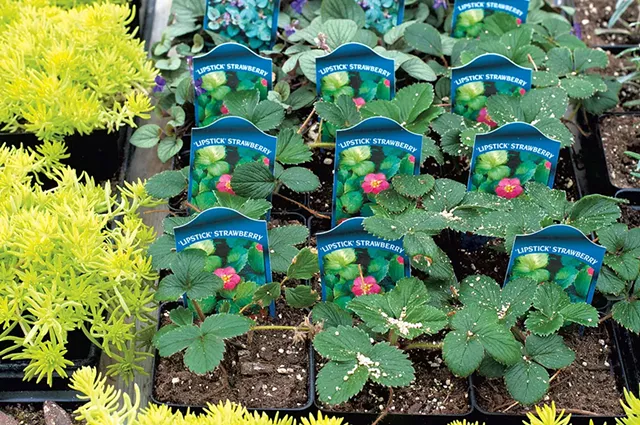 Contrary to what salespeople may tell you, "You don't need a special germination mix," Rubaud says. Use nutrient-dense, organic potting soil — she likes Fort Light and Fort Vee mixes from Montpelier-based Vermont Compost Company — and don't worry about sifting it.
When planting, the rule of thumb is: As big as the seed is, that's how much you cover it with soil. "Seeds are teeny!" Rubaud notes. "You don't really need to add soil [to cover the seeds]. Just press them in and scruff up the dirt with your fingertips."
On watering
While the seeds are germinating, keep the soil damp — not wet — to the touch. When sprouts are half an inch tall, let the soil dry out briefly between waterings. This encourages the plants to send roots down into the soil, where they'll find water and nutrients. Watering too frequently leads to shallow root systems and wimpy, unstable plants.
Also, with seedlings growing under natural light (a window, cold-frame, greenhouse or solarium, as opposed to grow lights), don't water on cloudy days. "The plants aren't really drinking if they're not photosynthesizing like mad," Rubaud says. Watering on dark days encourages soft, mushy growth and creates prime conditions for fungus. Also, water the soil, not the leaves. Wet leaves are also invitations for disease.
Another note on moisture: Make sure your trays or pots have good drainage holes — and don't cover the trays. "Those humidity domes should go straight to the recycling bin," Rubaud says. "Those are the best way to get disease and damping-off."
Transplant, don't fertilize
Plant seeds in tight quarters in a shallow flat or container with good drainage. When the seedlings start to look crowded (usually, at two or three inches tall), gently separate them and replant with new potting soil in a four-pack (available at your local garden center) or small pot.
"When you transplant a tiny plant into fresh soil, you're giving it fresh food," Rubaud says. "If you're using compost-based soil, that's where all of its food is coming from." Also, she adds, the healthiest way to feed a plant is through the soil, "because it's mimicking what it's going to do once it's outside."
And don't bother with liquid fertilizer — not even the organic stuff. "Fertilizer is really not necessary for vegetables and herbs prior to transplanting [outside]," Rubaud says. "It's just going to make that plant kind of lazy. It won't know how to search for its food. There's no reason to make your plants lazy. Make 'em work!"