Matthew Thorsen
Red Thread's Burlington showroom has couches for lounging and impromptu meetings outside of glassed-in workstations for privacy.
The more time you spend in the Burlington office of design company Red Thread, the likelier you are to notice the subtle, ambient hiss from ceiling-mounted speakers. Due to its wavelength, this sound is classified as pink noise, and its purpose is to render intra-office sounds less distinguishable. You can tell a conversation is taking place on the other side of the room, but you can't make out the words.
Whether pink, white or any other sonic color, the method works. When Nest visits Red Thread at its Battery Street quarters, corporate accounts manager Owen Milne asks a colleague to turn off the sound for a moment. What was previously an indistinct buzz instantly becomes intelligible conversation. For a bustling workplace, the advantages of such a system are obvious.
That Red Thread employs pink noise in its own office indicates that the company's designers practice what they preach. Every shared work space boasts a small touchscreen that's used to make room reservations. Comfortably contemporary couches for lounging are within arm's reach of a full-function digital workstation. A small, glassed-in room not only offers quiet to anyone who requires intense focus, but makes plain that whoever's inside it wishes not to be disturbed.
Open layouts make offices multifunctional
Milne — no relation to the recent Vermont gubernatorial candidate — says that a well-designed work space is only as good as the understanding of the "protocols" for the use of that space. "You can solve a whole lot of real estate issues by looking at how much time people spend in certain places and how much real estate you allocate to it," he suggests.
Red Thread, a full-service design agency, is a semi-autonomous boutique imprint of Steelcase, the world's largest manufacturer of office furniture. The design of nearly every workflow process is in its domain, from office layout to software environments to furniture (many brands, not just Steelcase). The idea is to offer clients a one-stop, customizable, fully integrated design experience.
"What we do," says Milne, "is essentially build a 747 inside of an empty space. We've got thousands of different line items — for connector brackets and cables and so on — and the designer is critical to see that all of those pieces come into a system."
Steelcase is an international brand, but Red Thread's 10 offices and four warehouses, including one in Williston, are all in located in New England. The Burlington office has worked with a diverse array of local clients, including South Burlington's engineering supply company Instrumart, the regional nonprofit mental-health agency HowardCenter, and municipal organizations such as the Vermont League of Cities and Towns.
Milne exemplifies the company's integrative approach when he visits the Seven Days/Nest office to give an informal consultation on the theoretical redesign of an awkward conference room. While he's interested in such nuts-and-bolts issues as the placement of the video projector, most of the questions he asks concern the nature of the meetings that take place there, and whether employees use their laptops during those meetings.
For many clients, Milne says, Red Thread plays a "Sherpa role," guiding the client through the wilderness of office-furniture options and acting as liaison between client and architect. The chief benefit of hiring a single design company to do everything from workstations to ethernet cables, he says, is that Red Thread is able to anticipate questions that would not arise if a job were to be tackled by multiple, disconnected firms.
"If you have a bank of windows here and a video camera here," says Milne, gesturing around a Red Thread meeting room, "everyone's face is going to look dark during a videoconference. We provide that kind of insight."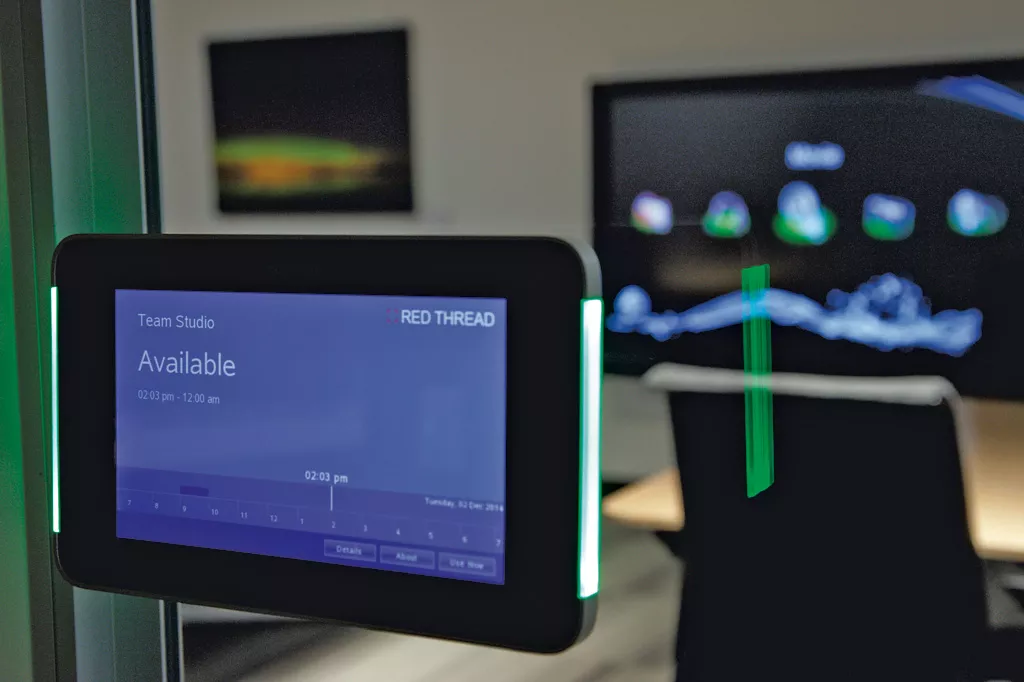 Conference spaces have touchscreens for easy room reservations
Part of the company's mission is, as he puts it, "to deconstruct all of the assumptions that [we] hold about the workplace." He rattles off examples: Why do we assume that employees aren't working when they're not physically in the office? Why do executives "need" or "deserve" large offices, when most of their time is spent off-site or in meeting rooms? In an era when many employees carry powerful computers in their pockets, have issues of space and privacy in the workplace changed in a fundamental way?
"People assume that having a high-performance work environment is really expensive," says Milne, but many companies don't realize that a rearrangement of existing space — rather than the construction of additional space — often ends up, even after redesign costs, saving the company money in the long run.
As Milne puts it, "The workplace needs to support not just what you do — that's easy to design around — but why you exist."
The original print version of this article was headlined "Making It Work"