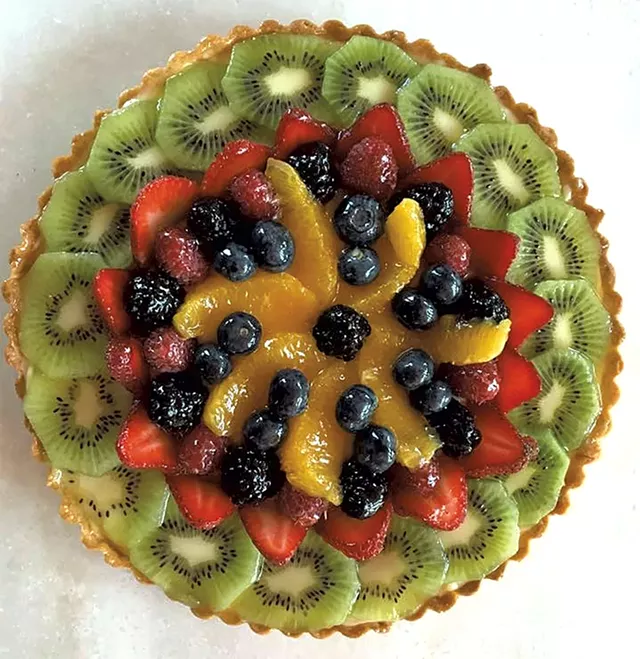 Fruit tart from Red House Sweets
For the past 18 months, Red House Sweets baker Caroline Demers has been turning out croissants, scones, tarts and éclairs from her home kitchen in Fairfax. She sells them at Burlington's Uncommon Grounds Coffee And Tea, among other cafés. Now, Demers is moving her bakery into a space at the back of Catalyst Coffee Bar, at 22 North Main Street in St. Albans, where owner Karen Scheffler has been serving Red House pastries alongside siphon-brewed java since opening last spring.
The bakery débuts this Friday, April 28 — during the Vermont Maple Festival, which sweetens the streets of St. Albans each spring. While Demers' opening menu will focus on maple-laced treats, the baker says her usual bill of fare is more traditionally French. "I'm French Canadian," said the Montréal native, who has lived in Vermont for the past 20 years. "So I do a lot of pastries. French pastries are my passion."
Those pastries include maple cinnamon buns, cheesecakes, fruit tarts and European-style cakes, along with plain croissants and others stuffed with bacon and eggs, chocolate, nuts, and other sweet and savory fillings.
Demers learned to bake "here and there," she said. After taking a class at King Arthur Flour in Norwich, she couldn't stay away from the oven, so she studied at pâtisseries in Montréal and baked for friends and family. Slowly, her passion became a business, and that business outgrew her home kitchen.
"I kind of got in over my head working from home," Demers said. "So when I saw a retail space, I jumped on it." With the added square footage, she plans to expand her menu to include breads and other baked goods, and hopes to add more retail accounts as her capacity allows.
Red House Sweets will be open Wednesday through Sunday, starting this weekend.