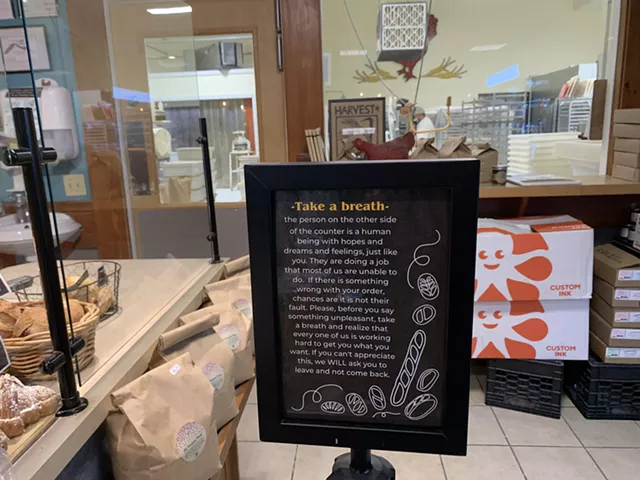 Sophie X. Pollak
Sign at Red Hen Baking in Middlesex
Red Hen Baking
in Middlesex opens at 7:30 in the morning. On Tuesday, at 7:15 a.m., a man walked up to the takeout window outside the café and banged on it. When a staffer approached the window to talk with him, the man said he wanted a cup of decaf coffee and a cinnamon bun.
"We open in 15 minutes," she told him. "The decaf's not ready and the cinnamon buns are in the oven."
As the man drove off, he gave her the finger, according to Randy George, Red Hen's co-owner.
Perhaps if the would-be customer had entered Red Hen when it's
open
, he would've behaved in a more civil manner. That is, if he read the signs posted by the counter where people place their orders. One sign in particular would've served the finger-giver well. Its heading: Take a Breath.
The notice reminds customers that "the person on the other side of the counter is a human being with hopes and dreams and feelings, just like you." The sign asks that people please refrain from saying "something unpleasant" and suggests they "take a breath and realize that every one of us is working hard to get you what you want. If you can't appreciate this, we WILL ask you to leave and not come back."
The signs went up in August, during what George called an "epidemic of rudeness."
It started in the late spring and continued into the summer, George explained, as Vermonters got vaccinated, COVID-19 restrictions were lifted and folks with a pent-up desire to go out filled the café. A significant portion of them seemed to have forgotten their manners.
"Our staff started to say, 'What is going on with these people?'" George recounted. When he asked his staff about the prevalence of the over-the-top behavior, he learned that about one in five people, or 20 percent of Red Hen's customers, were rude "over nothing."
"It can kind of drag you down," George said of the rudeness. "It's great that 80 percent of the people were lovely, but 20 percent is a lot. And it can really sort of dominate the feeling of your day."
George and his staff talked about what they could do, and decided to create the signs. The notices were collaboratively written based on feedback from staff.
Of course, George quipped, "nobody reads anything that's more than one sentence."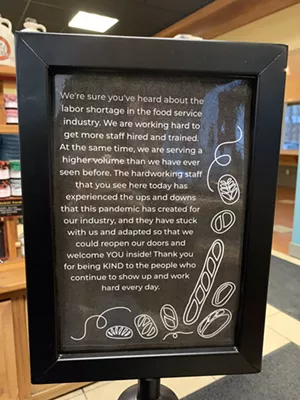 Sophie X. Pollak
Sign at Red Hen Baking in Middlesex
At Red Hen, the signs face stiff competition. They square off for customers' attention with a case that displays croissants, cinnamon buns, brownies, scones, cookies, local cheeses and more. The loaves of bread for which Red Hen is known — Cyrus Pringle, Mad River Grain, plain and seeded baguettes — draw the eye upward.
But enough people seem to have read the signs (or come to their senses) that rudeness has decreased to one in 10 people, or about 10 percent of customers, a café shift leader told George on Tuesday morning.
"Her feeling is [the behavior] has gone down by half," George said. "But the rude ones are ruder."
In early October, about six weeks after the signs were posted, a customer asked a barista for a coffee-cup lid with a little sippy hole in it.
Sorry, the barista responded, we don't have those. He explained that the item is unavailable due to supply-chain disruptions.
The customer then asked for a wrapped straw.
"This is what we have for straws," the barista responded, giving the customer an unwrapped straw.
"That's stupid," the customer retorted. "And so are you."
The barista had worked at Red Hen for about two years. He gave his three-weeks notice immediately.
"He dissolved in a puddle of tears," George explained of the barista, "and said, 'I can't do it anymore.'"