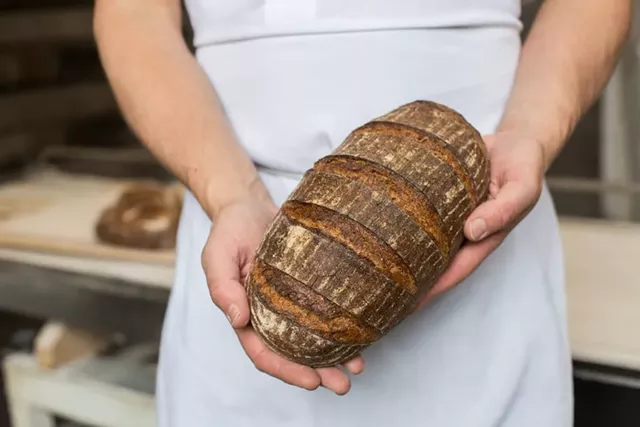 Courtesy of Red Hen Baking
Alice's Rye at Red Hen Baking
Red Hen Baking has gotten into the grinding business. Last week, the Middlesex company purchased a small stone mill, made by a father-and-son team in North Carolina, with which it now grinds some of the rye flour for loaves such as Mad River Grain, Pumpernickel and Crossett Hill.
The purchase was inspired by an oversupply of whole rye berries from Todd Hardie, founder of Honey Gardens Apiaries and Caledonia Spirits. Having sold the booze biz in 2015, Hardie now grows rye, barley and elderberries at Thornhill Farm in Greensboro Bend; he also raises pigs and keeps bees.
Why hasn't the bakery milled in the past? "The way we supported farmers up until now was by buying their flour," said Red Hen co-owner Randy George. Many farmers add value to their grain by milling it themselves, such as Ben Gleason of Gleason Grains in Bridport, and a Québec farm from which Red Hen purchases a great deal of wheat flour.
However, having the option to mill, George explained, will allow Red Hen to build a pool of knowledge about the potential of growing grains besides wheat in Vermont. "We're at the beginning of a learning process," he said. "Rye isn't valued as a food crop in America; therefore, we don't know a lot about it."