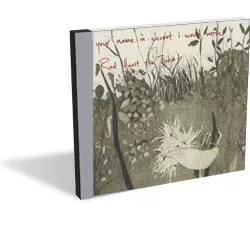 (Auger Down Records, CD)
As the story goes, folk musician Margaret MacArthur moved from the Ozarks to an old farmhouse in southern Vermont in the 1940s to seek out the region's "lost" music. Tape recorder in hand, she traveled throughout the state, unearthing Vermont's fading musical history, one song at a time. In 1962, Folkways Records released the fruit of her labors, Folksongs of Vermont, the first of nine albums MacArthur would record over the course of her career. MacArthur died in 2006, in the same Marlboro farmhouse in which she recorded Folksongs. Now, some 70 years after she began her quest, her granddaughter, Robin MacArthur, and Robin's husband, Tyler Gibbons, have given new life to Margaret MacArthur's life's work. As Red Heart the Ticker, they've released a new album of traditional Vermont folk songs called Your Name in Secret I Would Write.
Funded by a Creation Grant from the Vermont Arts Council and recorded in the room in which Margaret MacArthur died, Your Name is as much a loving tribute to Robin's grandmother as it is an effort to keep Vermont's old tunes alive. But this is no stuffy retrospective. Red Heart approach their source material with equal parts reverence and ingenuity, balancing tradition with modern sensibility to create a compelling collection of tunes. Your Name is both rooted in the past and forward thinking.
The neo-traditionalist bent is apparent from the first pulsing pump-organ sustains on opener "Mother's in the Graveyard." The bleak urgency in MacArthur's unadorned delivery is heightened by the organ's dirge-like progression, but tempered by ringing chimes and skittering electric guitar that skim lithely over the surface.
"Lakes of Champlain" represents the recording's truest union of old-time grit and modern application. Sweet and understated, the electric-guitar-tinged waltz could be an outtake from Gillian Welch's Time (The Revelator). "Carrion Crow" is a similarly inventive example of neo-trad sparseness, as are the sorrowful "Stratton Mountain Tragedy" and the tender "I've Courted Thee Before."
Throughout, MacArthur and Gibbons display an uncommon sensitivity and respect for the nuances of their material. In clumsier hands, modern flourishes might have been overstated, but this duo strikes a near-perfect balance. This is a recording that will intrigue local music scholars and folk fans alike.
Your Name in Secret I Would Write will be available on Sept. 20th, 2011, at yournameinsecretiwouldwrite.com.