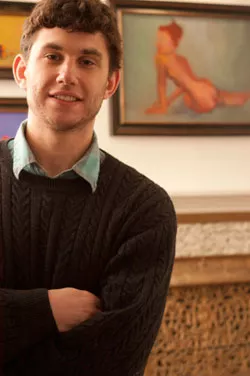 Matthew Thorsen
Julian Cardinal
Two young entrepreneurs are the latest in a decades-long line seeking to debunk Burlington's reputation as a tough town for selling art.
University of Vermont graduates Julian Cardinal, 23, and Zachary Pliner, 24, opened Scarlet Galleries on Bank Street in mid-December. There's double significance to the name they gave to the former Greer's dry-cleaning outlet adjacent to A Single Pebble, Burlington's popular nouvelle-Chinese restaurant. Scarlet is the middle name of Cardinal's 20-month-old daughter, and the plural "galleries" was chosen to signify the owners' goal of eventually presiding over an art empire in Burlington and beyond.
Cardinal, himself a painter, handles the aesthetic side of the business, while Pliner, whose idea it was to open a gallery, balances its books and promotes its shows. Scarlet's focus is on representational work, with a current selection that includes several pieces by Cardinal and his father, Robert, a successful Cape Cod artist who owns a gallery in Provincetown and teaches drawing at his studio in Truro.
The son has inherited the father's strong, red-and-blue-dominated palette and also paints with oil on canvas. The younger Cardinal, who was a studio-art minor and English major at UVM, tends to isolate his subjects against a stark background much in the manner of his father. Julian's paintings are figurative and rendered in an expressionistic style, however, while Robert is more of a realist akin to Edward Hopper. The elder Cardinal paints unpeopled landscapes and watery scenes featuring lonely barns and becalmed boats, respectively.
The other artists currently on view at Scarlet also cater to traditional tastes. John Clarke Olson, for example, paints Vermont farmhouses and barns covered in snow. Catskills artist Joe Keiffer is represented by a few realistic — and familiar — rural landscapes as well as by a standout image of a hang glider suspended above a beautifully executed lake inlet and observed through binoculars by a seated figure on shore. Melinda Morrison skillfully paints female dancers in motion and at rest, conjuring associations with John Singer Sargent and Edgar Degas.
Julian Cardinal found most of these artists online. He says he was impressed with postings of the work of Morrison, who lives in Denver and whom Cardinal has never met. Also on the web, Cardinal came across Christos Calivas of Maine, a cubism-influenced painter whose work in the gallery depicts a cluster of houses in Greece. Olson is the only Vermont artist besides Cardinal included in this show.
It's an intentional decision to introduce Burlington viewers to contemporary but traditional art made outside Vermont, Cardinal explains. He says he finds many local galleries too fixated on work created close to home. Cardinal is also aesthetically turned off by most of what's shown in the strip of hip venues on Pine Street. "I'm willing to look at abstractions and installations, but I'm generally not a big fan of that stuff," he opines. "A lot of it is really cheesy."
Scarlet Galleries, its once-residential interior a warren of small but finely appointed rooms, also distinguishes itself from the funkier South End scene in the way it presents art. "We're doing the hanging professionally," Pliner points out. "There's a lot of crowding on the walls of galleries I've seen in Burlington."
For all their optimism and ambition, Scarlet's co-owners do realize they're operating in a small market that may not buy what they're selling. While acknowledging that galleries in downtown Burlington have been shortlived, Cardinal suggests there is a well-heeled, and potentially art-buying, public here. And he thinks art could account for a larger portion of its purchases. Jewelry shops seem to prosper in Burlington, Cardinal observes, and adds that he and Pliner will soon carry handmade jewelry at Scarlet.
The business partners and friends have had some initial success in dealing art. They sold four paintings during the gallery's first month, although in these deep-winter days, Cardinal admits, "Things are kind of slow."
His proud father shares the lanky son's upbeat attitude. Robert Cardinal, who frequently visits — and paints — Vermont, says via telephone from Cape Cod that he senses new opportunities for art outlets in Burlington. "The lack of galleries there can actually be seen as an advantage," the elder Cardinal suggests. "It means Julian's not going to have much competition."
Scarlet Galleries, 139 Bank Street, Burlington. Info, 497-1010. scarletgalleries.com