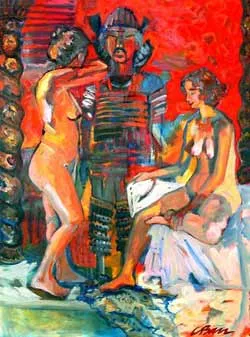 "Samurai Trio" by Candy Barr
There's more to red than meets the eye. In South Africa it denotes mourning. In China it's the color of good luck. To some it signifies love; to others, war. At Studio Place Arts in Barre, "Paint the Gallery Red" includes the handiwork of 27 artists presenting nearly 40 pieces in all media. Every one of the works emphasizes that cardinal hue in all its long-wavelength magnificence.
Janet Van Fleet and Mary Admasian, of Cabot and Montpelier, respectively, remind viewers that the word red has as many variations as does the pigment. "Red Read" consists of ceiling-hung, clear-Plexiglas panels, 4 feet off the ground and covered in vinyl letters spelling words such as "Rumored" and "Sacred." "Red" in the words and phrases appears in crimson, while the rest of the letters appear in white. Depending on where the three-letter word winds up, the words and the color itself are seen anew.
Montpelier artist Robert Hitzig plays with words a little differently. His richly shellacked, 19-by-38-inch, vertically wall-mounted "Flame Maple" is created from two beautifully figured curly (or flame) maple boards. Hitzig finished them with a red tint, taking the fiery connotation of the color literally. He could have also used that title for charred pieces of wood, but Hitzig's vermillion shellac finish is far more interesting and beautiful than a literal rendering of flamed maple would have been.
Three claret-colored paper bowls, each about 22 inches in diameter and hung in a vertical row, share the title "Canyon Lands." Fiber artist Sandy Jefferis of Jericho invented white patterns for the top and bottom red bowls and a distinctive brown-and-black "Z" shape for the middle piece. Jefferis' thin-gauged paper bowls are wonderfully formed, and her simple, direct designs are vaguely pueblo-like.
Pria Cambio of Montpelier presents a textile piece entitled "Carpathian Dreams." It's an opulent shawl woven from red, reddish brown and black fibers, draped over the shoulders of a female torso mannequin. In addition to her fiber works, Cambio creates solid paintings, and the mediums appear to inform each other in her approach to color.
North Ferrisburgh sculptor Lilian Aye gave a piece of 20th-century industrial detritus a new life, and a nice patina, in creating "Unicorn 21st Century." A piece of weathered, red-painted machinery forms the outline of an equestrian head in the graceful, 28-by-24-inch pedestal piece. It is reminiscent of a horse from the Parthenon frieze — except for the tall steel projection that forms the mythical beastie's horn.
Though paintings don't dominate this exhibition, there are quite a few fine ones. "Samurai Trio" by Warren artist Candy Barr is a 30-by-40-inch whimsical oil of two female nudes posed before a stiff samurai warrior in full regalia. The passionately red, East Asian seraglio image is very nicely painted. Blue replaces green — the complement of red — as a foil to the warmer hues of Barr's palette.
Fairfield painter Gail Salzman, on the other hand, revels in the red/green dichotomy. Her diptych "Red-Green" consists of two 11-by-11-inch panels with the title hues appearing in translucent, irregular shapes, layered as if interwoven. Salzman's nonobjective images convey shallow, subtly illusionistic layers of dimension.
Evidence of the pigment red ochre in human graves dates back to Neanderthal times, and examples of its use in archaic cultures appears worldwide. So Studio Place Arts may be conjuring elemental forces with such an incarnadine exhibition. At the very least, viewing "Paint the Gallery Red" quickens the pulse.