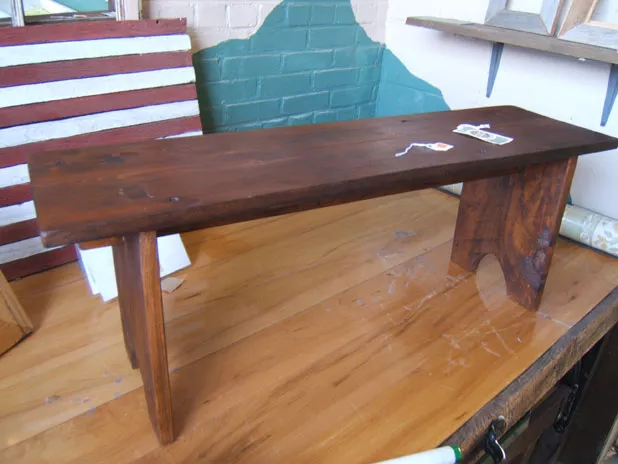 If you've renovated your home recently, chances are you've got a pile of leftover odds and ends: pieces of tile, strips of molding, window frames. All that stuff could come together to make something useful, such as a birdhouse, a table or a picture frame, but who has time these days for such whimsical little jobs? The answer: Anna Urban, shop supervisor at the new Waste Not Products woodshop, located in the Building Materials Center at Burlington's ReCycle North. The concept is to fashion saleable items out of building materials donated to ReCycle North by walk-in customers and managers of deconstruction jobs.
Urban, who was on vacation at press time, grew up in Monkton and graduated in 2007 from Wesleyan University with concentrations in art and architecture. "So she has a little bit of building experience," says Tom Grocki, director of the Building Materials Center.
Urban started working at ReCycle North in November on a one-year AmeriCorps placement, which gives the worker a stipend and, at the end of the year, money to attend college or pay qualified student loans. One of four such placements at ReCycle North, Urban's position could get renewed for another year, but Grocki is also considering hiring her as a staff member. In her new capacity as shop supervisor, Urban will be partnering with YouthBuild U.S.A. to teach local kids how to make wood products and use tools properly.
Judging by the list of tools purchased for the 40-by-40-foot shop - joiner, planer, table saw, chop saw, drill press and chisels, to name a few - Urban and the YouthBuild kids should be able to construct almost anything. "We're only limited by our imagination," says Grocki.
The retail portion of the shop will consist of a showroom in the Building Materials section of ReCycle North on Pine Street. At the shop's grand-opening celebration on Wednesday, July 23, at 4 p.m., the public can check out examples of Waste Not's products on display - along with food from American Flatbread, Fresh Market and other local restaurants, and live jazz. Gubernatorial candidate Gaye Symington will say a few words, joined by John Tracy of Senator Patrick Leahy's office and ReCycle North Executive Director Tom Longstreth.