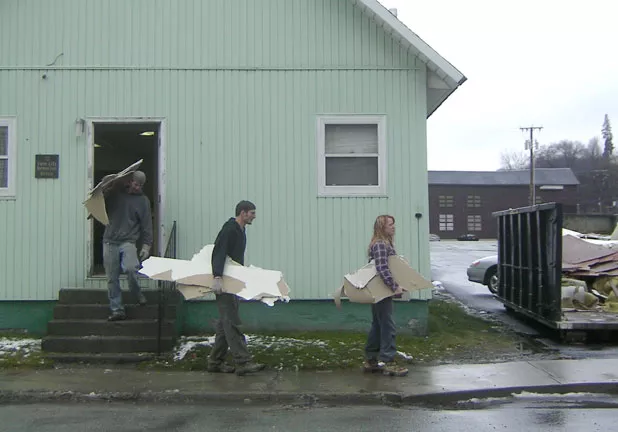 As a community muralist and artsy repurposer, Rachael Rice takes a shine to blank walls and quirky stuff. Imagine, then, how psyched she is to paint her new office — a 13,000-square-foot "battleship of a granite shed" — and fill it with a tractor-trailer's worth of zippers, poster board, Q-tips and "random widgets."
Rice, 31, is the program manager of a new Barre outpost of ReCycle North, which is headquartered on Pine Street in Burlington. ReCycle North plans to purchase the "battleship" this week; the new store on Granite Street will sell household appliances, building materials, electronics and offbeat art supplies.
The art supplies come courtesy of Montpelier's ReStore, an 18-year-old nonprofit that has been operating at diminished capacity since its roof collapsed last February. Under the new partnership, ReStore's River Street location will close and its nonprofit status will dissolve. But the brand will live on, Rice assures: Some of ReStore's "consistently inconsistent" inventory also will be transferred to Art Cycle, ReCycle North's art-supply store on Pine Street.
"Given the economy, it's a really helpful enterprise," Rice observes. "I think people are going to have to get really creative about solving their financial problems."
Besides more perks for Burlington artists, the partnership could provide an economic boost to Washington County. According to ReCycle North Executive Director Tom Longstreth, opening a store in Barre is a perfect move for ReCycle North, a nonprofit aimed at fighting poverty, reducing waste and creating jobs. "If you look at the indicators," he explains, "Barre is a community that is struggling."
By 2011, ReCycle North, which has grown by almost 25 percent each year since its 1991 founding, may hire as many as 12 people to work at the new Barre store. It also plans to hire 10 additional employees for YouthBuild, a 10-month job-training program currently serving 20 high school dropouts.
Getting the Barre facility fully operational won't be easy. The new space will require "major work," Longstreth predicts, and a $1 million capital campaign. On the other hand, he notes, economic recession makes the need for such a resource even more pressing.
Last week, Rachael Rice was schlepping sheetrock in Barre, but predicted the store would open sometime this month. After a soft launch, she says, it will begin offering weatherization services through the Central Vermont Community Action Council, job training through the state's welfare-to-work Reach Up program, and deconstruction services for the Central Vermont Solid Waste Management District.
"The solid-waste-management district is pretty happy," Rice attests, "because they're going to have less to deal with." Artists, meanwhile, will have more widgets to choose from.