First Night Burlington
When it comes to ringing in the New Year right, Burlington has decades of practice. Every December 31, top regional talent transforms the Queen City into a living, breathing stage known as First Night Burlington. It's the state's largest single-day arts and culture festival.
Debuting in Boston in 1976, the First Night concept has since been adopted by more than 130 cities around the globe. Burlington joined the party early on, in 1983. The substance-free, all-ages celebration is your ticket to a massive lineup of music, theater, comedy and dance. For its 30th anniversary, organizers pull out all the stops with 12 hours of continuous entertainment in 20 downtown venues, from art galleries to an indie movie theater to Burlington's premier venue, the Flynn Center for the Performing Arts.
There are endless ways to navigate the festival program, which draws thousands of visitors annually. Care for some music? Take a seat for classical masterworks by the Burlington Chamber Orchestra, or dance to hardcore Parisian hot jazz by Frenchy and the Punk. When you need a breather, master storyteller Joseph Citro fascinates listeners with strange Vermont folklore, while Circus Smirkus draws oohs and ahhs with tumbling feats.
Costumes and large-scale puppets make the Dancing Dragons Parade a colorful Church Street procession, and dazzling firework displays over Lake Champlain at 6 p.m. and midnight truly light up the night.
Monday, December 31, noon to midnight, at various locations in downtown Burlington. $5-27 per First Night button; free for kids under 3; $42 family pack available through December 15. Additional $3 tickets are required for certain performances at the Flynn Center and Memorial Auditorium. Info, 863-6005. firstnightburlington.com
Vous voulez fêter la première nuit de l'année en beauté? Vous pouvez miser sur Burlington, car la ville a des dizaines d'années d'expérience! Le 31 décembre chaque année, elle se transforme en une grande scène de spectacle accueillant les meilleurs talents de la région. Il s'agit du festival d'art et de culture d'une journée le plus important du Vermont.
Le concept de First Night trouve ses origines à Boston, en 1976, et il a été repris par plus de 130 villes partout dans le monde. Burlington a emboîté le pas à Boston très tôt, en 1983. Cette fête sans alcool qui s'adresse à tous les âges vous offre tout un monde de concerts, de pièces de théâtre, de comédies et de spectacles de danse. À l'occasion du 30e anniversaire, les organisateurs se sont surpassés : 12 heures de spectacles en continu présentés dans une vingtaine d'établissements du centre-ville, depuis des galeries d'art jusqu'à un cinéma indépendant en passant par la principale salle de la ville, le Flynn Center for the Performing Arts.
On peut s'intéresser à ce festival, qui attire chaque année des milliers de visiteurs, de toutes sortes de manières. Si vous aimez la musique classique, pourquoi ne pas assister à un concert de l'Orchestre de chambre de Burlington? Vous pouvez aussi choisir de danser au rythme endiablé du jazz parisien de Frenchy and the Punk. Pour faire une pause, écoutez Joseph Citro raconter d'étranges légendes du folklore vermontois ou admirez les exploits du cirque Smirkus.
Le défilé des Dancing Dragons, avec ses costumes et ses marionnettes géantes, est un événement haut en couleur qui se déroule sur la rue Church. Et les feux d'artifice sur le lac Champlain, à 18 h et à minuit, sont à ne pas manquer!
Lundi 31 décembre, de midi à minuit, dans divers établissements du centre-ville de Burlington. 5-27 $ par insigne First Night; gratuit pour les enfants de moins de 3 ans; forfait familial de 42 $ disponible jusqu'au 15 décembre. Des billets additionnels de 3 $ sont exigés pour certains spectacles au Flynn Center et au Memorial Auditorium. Info, 863-6005. firstnightburlington.com
First Run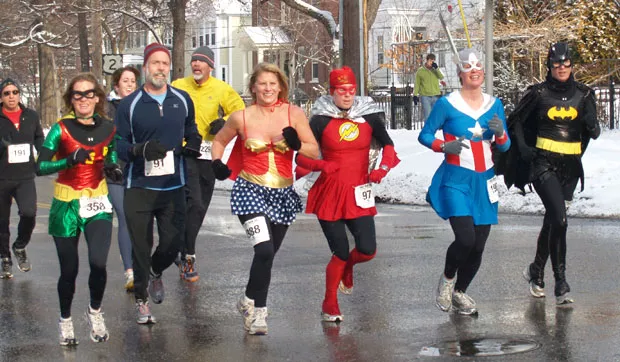 It may be fun to celebrate the New Year into the wee hours, but sleeping until noon is no way to greet New Year's Day. Instead, you could make a resolution to start 2013 with your best foot forward at RunVermont's 25th annual FirstRun. Quirky costumes keep the festive spirit going at this short-and-sweet 5K. Too much to handle before lunchtime? Then cheer on hundreds of participants from the sidelines — or try a fun run.
Tuesday, January 1, at Memorial Auditorium in Burlington. Race-day registration and packet pick-up, 9:30-10:45 a.m.; 5K, 11 a.m.; kids fun runs, 11:05 a.m.; food, awards and raffle, 11:30 a.m. $5-25. Info, 863-8412. runvermont.org
C'est sans doute amusant de fêter le Nouvel An jusqu'aux petites heures du matin, mais vous ne souhaitez peut-être pas entamer la nouvelle année en faisant la grasse matinée jusqu'à midi. Vous pourriez plutôt prendre la résolution de commencer l'année 2013 sur le bon pied en participant à la 25e course annuelle FirstRun de RunVermont. Grâce aux costumes excentriques, ce sympathique parcours de cinq kilomètres saura vous maintenir dans l'esprit des fêtes. L'objectif est trop ambitieux avant le dîner? Contentez-vous dans ce cas d'encourager les participants ou participez à une course de divertissement.
Mardi 1er janvier, au Memorial Auditorium à Burlington. Inscription et remise de pochette le jour de la course, 9 h 30-10 h 45; 5 kilomètres, 11 h; courses des enfants, 11 h 05; restauration, prix et tirage, 11 h 30. 5-25 $. Info, 863-8412. runvermont.org
Snowshoe Festival & Winter Party
Courtesy of Green Mountain Club
"The woods are lovely, dark and deep," wrote Vermont's first poet laureate, Robert Frost, in "Stopping by Woods on a Snowy Evening." But the state's white-blanketed landscape is best explored in daylight, and there's no better time than at the Green Mountain Club's Snowshoe Festival & Winter Party.
Best known as the primary caretaker of Vermont's Long Trail — the oldest long-distance hiking path in America — the Green Mountain Club is a nonprofit organization dedicated to protecting and maintaining the state's backcountry lands. Each year, the club welcomes visitors to its Waterbury headquarters for an afternoon of fun and fresh air. Kids and adults of all ability levels explore the vast wooded hills and fields through guided snowshoe hikes and educational activities, which range from dogsledding to animal tracking.
No snow? No problem. Families can still relish the scenery on nature walks and around a bonfire. Nothing like s'mores and hot cocoa to shake off cabin fever.
Saturday, February 2, 8:30 a.m.-5 p.m., at Green Mountain Club Visitor Center in Waterbury. $8-10. Info, 244-7037. greenmountainclub.org
« Les bois sont si beaux, sombres et profonds», a écrit le célèbre poète Robert Frost inspiré par le Vermont dans « Une halte près d'un bois un soir d'hiver ». Il reste que c'est de jour que les paysages tout blancs du Vermont sont les plus beaux et le Snowshoe Festival & Winter Party du Green Mountain Club est l'occasion rêvée de les explorer.
Connu surtout pour son engagement à entretenir la Long Trail du Vermont, le sentier de longue randonnée le plus ancien d'Amérique, le Green Mountain Club est un organisme sans but lucratif qui se consacre à la protection et à l'entretien des territoires sauvages de l'état. Chaque année, ce club accueille les visiteurs à son siège de Waterbury à l'occasion d'un rendez-vous de divertissement et de plein air qui dure un après-midi. Adultes et enfants, quel que soit leur niveau d'expérience, partent alors en raquettes explorer les collines boisées et les prairies environnantes, accompagnés d'un guide qui organise diverses activités telles que promenades en traîneau à chiens, observation de traces d'animaux, etc.
Pas de neige? Aucun problème. Les familles peuvent faire des randonnées à pied pour admirer la nature ou se réchauffer autour d'un feu de camp. Rien de tel qu'un chocolat chaud aux guimauves pour oublier les rigueurs de l'hiver.
Samedi 2 février, 8 h 30-17 h, au Centre des visiteurs du Green Mountain Club à Waterbury. 8-10 $. Info, 244-7037. greenmountainclub.org
Sleigh Rides at Shelburne Farms
Courtesy of Shelburne Farms
'Tis the season for tromping through snow — and there's certainly no lack of opportunities at Shelburne Farms, a 1400-acre working farm and National Historic Landmark where horse-drawn sleigh rides depart regularly into the winter wonderland.
Layer on the woolies as Percheron draft teams carry passengers through a stunning pastoral setting envisioned by Frederick Law Olmsted, who most famously helped design New York City's Central Park. See the majestic, turreted Farm Barn in the light of day, or come at night for a narrated star-gazing tour highlighting sky mythology and celestial constellations such as Orion and the Big Dipper. For a more intimate — or romantic — outing, call ahead to reserve a private ride through the rolling hills. Dashing through the snow, indeed.
Daily (except Christmas), December 21 through January 1, weekends through February, every half hour 11 a.m.–2 p.m. at Shelburne Farms, weather permitting. $8 adult/$6 child; under 3 free. No reservations. Info, 985-8442. Evening rides December 21 and 30, January 18, February 14, at 6, 6:45 and 7:30 p.m. $15 adult/$10 child; under 3 free. Reservations required. Info, 985-8686. shelburnefarms.org
L'hiver est la saison des promenades en traîneau dans les étendues immaculées et les occasions ne manquent pas à Shelburne Farms, ferme en activité de 1 400 acres et site historique d'intérêt national, où les départs des traîneaux tirés par des chevaux se succèdent régulièrement.
Emmitouflez-vous dans les chaudes couvertures de laine et laissez-vous emmener par les attelages de percherons dans le décor champêtre imaginé par Frederick Law Olmsted, l'un des concepteurs du célèbre Central Park, à New York. Voyez la majestueuse grange à tourelles à la lumière du jour ou bien venez le soir pour la séance d'observation des étoiles où on vous parlera de mythologie céleste et de constellations telles qu'Orion et la Grande Ourse. Si vous préférez une sortie plus intime, voire romantique, appelez à l'avance et réservez une promenade privée dans les collines enneigées.
Tous les jours (sauf Noël), du 21 décembre au 1er janvier, les fins de semaine jusqu'à février inclusivement, toutes les demi-heures de 11 h à 14 h à Shelburne Farms, sous réserve des conditions météo. 8 $ pour les adultes / 6 $ pour les enfants; gratuit pour les enfants de moins de 3 ans. Aucune réservation. Info, 985-8442. Promenades en soirée le 21 et le 30 décembre, le 18 janvier et le 14 février, à 18 h, 18 h 45 et 19 h 30. 15 $ pour les adultes / 10 $ pour les enfants; gratuit pour les enfants de moins de 3 ans.  Prière de réserver. Info, 985-8686. shelburnefarms.org
Burlington Winter Festival & Penguin Plunge
Courtesy of Burlington Winter Festival
No matter the weather, the first Saturday in February always brings a wintry mix to Vermont. Queen City residents make the best of it at the Burlington Winter Festival, a snow-season celebration sprawling along the waterfront and Church Street Marketplace. Head toward the lake for the Penguin Plunge, where cold-hardy swimmers brave icy waters to raise money for Special Olympics Vermont. Stick around for family-friendly entertainment, which has historically encompassed everything from ice skating to wagon rides. Local artists leave their mark on the landscape by constructing frosty masterpieces at the Vermont State Snow Carving Competition.
Saturday, February 2, all day, at various locations in downtown Burlington. The Penguin Plunge takes place at 11 a.m. Most events are free; $1 Ice Breaker Button benefits Special Olympics Vermont. Info, 864-0123. enjoyburlington.com
Peu importe la météo, le premier samedi de février a toujours un air de fête hivernale à Burlington. En effet, le Festival d'hiver envahit alors les bords du lac et le secteur du marché de la rue Church. Le Penguin Plunge est à ne pas rater : de braves et vigoureux nageurs plongent alors dans les eaux glacées du lac dans le but de recueillir des fonds pour les Jeux olympiques spéciaux du Vermont. Toutes sortes d'activités sont offertes aux familles, du patinage aux promenades en carriole. Les sculptures sur neige construites par des artistes locaux à l'occasion de la Vermont State Snow Carving Competition valent le détour.
Samedi 2 février, toute la journée, à divers emplacements au centre-ville de Burlington. Le Penguin Plunge a lieu à 11 h. La plupart des événements sont gratuits; l'insigne Ice Breaker à 1 $ est vendue au profit des Special Olympics Vermont. Info, 864-0123. enjoyburlington.com