Vermont Tech Jam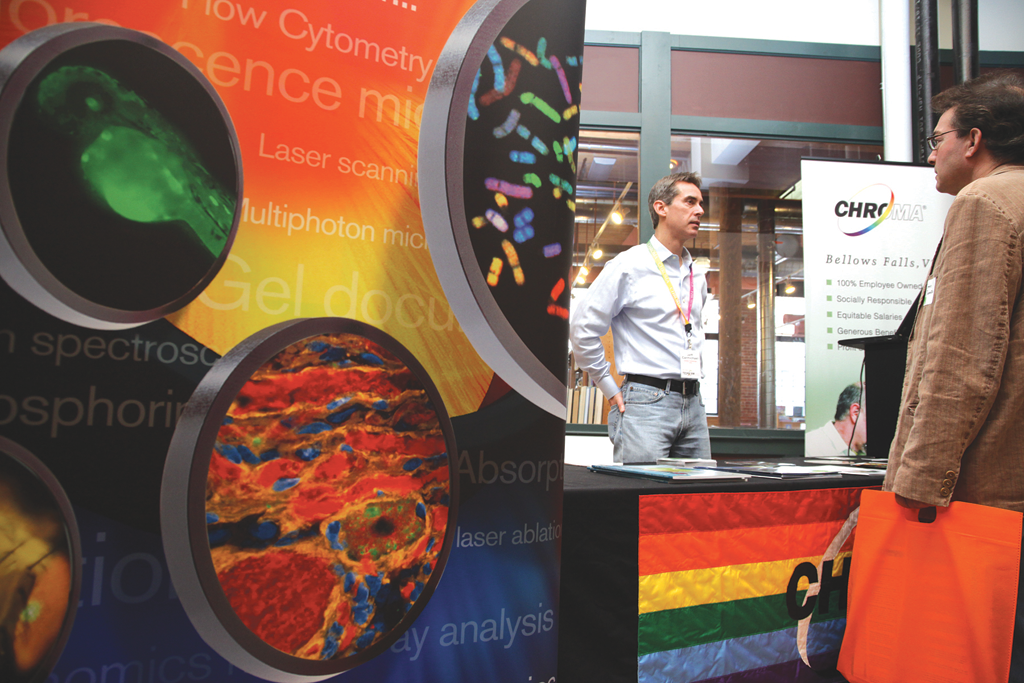 It might seem like Vermont's biggest industries are Burton Snowboards and Ben & Jerry's ice cream, but the Green Mountain State is actually home to a vibrant high-tech start-up scene. Its top techies gather under one roof each October for the Vermont Tech Jam, a two-day job fair and tech expo.
Dozens of the state's fastest-growing and most innovative companies attend, along with a couple thousand job seekers, career changers, college students and tech professionals.
The Jam is organized by the Vermont Technology Alliance and Seven Days, Vermont's independent newsweekly, and it's anchored by presenting sponsors Dealer.com and MyWebGrocer, two businesses launched in the Burlington area in the late 1990s. If you've ever bought a car or groceries online, chances are you've used their products.
Dealer.com and MyWebGrocer have grown exponentially in the past few years and are poised to keep expanding. The same is true of many Tech Jam exhibitors, who make everything from medical devices to custom commercial computers, from video games to unmanned underwater vehicles.
If you've always dreamed of moving to Vermont but didn't know how to find a job here, this is a good place to start looking. Local recruiters are hungry for tech talent.
And bring the whole family — the Jam also features hands-on displays and demonstrations designed to spark kids' interest in studying science, technology, engineering and math. Because not everybody can grow up to make snowboards and ice cream.
7th Annual Vermont Tech Jam: Friday, October 18, 10 a.m.-5 p.m. and Saturday, October 19, 10 a.m.-3 p.m., at Memorial Auditorium in Burlington. Free. Info, 864-5684.
Le secteur des nouvelles entreprises de haute technologie est très dynamique dans l'État des Montagnes vertes, dont l'économie ne se limite pas à Burton et ses planches à neige et à Ben & Jerry's et sa crème glacée. Les technophiles de la région se réunissent chaque année au mois d'octobre à l'occasion du Vermont Tech Jam, une foire technologique de deux jours.
Des dizaines d'entreprises du Vermont, parmi les plus novatrices et celles dont la croissance est la plus rapide, participent à cet événement, tout comme quelques milliers de demandeurs d'emploi, de travailleurs en réorientation de carrière, d'étudiants et de spécialistes de l'industrie.
Le Jam est organisé par la Vermont Technology Alliance et Seven Days, un bulletin hebdomadaire indépendant du Vermont; ses principaux commanditaires sont Dealer.com et MyWebGrocer, deux entreprises fondées dans la région de Burlington à la fin des années 1990. Si vous avez déjà acheté une voiture ou fait votre épicerie en ligne, il est fort probable que vous ayez déjà utilisé leurs produits.
Dealer.com et de MyWebGrocer ont connu une croissance exponentielle au cours des dernières années et tout semble indiquer que cette tendance se maintiendra. Il en va de même pour de nombreux exposants au Tech Jam, qui fabriquent de tout – matériel médical, ordinateurs commerciaux personnalisés, jeux vidéos et véhicules submersibles sans équipage, pour ne nommer que ceux-là.
Si vous rêviez de vous établir au Vermont, sans trop savoir comment trouver du travail ici, le Tech Jam est un bon point de départ. Les recruteurs du secteur des technologies sont toujours à l'affût des nouveaux talents.
Le Jam est aussi un événement familial, qui comprend des activités et des démonstrations interactives conçues pour susciter l'intérêt des jeunes pour la science, la technologie, l'ingénierie et les maths. Que voulez-vous? Tout le monde ne peut pas devenir fabricant de planches à neige ou maître glacier!
7e édition annuelle du Vermont Tech Jam: Le vendredi 18 octobre, de 10 h à 17 h, et le samedi 19 octobre, de 10 h à 15 h au Memorial Auditorium de Burlington. Gratuit. Information : 864-5684
Burlington Book Festival
Like comics? World-class cartoonists and graphic novelists call Vermont home, from frequent New Yorker contributors Ed Koren and Harry Bliss to indie sensation James Kochalka. We even have a cartooning school: the Center for Cartoon Studies in White River Junction.
So it's no surprise that the ninth annual Burlington Book Festival has a bang-pow theme: "The Novel Graphic: An Exploration of the Link Between Image and the Written Word." One weekend in September offers opportunities to meet all the aforementioned comic artists, along with James Sturm, Barbara Slate and multiple Eisner Award-winner Chris Ware — who, at age 45, is already a legend in the world of indie cartooning.
If you prefer your books without pictures, there's still plenty for you at the BBF. On Friday evening, catch a reading by Dominican American poet and novelist Julia Alvarez, to whom this year's fest is dedicated. On Saturday, Eileen Rockefeller discusses her memoir of her famous family; and John Elder Robison, who's written extensively about Asperger syndrome, speaks about dealing with disabilities in relationships.
Fiction lovers can catch talks by Hillary Jordan (When She Woke) and Burlington's own Stephen P. Kiernan (The Curiosity). Pulitzer Prize winner Yusef Komunyakaa and Tina Chang, poet laureate of Brooklyn, step out at the Grace Paley Poetry Series.
Other events let literature lovers get into the action. Workshops offer craft advice to writers, a "literary pub crawl" takes you on a circuit of bards in bars and kids can visit with authors such as Tracey Campbell Pearson. Local young people show off their verbal chops at an annual event called Millennial Writers On Stage.
These are just a few reasons to book it to Burlington this fall.
Burlington Book Festival: Friday through Sunday, September 20 to 22, at Main Street Landing Performing Arts Center and other Burlington venues. Most events are free.
Vous aimez la BD? Plusieurs bédéistes et auteurs de romans en images de renommée mondiale se sentent chez eux au Vermont, notamment Ed Koren et Harry Bliss, contributeurs fréquents au New Yorker, et James Kochalka, étoile montante de la scène indépendante. Nous avons même une école de BD, le Center for Cartoon Studies, à White River Junction.
Il n'est donc pas étonnant que la 9e édition annuelle du festival du livre de Burlington ait un thème percutant : The Novel Graphic: An Exploration of the Link Between Image and the Written Word. Durant un week-end en septembre, faites connaissance avec tous les artistes mentionnés ci-dessus et avec James Sturm, Barbara Slate et Chris Ware qui, à seulement 45 ans, a obtenu à maintes reprises le prix Eisner et est déjà une légende dans l'univers de la BD indépendante.
Si vous n'êtes pas friand de livres illustrés, qu'à cela ne tienne : le festival a aussi beaucoup à vous offrir. Vendredi soir, assistez à une lecture publique de Julia Alvarez, poétesse et romancière dominicaine américaine, à qui est dédié le festival cette année. Samedi, Eileen Rockefeller lira des extraits de ses mémoires, dans lesquels elle parle de sa célèbre famille, et John Elder Robison, qui a beaucoup écrit sur le syndrome d'Asperger, abordera la question des dysfonctions relationnelles.
Les amateurs de romans auront l'occasion de s'entretenir avec Hillary Jordan (When She Woke) et Stephen P. Kiernan (The Curiosity), de Burlington. Yusef Komunyakaa, lauréat du Prix Pulitzer, et Tina Chang, poétesse officielle de Brooklyn, participeront à la Grace Paley Poetry Series.
D'autres événements permettront aux amoureux de la littérature de prendre part à l'action. Assistez à des ateliers pour les écrivains, faites une « tournée littéraire des pubs », amenez les enfants rencontrer des auteurs comme Tracey Campbell Pearson et découvrez les talents d'écriture des jeunes de la région lors d'un événement annuel intitulé Millennial Writers On Stage.
Festival du livre Burlington: Du vendredi 20 au dimanche 22 septembre, au Main Street Landing Performing Arts Center et à d'autres endroits à Burlington. La plupart des événements sont gratuits.
Fall Performing Arts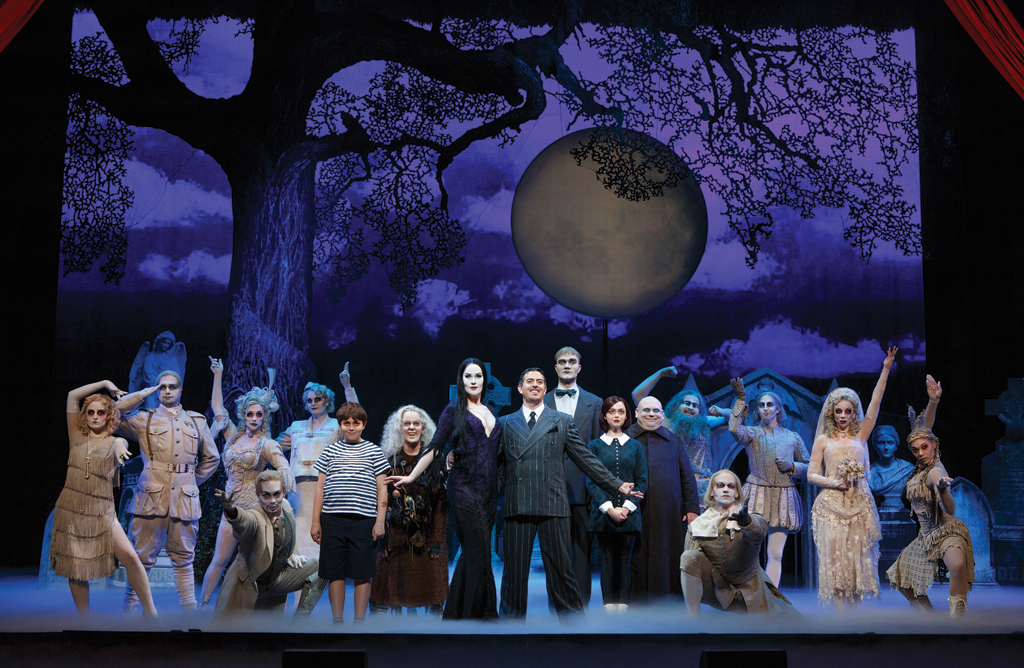 Photos Courtesy Of Flynn Center, Uvm Lane Series
The Addams Family
If you ask Burlington residents what's so great about their city, many will likely boast about its rich cultural offerings. How is it that a small burg in northern Vermont can be so lively? Easy. It's a beautiful place to live and one that nurtures both community and creativity in music, theater, dance, comedy and other arts. You can find local talent performing in small venues around the area just about any night of the week. See some not-to-miss ones at right.
In addition to bars, clubs and small alternative spaces, Burlington is blessed with two strong arts presenters that bring world-class acts of all kinds to local stages: the Flynn Center for the Performing Arts and the University of Vermont's Lane Series.
The premier downtown venue is the Flynn Center on Burlington's Main Street. Since the theater opened its doors on November 26, 1930, it has been an important cultural landmark — one that started out hosting traveling vaudeville entertainers and "talkie" motion pictures. Now the Flynn is a cultural center with two stages, a dance studio, an art gallery and an impressive educational program. Not least, the theater has been restored to its stunning art-deco glory.
Shows at the Flynn this season range from sultry jazz pianist and singer Diana Krall (October 9) to the nationally touring Broadway musical The Addams Family (October 28) to the hilarious sketch-comedy troupe Upright Citizens Brigade (November 7 & 8), founded by Amy Poehler.
The Lane Series slants toward classical, jazz and acoustic music — such as Cape Breton fiddler April Verch (September 27), Van Cliburn medalist Sean Chen (October 2), and the Hot Club of Detroit (November 8). The Lane generally hosts concerts in the acoustically superb Recital Hall on the university's Redstone Campus. But it also sometimes copresents larger shows with the Flynn on the latter's MainStage.
For locals and visitors alike, it's showtime every night in Burlington.
Performing Arts Presenters/ Diffuseurs des arts de la scène
Flynn Center for the Performing Arts, 153 Main Street, Burlington, 802-86-FLYNN.
Lane Series, University of Vermont Redstone Campus, Burlington, 802-656-4455.
Bars and Clubs/ Bars et clubs
Club Metronome (upstairs), 188 Main Street, 802-865-4563.
Higher Ground, 1214 Williston Road, South Burlington, 652-0777.
The Monkey House, 30 Main Street, Winooski, 802-655-4563.
Nectar's, 188 Main Street, Burlington, 802-658-4771.
Radio Bean, 8 North Winooski Avenue, Burlington, 802-660-9346.
Signal Kitchen, 71 Main Street, Burlington, 802-399-2337.
Si vous demandez aux résidents de Burlington ce que leur ville a de mieux à offrir, beaucoup vous répondront la richesse de sa vie culturelle. Comment se fait-il qu'une petite ville du nord du Vermont soit si vivante? C'est simple : c'est un endroit magnifique où il fait bon vivre et où communauté rime avec créativité, dans des domaines comme la musique, le théâtre, la danse, l'humour et d'autres formes d'art. Vous pouvez assister au spectacle d'un artiste local, dans une petite salle de la région, pratiquement n'importe quel soir de la semaine. En voici quelques-uns à ne pas rater!
En plus de ses bars, clubs et autres petites salles indépendantes, Burlington compte deux pôles culturels importants qui attirent dans la région divers artistes de renommée mondiale : le Flynn Center for the Performing Arts et la University of Vermont Lane Series.
Le Flynn, sur Main Street, est en effet la principale salle de spectacles du centre-ville de Burlington. Depuis son ouverture le 26 novembre 1930, ce théâtre est au cœur la vie culturelle. À ses débuts, il présentait des vaudevilles itinérants et des films parlants. Aujourd'hui, le Flynn est devenu un centre culturel qui abrite deux salles de spectacles, un studio de danse et une galerie d'art, et qui propose un programme éducatif impressionnant. Qui plus est, le théâtre a retrouvé son superbe style Art déco.
Au menu du Flynn cette saison : le jazz sensuel de la pianiste et chanteuse Diana Krall (le 9 octobre), la production de Broadway The Addams Family en tournée nationale (le 28 octobre) et l'hilarante troupe de comédie Upright Citizens Brigade, fondée par Amy Poehler (les 7 et 8 novembre).
Le classique, le jazz et la musique acoustique seront à l'honneur dans le cadre de la Lane Series, avec April Verch, violoneux du cap Breton (le 27 septembre), Sean Chen, médaillé du concours Van-Cliburn (le 2 octobre) et le Hot Club of Detroit (le 8 novembre). Les concerts de la Lane Series se tiennent habituellement au Recital Hall – une salle à l'acoustique remarquable, située sur le campus Redstone –, mais il arrive que les spectacles de plus grande envergure soient présentés conjointement avec le Flynn, sur la grande scène de ce centre.
Résidents et visiteurs ont la chance d'assister à un spectacle tous les soirs à Burlington.