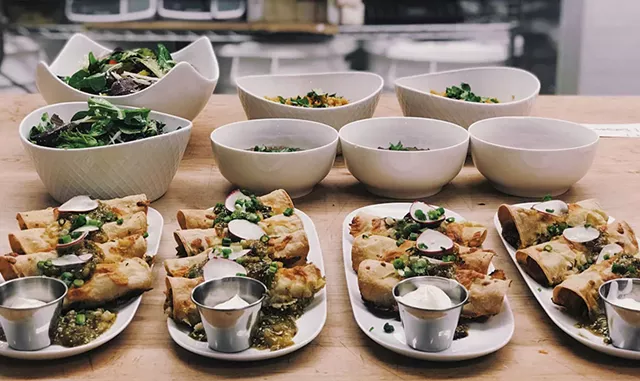 Courtesy Of Sweet Simone's
Family-style enchiladas with salsa verde at Sweet Simone's Monday Night Eats
My dinner plate held spaghetti with tomato sauce and two kinds of meatballs, green salad, and sautéed Swiss chard — three piles of food arranged Sally-style. Across the table, my friend had a serving of salad.
We were eating the same meal at the same restaurant — Monday Night Eats at Sweet Simone's in Richmond — but we made different choices. He elected to start with salad from the array of dishes set before us. I don't recall thinking at all. Rather, I dug into every offering, helping myself to a good-size portion from each serving vessel.
At Sweet Simone's, someone else not only does the cooking for you but — glory hallelujah — the thinking, too. All you have to do is show up, pay $25 and eat whatever chef Ethan Chamberlain has prepared. For four hours a week, the restaurant transforms from a daytime bakery and café with cupcakes, lattes and counter service into a lovely, relaxed dining space with cloth napkins, kerosene candles and table service.
Yet the service is not excessive; it's just right. Bowls of food you might imagine cooking at home, if only you could, are brought to the table. Diners help themselves, setting the tone and pace of the meal. When was the last time you had seconds at a restaurant?
The menu for the dinners — more an announcement than anything to mull over — is presented on a small wooden clipboard. Chamberlain typically prepares a first course, followed by a main course comprised of several dishes. He offers a meat and a vegetarian option for both courses. In the six months since the Monday pop-ups started, Sweet Simone's has not repeated a menu.
"It's like a new restaurant every Monday," said Gabriel Firman, owner of Hatchet Tap and Table, a neighboring business. "I feel like they nail it. It's really delicious."
Firman and his family are Monday night regulars at Sweet Simone's, sometimes eating at the restaurant but most often getting their meal to go. His own restaurant is closed on Monday.
"It's nice to not have to cook and to have someone else do it," he said. "It's really impressive that they cover a new territory every week. They hit the flavors really well."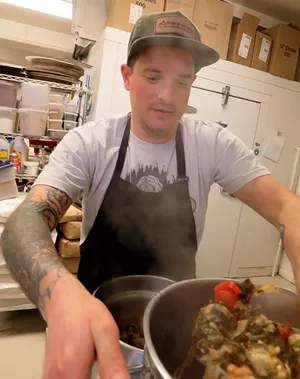 Matthew Thorsen
Ethan Chamberlain
Chamberlain said he plans his menu two weeks in advance. Sometimes it's based on what's available at nearby Maple Wind Farm, where he sources ingredients. Other times he simply starts with "something I'm in the mood for or that sounds good." The chef works in the kitchen on Monday nights with restaurant owner Lisa Curtis, who opened Sweet Simone's on Bridge Street about three years ago. One week, the food prep was a family affair with Curtis' parents, Sam and Barbra Gulisano, helping to roll out raviolis.
"I think the whole idea of what Lisa and I hatched [on Mondays] was this neighborhood spot, where you're going to get consistently good food," Chamberlain said. "It's served family-style, and that's it. It's not a big deal."
In recent weeks, Chamberlain has made fish tacos with refried beans — among the best I've ever eaten — served alongside a green salad with feta cheese and radishes. Another week, the meal started with stuffed mushrooms, followed by beer-braised local-beef short ribs (or seitan), spinach salad, maple-glazed carrots and Brussels sprouts, and egg noodles with butter and chives.
Last week's spaghetti dinner began with a generous and good-looking antipasto plate: slices of coppa, chunks of pecorino Romano, marinated peppers and mushrooms, olives and baguette. For the main course, the spaghetti was tossed in a sauce made with sun-dried and cherry tomatoes, arugula, pine nuts, garlic and red wine vinegar, Chamberlain said. The local-pork meatballs were made with ricotta.
A highlight of that meal was vegetarian eggplant "meatballs," which he made by roasting slabs of eggplant and throwing them in the food processor, skins and all, with eggs, bread crumbs, Parmesan cheese and herbs. He then formed them into balls and let them dry. During service, when a customer ordered the veggie spaghetti, Chamberlain rolled the eggplant balls in more eggs and bread crumbs and fried them to order.
"We've been really having fun in here, trying to do a neighborhood restaurant where it's pretty friendly all around," he said. "That's what we're going for."
Chamberlain, who grew up in Ferrisburgh, is a seventh-generation Vermonter; he's the son of a carpenter and grandson of a farmer. His first restaurant job was at the Windjammer Restaurant in South Burlington, where he worked as a dishwasher while a student at Vergennes Union High School.
"To go in that kitchen now, I guarantee you it's not a bunch of 16-year-olds and 17-year-olds," the chef said. "I worked until 11 o'clock on weekdays. It was all local kids."
Chamberlain moved to San Francisco, where he lived for 10 years. He worked for a time at the famed Zuni Café when influential chef-owner Judy Rodgers ran it. (She died in 2013.) The restaurant is known for, among other things, roasting whole chickens to order in a wood-fired oven. Juices from the bird, after it emerges from the oven and rests several minutes, are poured on bread salad, merging with the salad's Champagne vinaigrette to create a kind of stuffing with greens.
"It would just pop," Chamberlain said. "It was ridiculous."
Sally Pollak
Spaghetti dinner at Sweet Simone's Monday Night Eats
Chamberlain moved back to Vermont in 2007 and worked as a chef at American Flatbread in Waitsfield. About a year ago, he started at Sweet Simone's. There, Chamberlain usually begins his day at 5 a.m., baking English muffins for egg sandwiches and making bagels. But on Mondays, he's on the dinner shift, typically serving about 50 patrons.
Two of the diners are Jared Katz and Jennifer Jewiss, a married couple from Richmond who eat at Sweet Simone's every Monday night. Katz, a former Colchester police officer who is now a psychotherapist, said he loves having somebody else decide what's for dinner.
"It's proven itself to be a safe bet," he said. "I know that I'm going to like what I eat."
Katz has only praise for Sweet Simone's — from the portion size to food quality to affordability. He even applauds the price increase — from $20 to $25 per person — a couple of months ago. Whatever it takes to make sure Monday Night Eats sticks around.
"We're those strange people who are really happy when a place like that raises its prices to a more reasonable price," Katz explained. "It seemed like there was no way they were going to be able to sustain it. It was too much quality food for too little money."