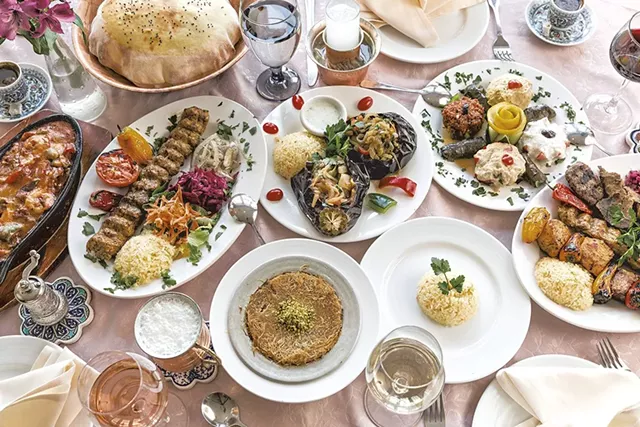 File: Oliver Parini
Istanbul Kebab House
Turkey is better known for dolma and spit-roasted lamb than it is for wine, but Burlington's own kebab house carries a dozen charismatic Turkish bottles. Sample them with a feast of spiced bulgur croquettes, zucchini pancakes and sizzling skewered meats. Finish with a petite cup of jet-powered Middle Eastern coffee and whichever dessert you can't resist: apple-maple baklava or rose-scented Turkish delight. Rooftop tables offer some of the best outdoor dining in town.
This Japanese market and sushi shop specializes in the eponymous segmented lunch boxes. Fill one with tofu teriyaki to go, or grab a window seat for made-to-order sushi.
Owned by New Americans, the Asian-style deli stocks hard-to-find vegetables and spices, and the kitchen cooks up Nepali and Indian entrées for the sit-down crowd.
Tortillas made with heirloom corn cradle local meats, cheeses and produce in taco, burrito and enchilada form. Locals go loco for the "wicked-fly" margaritas.
215 Main St., Winooski, 655-0707
Slurp up soup or other noodle dishes. The classic pho tai comes with a plate of flavorful mix-ins.
The Nepalese co-owners cook family recipes for Himalayan classics such as momos, mild curries, thukpas and stews.
Enjoy well-crafted Sichuan, Cantonese and Taiwanese cuisine in a cavernous dining room. The Peking duck is roasted in-house.