Magic Hat Mardi Gras Parade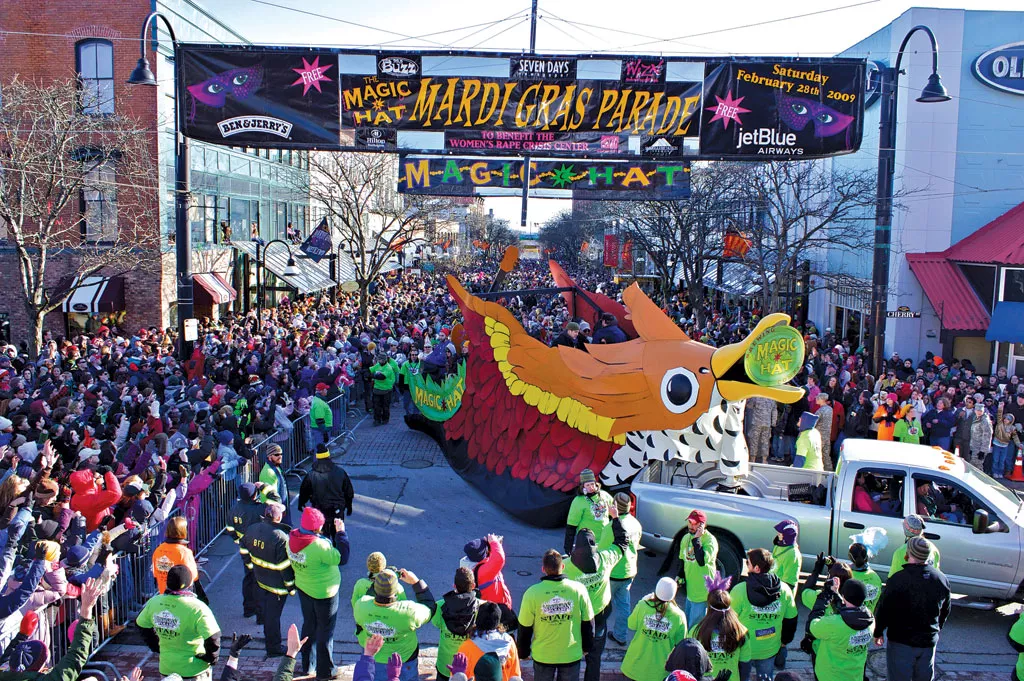 Bourbon Street meets Church Street at the Magic Hat Mardi Gras Parade. Burlington's answer to Fat Tuesday attracts revelers by the thousands to a family-friendly fête that channels the best of the bayou. Now in its 20th year, this daylong shindig kicks off with live music, a costume contest and street performers. The entertainment continues into the afternoon, giving way to a procession of floats that travels down Main Street. Dozens of over-the-top creations boast bright colors and elaborate designs, and many are mobile works of art. The best part of this rollicking party? Proceeds benefit the Vermont Foodbank, the state's largest anti-hunger organization.
Church Street prend des allures de Bourbon Street lors de la parade du Mardi gras de Magic Hat. Burlington convie des milliers de personnes à une grande fête familiale pour célébrer le meilleur du bayou. Au programme de cette journée, qui en est à sa 20e édition : spectacle musical, concours de déguisement et amuseurs publics. Le divertissement se poursuit l'après-midi avec un défilé de chars sur Main Street, où vous verrez passer des dizaines de créations loufoques aux couleurs éclatantes et aux motifs complexes, dont plusieurs sont de véritables œuvres d'art mobiles. Les profits de l'évènement sont versés à Vermont Foodbank.
Penguin Plunge
For most people, swimming in Lake Champlain in the dead of winter is a preposterous notion. For participants in the Penguin Plunge, it's a welcome — albeit chilly — challenge. The frigid fun began in 1996, when a handful of locals dove into icy waters to raise money for Special Olympics Vermont. Today, the annual event is the organization's largest, and coldest, fundraiser. In 2014, plungers in Burlington, Newport and North Bennington collected nearly $475,000 in donations. That financial growth has been matched by community enthusiasm, which increases with each passing year. One of Vermont's most popular winter events, the plunge draws thousands of spectators to Burlington's Waterfront Park. They cheer on the plungers, many of whom take the dip in quirky costumes. Whether as teams or as individuals, these courageous swimmers make a splash.
A-t-on idée de se baigner dans le lac Champlain en plein hiver? Oui, vous répondront les participants au Penguin Plunge, dont la première édition remonte à 1996, lorsque des habitants du coin ont plongé dans les eaux glacées afin de recueillir des fonds pour les Jeux olympiques spéciaux du Vermont. Aujourd'hui, cet évènement annuel est la plus importante levée de fonds de l'organisme. En 2014, des plongeurs de Burlington, de Newport et de North Bennington ont amassé près de 475 000 $. L'enthousiasme de la communauté pour cette initiative augmente également chaque année : Penguin Plunge attire au parc Waterfront de Burlington des milliers de spectateurs venus encourager les plongeurs, dont bon nombre se déguisent pour l'occasion. En équipe ou individuellement, ces nageurs courageux « font de vagues ».
Vermont's Own Nutcracker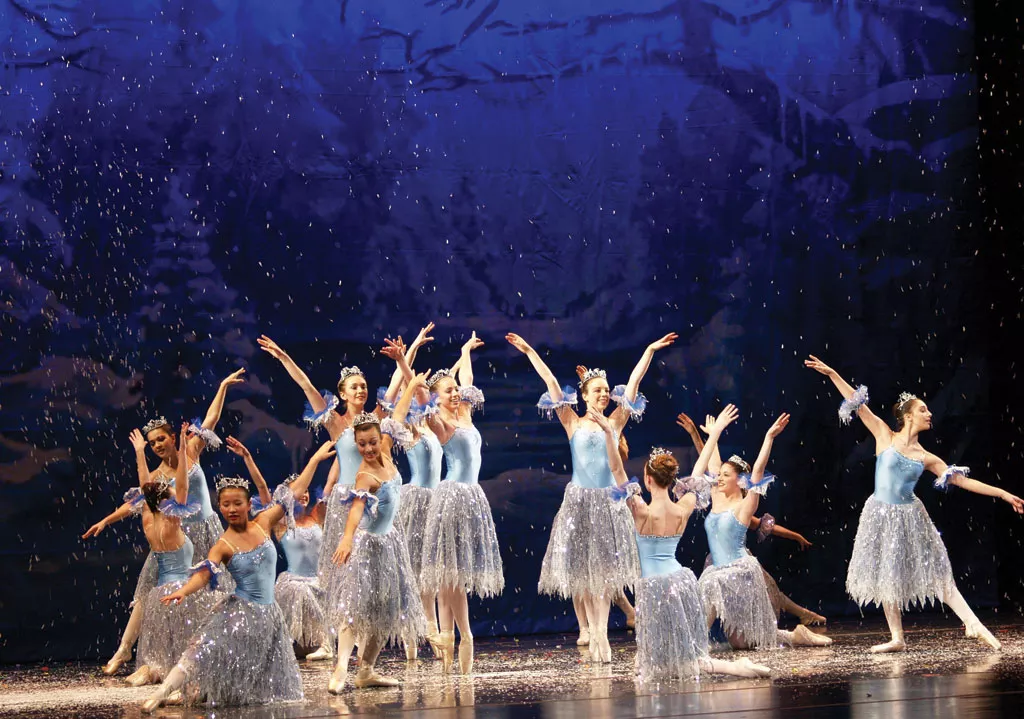 On Christmas Eve, children fall asleep dreaming of the gifts that await them under the tree. For Clara, heroine of the ballet The Nutcracker, those dreams come alive. Onstage, she meets a prince and an evil Mouse King, and visits the Land of Sweets ruled by the Sugarplum Fairy. Driven by Tchaikovsky's memorable score, this awe-inspiring production debuted in 1892. More than 100 years later, it continues to dazzle audiences worldwide — including at an annual performance at Burlington's historic Flynn Center for the Performing Arts. In December, the Vermont Ballet Theater returns for its 10th season with Vermont's Own Nutcracker. Samuel Wilson of New York City's Dance Theatre of Harlem joins local dancers in original choreography by artistic director Alexander Nagiba, transporting audience members to a fantastical world.
Saturday, December 20, 2 and 7 p.m.; Sunday, December 21, 1 and 6:30 p.m., at Flynn MainStage in Burlington. $22-35. Info, 863-5966. flynntix.org
Le 24 décembre, les enfants s'endorment en rêvant aux cadeaux qui les attendent sous l'arbre. Pour Clara, l'héroïne du ballet Casse-noisette, le rêve devient réalité. Sur scène, elle rencontre un prince et le méchant Roi des souris, et elle visite le Royaume des friandises gouverné par la fée Dragée. Réglé sur l'immortelle partition musicale de Tchaïkovski, le ballet a été présenté pour la première fois en 1892. Plus d'un siècle plus tard, il continue d'éblouir les publics du monde entier, notamment au Flynn Center for the Performing Arts de Burlington. En décembre, le Vermont Ballet Theater est de retour pour une 10e saison avec Vermont's Own Nutcracker. Samuel Wilson, du Dance Theatre of Harlem de New York, se joint aux danseurs locaux dans la chorégraphie originale du directeur artistique Alexander Nagiba. Ensemble, ils propulsent l'auditoire dans un monde fabuleux...
Samedi 20 décembre, 14 h et 19 h; dimanche 21 décembre, 13 h et 18 h 30, Flynn MainStage, Burlington. 22-35 $. Info, 863-5966. flynntix.org
First Night Burlington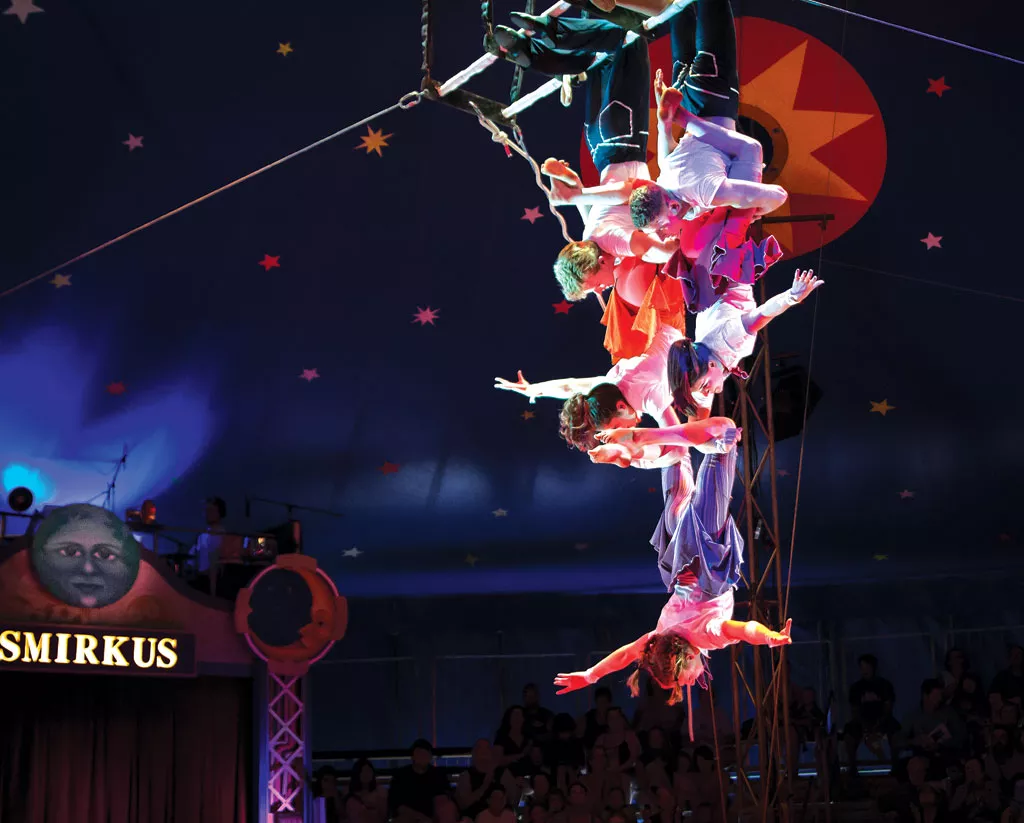 As 2014 winds down, First Night Burlington winds up. Now in its 32nd year, this annual bash is the longest-running event of its kind in the world. On New Year's Eve, more than 100 performers take over venues in every corner of the Queen City and offer hours of family-friendly entertainment. Veteran acts include folk troubadour Jon Gailmor, Circus Smirkus and Burlington Taiko; newcomers this year include French-born, Vermont-based chanteuse Francesca Blanchard. A dazzling lineup of regional talent brings dance, theater, live music and more to local stages. Attendees stream from one show to the next, taking advantage of downtown Burlington's thriving food scene to refuel along the way. Punctuating the festivities, fireworks explode over Lake Champlain at 6 p.m. and again at midnight, welcoming 2015 with a bang.
Thursday, December 31, at various downtown Burlington locations. $5-15 festival button. Info, 863-6005. firstnightburlington.com
La fin de 2014 approche et, avec elle, le festival First Night Burlington, à sa 32e année, ce qui en fait le plus ancien évènement du genre au monde. La veille du jour de l'An, plus de 100 artistes prennent la ville d'assaut, au bonheur des petits et des grands. Cette année, assistez aux spectacles d'habitués du festival, comme le troubadour Jon Gailmor, le cirque Smirkus et Burlington Taiko, et de nouveaux venus, dont Francesca Blanchard, chanteuse française établie au Vermont. La programmation exceptionnelle réunit des interprètes régionaux dans des disciplines comme la danse, le théâtre et la musique. Le public navigue d'un spectacle à l'autre et profite des nombreux plaisirs gastronomiques qu'offre le centre-ville. Ne manquez pas les feux d'artifice sur le lac Champlain à 18 heures et à minuit – pour accueillir 2015 avec éclat.
Jeudi 31 décembre, divers établissements du centre-ville de Burlington. Insigne du festival : 5-15 $. Info, 863-6005. firstnightburlington.com