Maple Open House Weekend & Vermont Maple Festival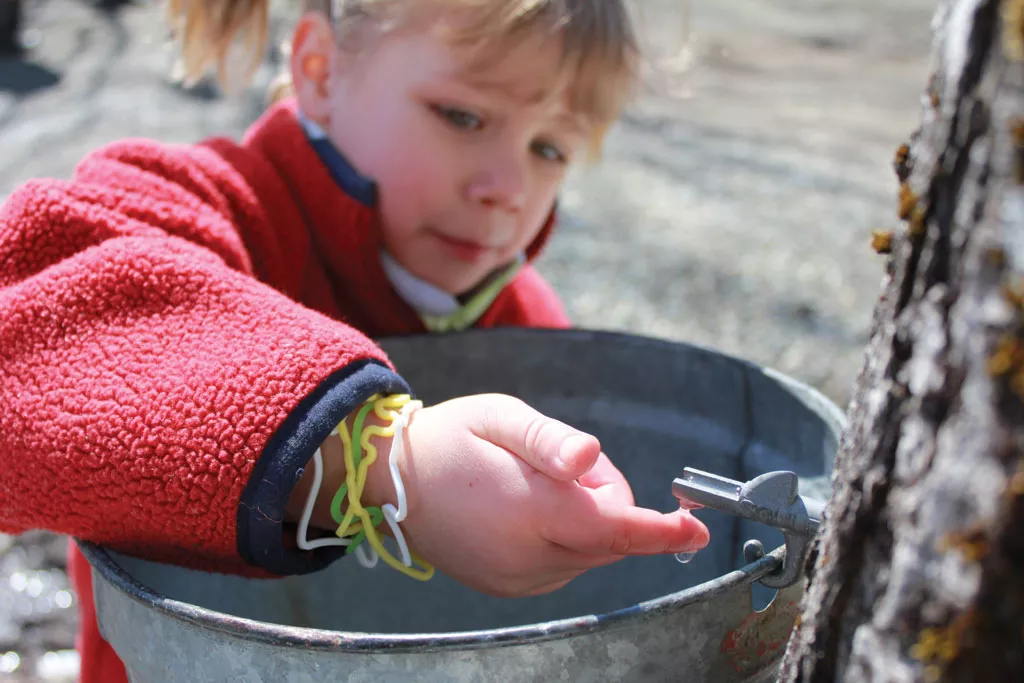 Vermonters are proud to lead the country in maple syrup production. When spring temperatures arrive in sugar-maple forests, sap flows freely and provides the basis for this liquid gold. A winning combination of flavor and nature, the sweet treat is a quintessentially Vermont product. So it's only fitting that statewide celebrations are held in its honor each year.
The 13th annual Maple Open House Weekend features a wide array of sugaring operations, all of which are open to visitors. Large and small, modern and traditional, sugar shacks throughout the state continue the centuries-old practice of transforming sap into syrup. Activities include sugarbush tours — some by way of horse-drawn wagons — sap-boiling demonstrations and, of course, eating maple syrup samples.
Picking up where this tasty tour leaves off, the Vermont Maple Festival draws more than 50,000 revelers to St. Albans over three days. Marking its 48th year, the event delights festivalgoers of all ages with a carnival, live entertainment, kids' programs and a parade down Main Street. Through it all, maple flavors reign, from cooking demos to creemees and cotton candy.
Maple Open House Weekend: Saturday, March 22, and Sunday, March 23.
Vermont Maple Festival: Friday, April 25, through Sunday, April 27, in downtown St. Albans. Most events are free. Info, 524-5800.
Le Vermont est le premier producteur de sirop d'érable aux États-Unis, à la grande fierté de ses habitants. Avec l'arrivée des températures printanières dans les forêts d'érables à sucre, la sève coule abondamment et nous procure l'ingrédient de base de ce véritable « or liquide ». Combinaison gagnante de saveur et de nature, cette gâterie sucrée est le produit vermontois par excellence. Il n'est donc pas surprenant qu'on le célèbre chaque année partout dans l'État.
Le 13e Maple Open House Weekend annuel propose une vaste gamme d'activités « sucrées » – toutes accessibles aux visiteurs. Les cabanes à sucre du Vermont – petites ou grandes, modernes ou pittoresques – perpétuent la tradition de transformation de la sève d'érable en sirop, vieille de plusieurs siècles. Au menu : visites d'érablières, dont certaines en chariots tirés par des chevaux, démonstrations de bouillage de la sève et, bien entendu, dégustation des produits de l'érable.
Après une visite savoureuse, pourquoi ne pas profiter du Festival de l'érable du Vermont, qui attire à St. Albans plus de 50 000 joyeux adeptes sur trois jours. L'événement, qui en est à sa 48e année, fait le bonheur des festivaliers de tous âges grâce à son carnaval, à ses spectacles en direct, à ses programmes pour enfants et à sa parade sur Main Street. Du début à la fin, les saveurs de l'érable sont à l'honneur : dans les démonstrations culinaires, la crème glacée molle et même la barbe à papa.
Maple Open House Weekend : samedi 22 mars et dimanche 23 mars. Consultez le site vermontmaple.org pour obtenir une liste des cabanes à sucre participantes. Gratuit. Info, 763-7435.
Festival de l'érable du Vermont : du vendredi 25 au dimanche 27 avril, au centre-ville de St. Albans. La plupart des événements sont gratuits. Info, 524-5800, vtmaplefestival.org
Heavyfest at Magic Hat Brewery
Since 1994, Magic Hat Brewing Company has been known for quirky signature brews such as the #9 "not quite Pale Ale." Four years ago, the brewery partnered with Burlington's Big Heavy World — a nonprofit dedicated to promoting Vermont-made music — to coproduce Heavyfest.
As the unofficial kickoff of the summer festival season, this daylong event brings a varied lineup of regional bands to the stage, with proceeds benefiting BHW. To date, nearly $20,000 has been raised, with past performers including Heloise & the Savoir Faire, Waylon Speed and Rough Francis. In addition to the music, concertgoers can take advantage of an outdoor beer garden, local eats and live art.
Heavyfest: Saturday, May 17, at Magic Hat Artifactory in South Burlington. $3. Info, 658-2739.
Depuis 1994, la Magic Hat Brewing Company est renommée pour ses bières signature originales, notamment la « Not Quite Pale Ale » no 9. Il y a quatre ans, cette brasserie s'est associée à Big Heavy World (BHW) – organisme à but non lucratif établi à Burlington qui fait la promotion de la musique du Vermont – pour coproduire le festival Heavyfest.
Marquant officieusement le lancement de la saison des festivals d'été, cet événement d'une journée présente une programmation variée, regroupant exclusivement des artistes régionaux. Les profits de l'événement sont versés à BHW; jusqu'à présent, près de 20 000 $ ont ainsi pu être amassés. Au fil des ans, le public a eu droit aux spectacles de Heloise & the Savoir Faire, de Waylon Speed et de Rough Francis. Les amateurs de musique peuvent aussi profiter d'une brasserie en plein air, des restaurants locaux et de prestations artistiques en direct.
Heavyfest: samedi 17 mai, au Magic Hat Artifactory, à South Burlington. 3 $. Info, 658-2739. magichat.net
Vermont Handcrafters Open Studio Weekend & Essex Spring Craft Show
Vermont's thriving arts culture belies its small size. Artists occupy every corner of the state — from the shores of Lake Champlain to the Connecticut River and all points in between. While some artists work in the public eye, others pursue their creations out of sight at home. But during the Vermont Handcrafters Open Studio Weekend, art lovers can visit just about all of them.
What began in 1993 as a way to increase artists' visibility has blossomed into a yearly tradition where visitors interact with artists and craftspeople in their studios. This self-guided tour grants participants firsthand exposure to the creative process of potters, painters, printmakers, furniture makers and many others. Plus, it's a great way to see the state!
Old and new collide at the Spring Antique Expo and Sale and the Essex Spring Craft Show. Established antique dealers and individual sellers offer fun collectibles and unique vintage wares. Amid this extravaganza, artists and crafters present their current works as well. This lively mix taps into the spirit of creating and collecting — including yours.
Le secteur artistique et culturel est si florissant au Vermont qu'on a peine à croire que cet État est si petit. Il y a des artistes partout ici, des rives du lac Champlain au fleuve Connecticut. Certains travaillent devant public et d'autres créent à l'abri des regards. Mais pendant le Vermont Handcrafters Open Studio Weekend, presque tous ouvrent leurs portes aux amateurs d'art.
Cet événement, dont la première édition remonte à 1993, a été conçu pour offrir une visibilité accrue aux créateurs, mais il est devenu une tradition annuelle, dans le cadre de laquelle les visiteurs peuvent interagir avec les artistes et les artisans dans leurs ateliers. À l'occasion de cette visite autoguidée, les participants sont aux premières loges pour observer le processus créatif des potiers, des peintres, des graveurs et des fabricants de meubles. Et n'est-ce pas en plus une excellente façon de découvrir le Vermont?
Contraste garanti entre l'ancien et le nouveau au Spring Antique Expo and Sale and the Essex Spring Craft Show, lors duquel des antiquaires de renom et des particuliers vous offrent des objets de collection amusants et des articles d'époque uniques. Dans ce cadre somptueux, les artistes et les artisans vous présentent également leur travail. Ce mélange effervescent sait frapper les esprits des créateurs et des collectionneurs. Laissez-vous séduire.