First Night Burlington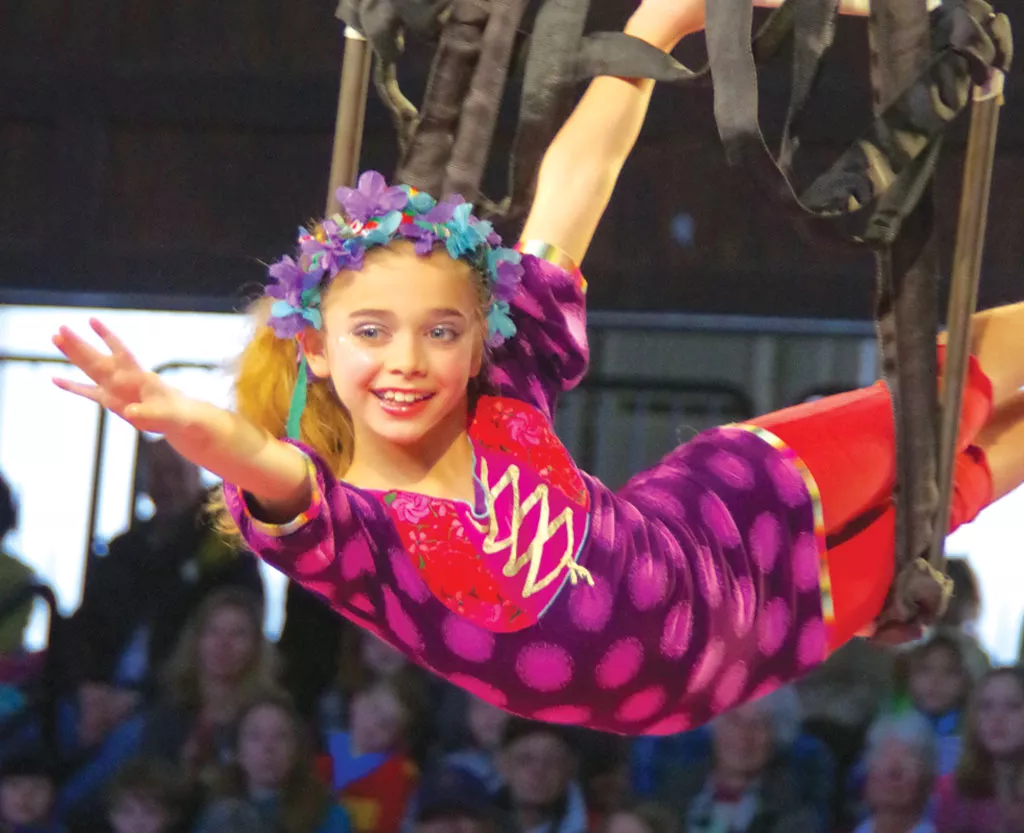 Burlington has three decades of practice ringing in the New Year right: On December 31, the Queen City's downtown turns into a multimedia performance — indoors and out — called First Night Burlington. The state's largest single-day festival of the arts, it is also family friendly and substance free.
Since debuting in Boston in 1976, the First Night idea has spread to dozens of cities around the globe; Burlington joined the party in 1983. In its 31st anniversary celebration, you can expect musical acts as diverse as rockabilly trio Starline Rhythm Boys, children's entertainers Robert, Megan & Emer, and the Vermont Symphony Orchestra. There are also dancers, storytellers, Cirkus Smirkus and an 18+ drag show.
Not to be missed are the thunderous Burlington Taiko Drummers, and fireworks over Lake Champlain. And if you just want to stay inside, there's a cartoon fest at Merrill's Roxy Cinema until midnight. Happy New Year!
Tuesday, December 31, noon to midnight, at various locations in downtown Burlington. Buttons for admission are $18.69 for adults, $4.67 for children, free for kids under 3; tickets are required for some shows. Info, 863-6005.
Burlington célèbre le Nouvel An en grand depuis trois décennies : le 31 décembre, le centre-ville se transforme en effet – à l'intérieur comme à l'extérieur – en espace multimédia à l'occasion de la First Night Burlington. Ce festival des arts d'une journée, le plus important au Vermont, est une fête familiale sans alcool qui s'adresse à tous.
Depuis la première manifestation à Boston en 1976, l'idée de la First Night s'est répandue dans des dizaines de villes du monde entier; Burlington leur a emboîté le pas en 1983. En ce 31e anniversaire, vous pouvez vous attendre à des prestations aussi diversifiées que celles du trio rockabilly Starline Rhythm Boys, des comédiens Robert, Megan & Emer qui présentent un spectacle pour enfants et de l'Orchestre symphonique du Vermont. Danseurs, conteurs, le cirque Smirkus et un spectacle de drag queens pour 18 ans et plus sont aussi au programme.
Ne manquez surtout pas les tonitruants Burlington Taiko Drummers et les feux d'artifice au-dessus du lac Champlain. Et si vous préférez rester à l'intérieur, le cinéma Merrill's Roxy présente un festival de dessins animés jusqu'à minuit. Bonne année!
Mardi 31 décembre, de midi à minuit, dans divers établissements du centre-ville de Burlington. Prix des badges de participation : 18,69 $ pour les adultes, 4,67 $ pour les enfants, gratuit pour les enfants de moins de 3 ans; il faut des billets pour certains spectacles. Info, 863-6005.
Sleigh Rides at Shelburne Farms
'Tis the season for tromping through snow — and there's certainly no lack of opportunities at Shelburne Farms, a 1400-acre working farm and National Historic Landmark where horse-drawn sleigh rides depart regularly into the winter wonderland.
Layer on the woolies as Percheron draft teams carry passengers through a stunning pastoral setting envisioned by Frederick Law Olmsted, who most famously helped design New York City's Central Park. See the majestic, turreted Farm Barn in the light of day, or come at night for a narrated star-gazing tour highlighting sky mythology and celestial constellations such as Orion and the Big Dipper. For a more intimate — or romantic — outing, call ahead to reserve a private ride through the rolling hills. Dashing through the snow, indeed.
Daily, Dec. 21 - Jan 1, (except Christmas) Weekends thru Feb.
Time: Every Half Hour, 11am - 2pm, at Shelburne Farms, weather permitting. PRICES TK. Info, 985-8686.
L'hiver est la saison des promenades en traîneau dans les étendues immaculées et les occasions ne manquent pas à Shelburne Farms, ferme en activité de 1 400 acres et site historique d'intérêt national, où les départs des traîneaux tirés par des chevaux se succèdent régulièrement.
Emmitouflez-vous dans les chaudes couvertures de laine et laissez-vous emmener par les attelages de percherons dans le décor champêtre imaginé par Frederick Law Olmsted, l'un des concepteurs du célèbre Central Park, à New York. Voyez la majestueuse grange à tourelles à la lumière du jour ou bien venez le soir pour la séance d'observation des étoiles où on vous parlera de mythologie céleste et de constellations telles qu'Orion et la Grande Ourse. Si vous préférez une sortie plus intime, voire romantique, appelez à l'avance et réservez une promenade privée dans les collines enneigées.
Daily, Dec. 21 - Jan 1, (except Christmas) Weekends thru Feb.
Time: Every Half Hour, 11am - 2pm à Shelburne Farms, sous réserve des conditions météo. $8/ adult, $6/child; Children under 3 are free. Info, 985-8686. shelburnefarms.org
Winter Trails Festival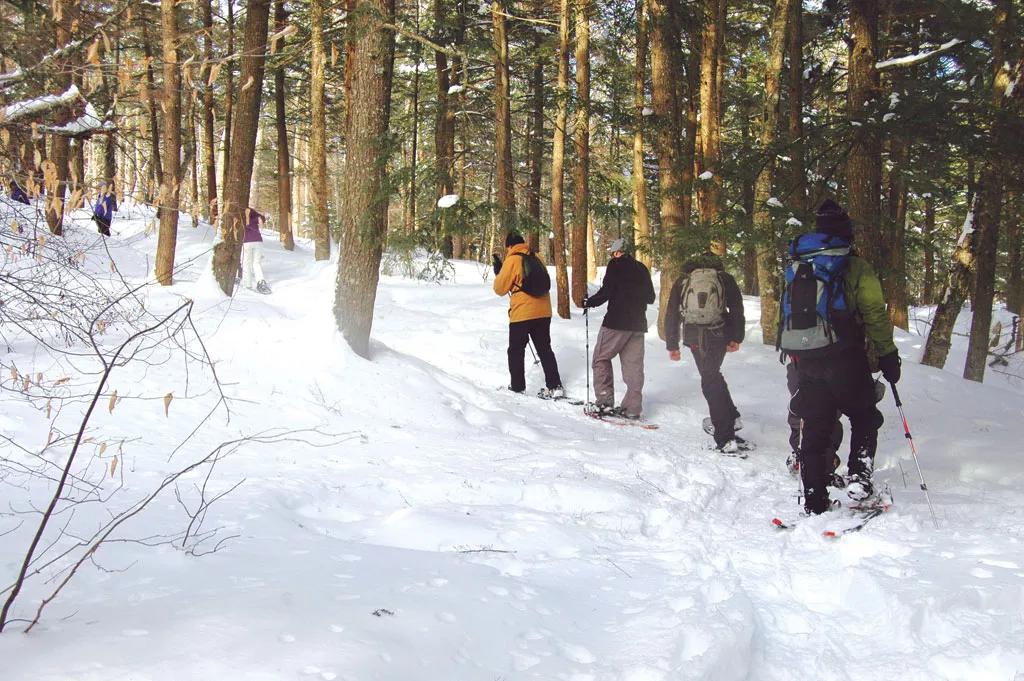 Photos Courtesy Of Green Mountain Club
"The woods are lovely, dark and deep," wrote Vermont's first poet laureate, Robert Frost, in "Stopping by Woods on a Snowy Evening." But the state's white-blanketed landscape is best explored in daylight, and there's no better time than at the Green Mountain Club's annual trails festival.
Regardless of weather, the Green Mountain Club is the primary caretaker of Vermont's Long Trail — the oldest long-distance hiking path in America. The nonprofit not only protects and maintains backcountry lands, it hosts numerous events throughout the year. Outdoorsy types of all ages and ability levels can explore the vast wooded hills and fields with experienced guides.
At the Winter Trails Festival, expect snowshoe lessons and hikes, workshops on winter camping and animal tracking, demonstrations with sled dogs, a scavenger hunt, snow sculpture, great food, live music and more.
Even if there's no snow, you can still enjoy the scenery and the company. And what better way to shake off cabin fever than with a crackling bonfire and a mug of hot cocoa on a crisp, cold day?
Winter Trails Festival, Saturday, February 1, 8:30 a.m.-5 p.m. (music and refreshments at 3). $8 members, $10 nonmembers, children under 12 free. Info, 244-7037.
« Les bois sont si beaux, sombres et profonds », a écrit le célèbre poète Robert Frost inspiré par le Vermont dans « Une halte près d'un bois un soir d'hiver ». Il reste que c'est de jour que les paysages tout blancs du Vermont sont les plus beaux et le festival annuel du Green Mountain Club est l'occasion rêvée de les explorer.
Beau temps mauvais temps, le Green Mountain Club veille à l'entretien de la Long Trail du Vermont, le sentier de longue randonnée le plus ancien d'Amérique. Non seulement cet organisme sans but lucratif se consacre à la protection et à l'entretien des territoires sauvages de l'État, mais il organise aussi de nombreux événements toute l'année. Les adeptes de plein air, quels que soient leur âge et leur niveau d'expérience, peuvent d'ailleurs explorer les collines boisées et les prairies environnantes accompagnés de guides expérimentés.
Au Winter Trails Festival, les activités sont nombreuses : cours de raquettes, randonnées en raquettes, ateliers sur le camping d'hiver et les empreintes d'animaux, démonstrations de promenade en traîneau à chiens, chasse au trésor, sculptures de neige, concerts et bien plus encore. Et vous vous régalerez aussi!
Même s'il n'a pas neigé, vous pourrez tout de même profiter du paysage et de la compagnie. Et quoi de mieux qu'un feu qui crépite et un bon chocolat chaud par une froide journée d'hiver?
Winter Trails Festival, samedi 1er février, de 8 h 30 à 17 h (spectacle de musique et rafraîchissements à 15 h). 8 $ pour les membres, 10 $ pour les non-membres, gratuit pour les enfants de moins de 12 ans. Info, 244-7037.